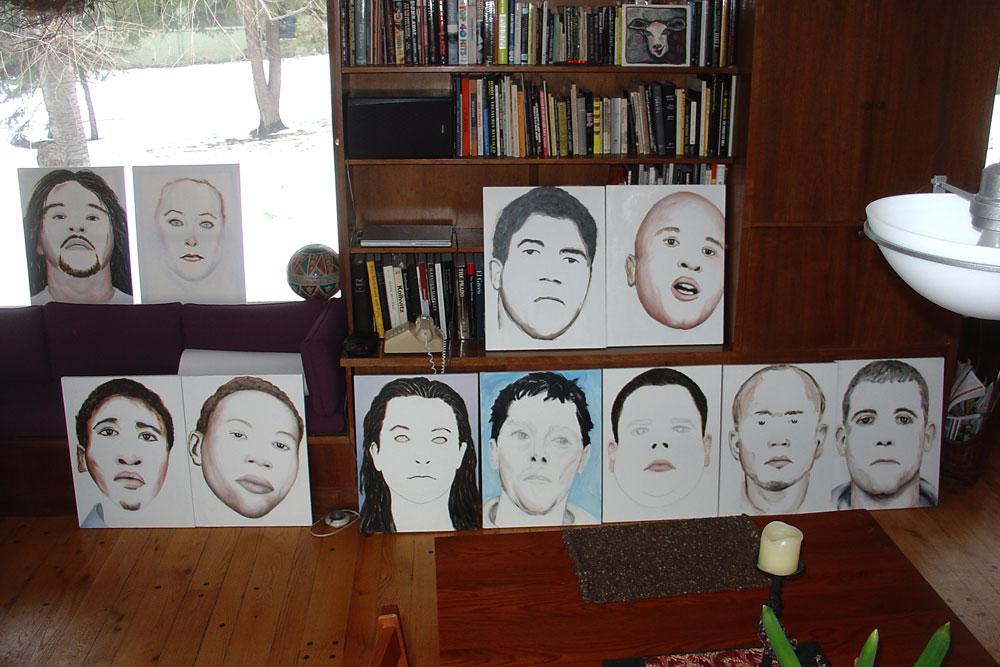 Peggi answered the phone tonight and a guy asked to speak to Paul. I said, "Hello" and the man/boy voice said, "Fuck you" and hung up. I'm thinking it was the answer to the title of yesterday's post.
As brutal an exercise as painting can be, it is as brutal an exercise for me to look at one of my paintings. Of course it is not entirely brutal, but close. I'm talking about looking at the finished painting and noting what goes through my mind on confronting it. Just what kind of a dialog do I have with this thing? In other words, why am I doing this?
I alone am responsible for expressing what is on the minds of these people and I need to enable them to hold up their end of an interesting conversation. The procedure for developing a painting is one part of this activity. The conversation with the finished thing is the other.
It is sort of interesting how little anyone who comes into our house has to say about these guys. If someone is not into a confrontation I completely respect that but I suspect the paintings are not speaking clearly enough yet. I think some people are afraid to look at them or they think they are so terrible they don't want to be the position to have to comment on them so they look away. Maybe everybody has stuff like this in their living room.
I'm trying to pick a couple to enter in a show and I have a bunch of recent ones propped up in our living room. I'm leaning toward bottom left and third from left on the bottom. I've been adding to the group over the last month. I would like them to be more engaging.
I just finished "The Object Stares Back" by James Elkins. I fell asleep to it for the last few weeks and it surly is responsible for this entry. But he started to to piss me off because he tossed out too many ideas too quickly. I disagreed with many of his opening arguments and he didn't take the time to defend them. On to the next entry.
3 Comments