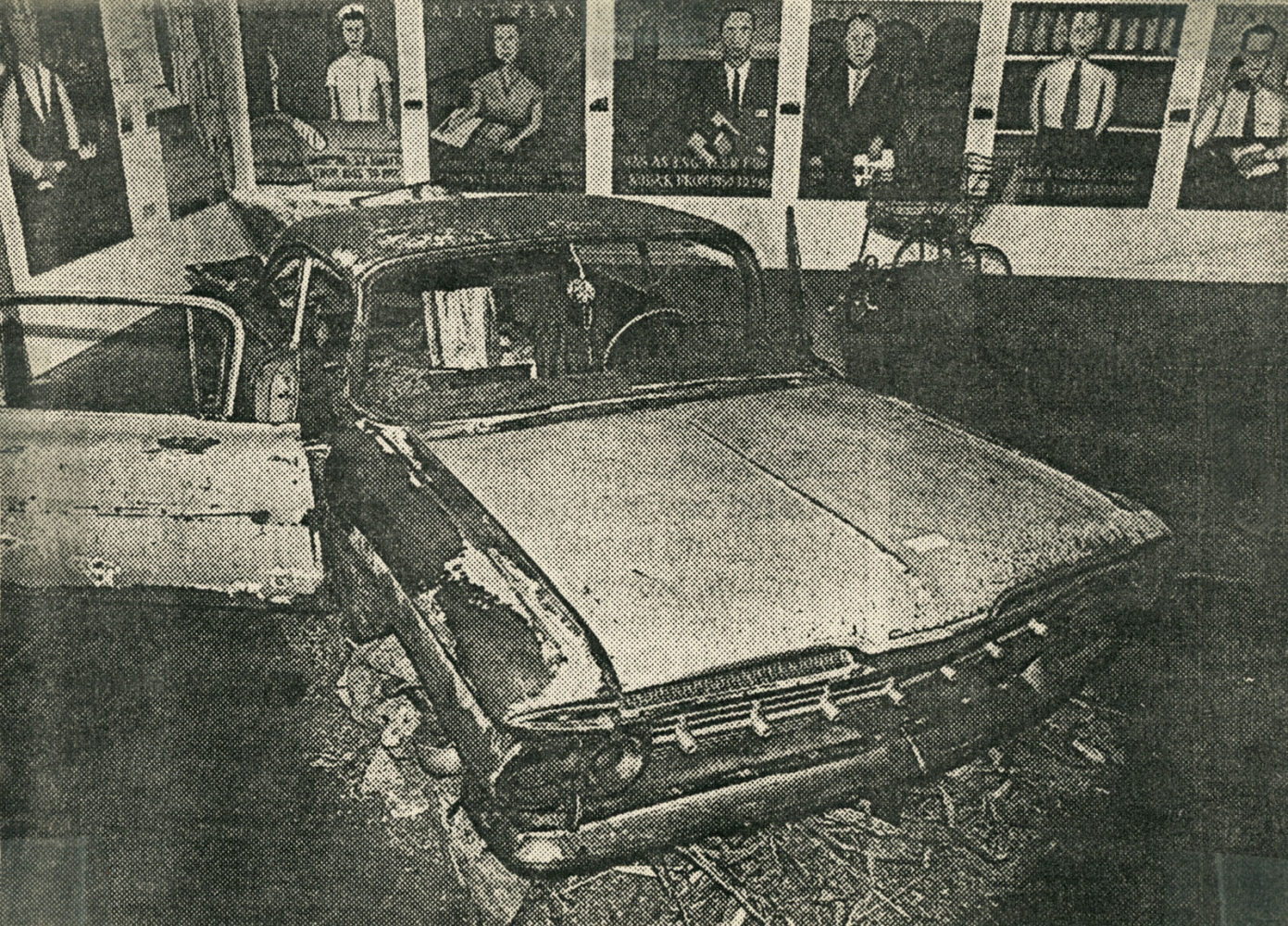 As I remember it there was "call for entry" for the Pyramid Arts Center show entitled "The City." I think John Warden was the director at the time and the Pyramid was in a great big loft space in the Village Gate. I submitted an idea for depicting my relatives, one member from each of the extended families, at work in the city of Rochester. The idea was accepted.
My paintings were done on the back of sheets of billboard paper (54″ wide by "60" high) and I used acrylic house paint, stuff I bought on the mis-mixed table at Meyer's Hardware for a dollar a pint. I photographed the locations of my relative's place of employment as it looked at the time of the show and mounted the photos next to the paintings. You can sort of see the photos in the picture above.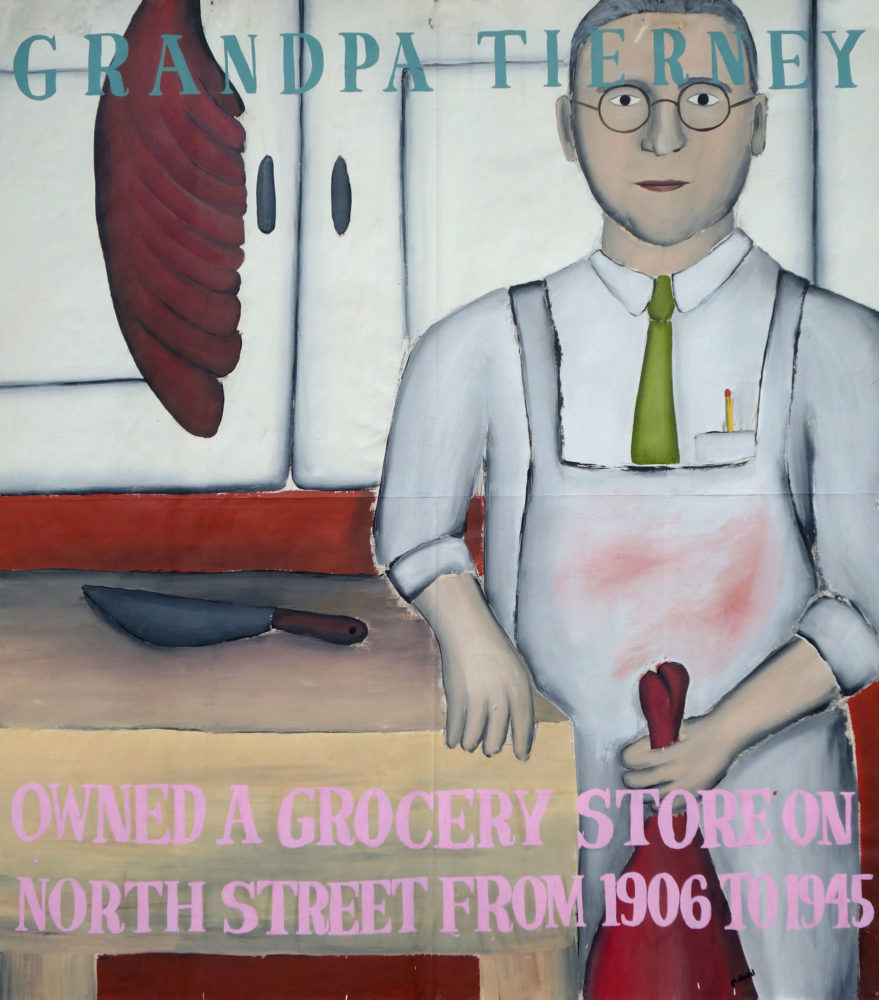 My grandfather on my mother's side, Raymond Tierney Sr., was a dynamo. He opened a store with two of his brothers on North Street right where it meets Hudson Avenue. It was the largest grocery store in the city. He became the president of the New York Grocers Association. He was also a butcher and he opened his own stores on South Avenue and then Clinton Avenue where the India House store is today.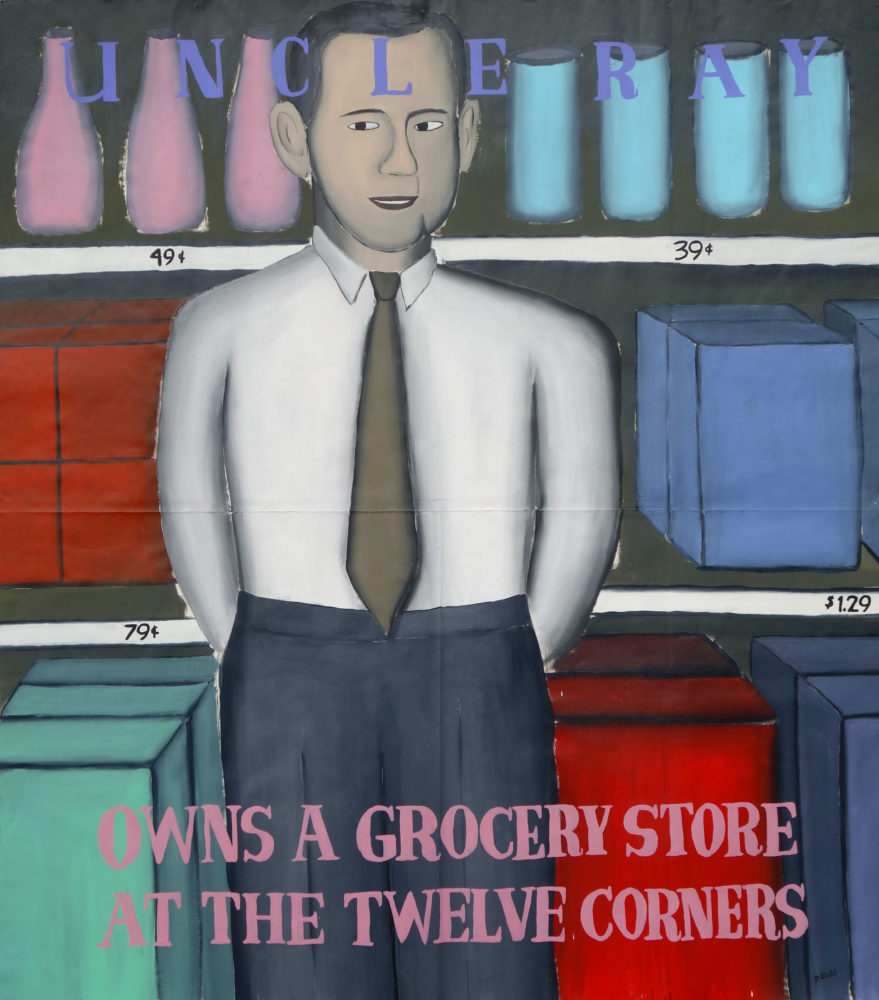 Ray Tierney Jr. was my godfather. He owned the Super Duper at 12 Corners in Brighton as well as Super Dupers on Mount Hope and Monroe Avenue. Stock boys called him "High Pockets" because he wore his pants well above his waist. I worked at the Monroe Avenue store, right next door to Uncle John's Pancake House and across from Pittsford Plaza, during high school. My mother, brothers and sisters all worked at the stores. And Peggi worked there while she was looking for a teaching job.
I used to think Ed Kolb was a tv repair man because he used to to fix our tv when it went on the fritz. He was a machinist at Wilmot Castle on the west side. They made all those shiny instruments that surrounded you when sat in a dentist's chair.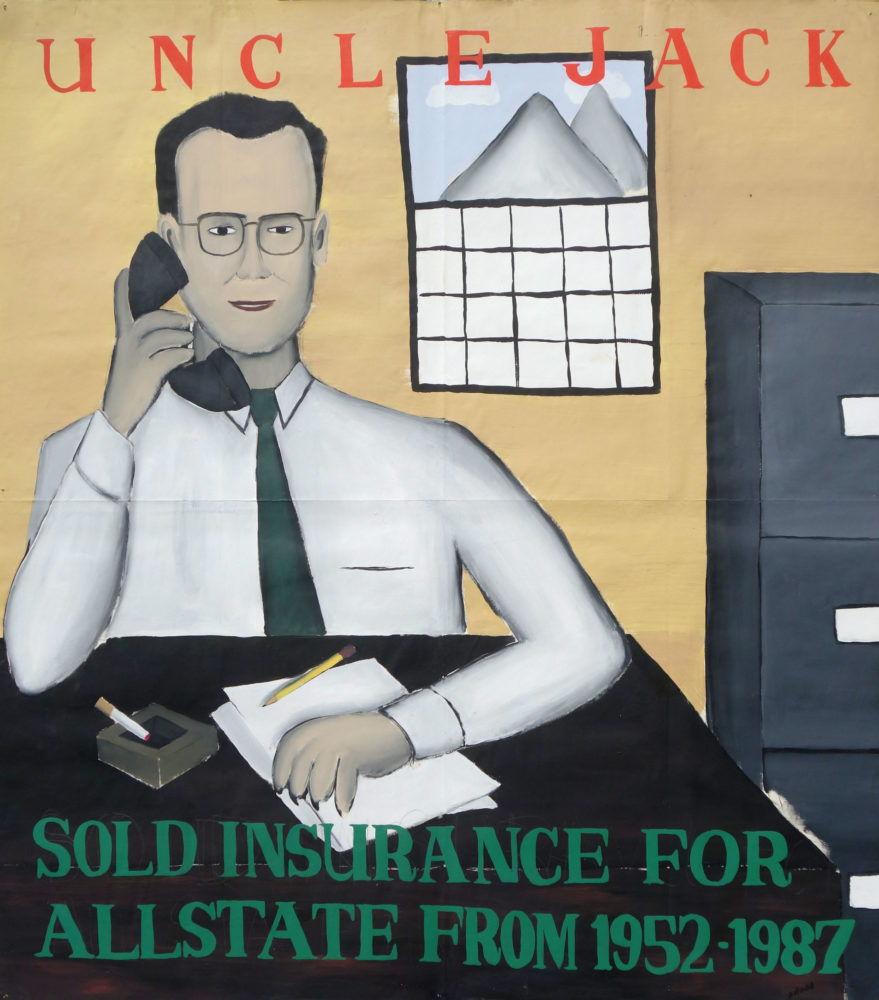 Jack Williams was our insurance agent until he retired. We always felt like we were in good hands.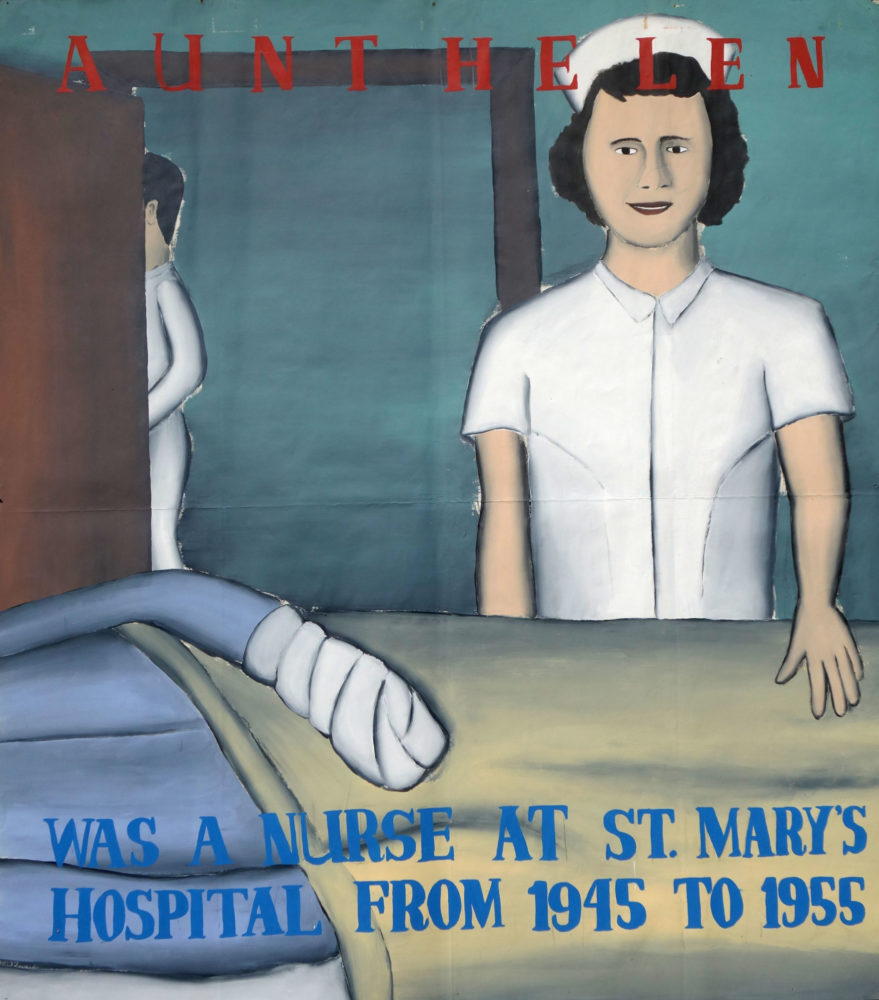 Helen Sullivan was my godmother. She met her husband in Saint Mary's hospital where he was being treated for a farm accident. They married and lived on a farm on Seneca Lake near Dundee.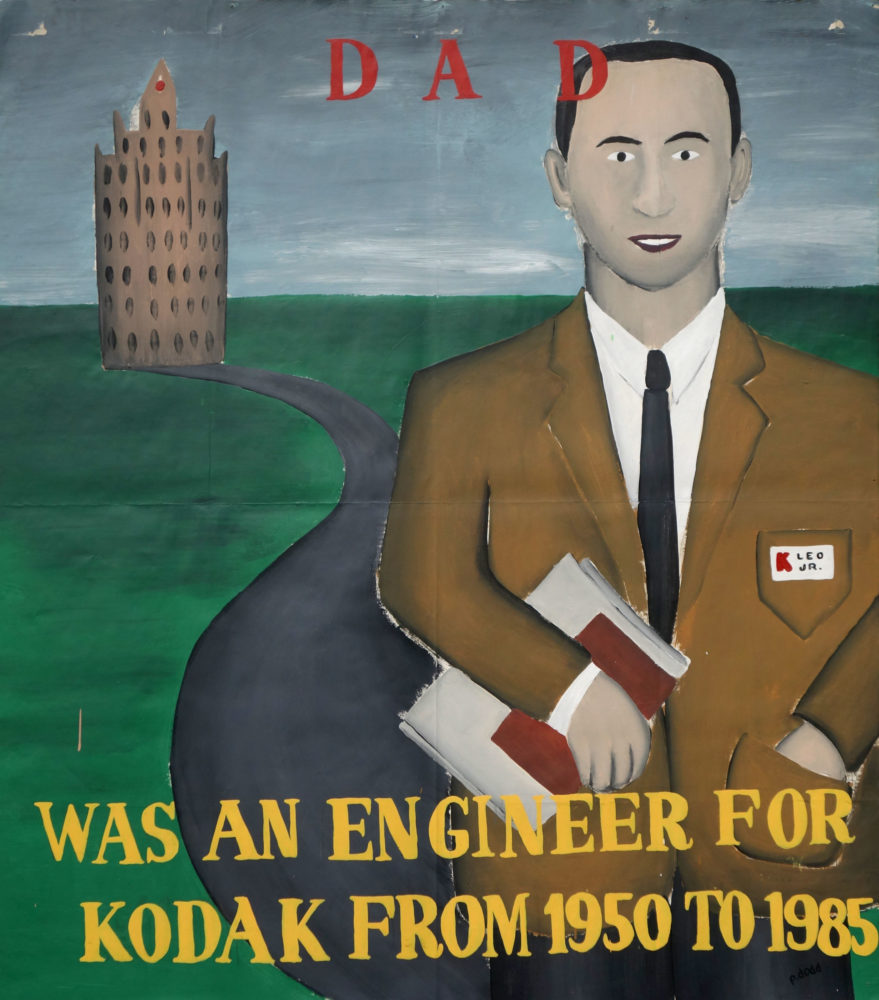 My father worked for Kodak for thirty five years and I got the sense that they treated him right there. He was hired as a mechanical engineer but worked as a design engineer. He really enjoyed his work but then he enjoyed everything he did.
My Uncle Bill Koval worked for the village of Fairport but I wasn't ever sure what he did. I asked my father if his sister, Jean, worked anywhere before she married Bill. He told me she worked for Rochester Telephone. Once their children left home she drove a school bus and really enjoyed that.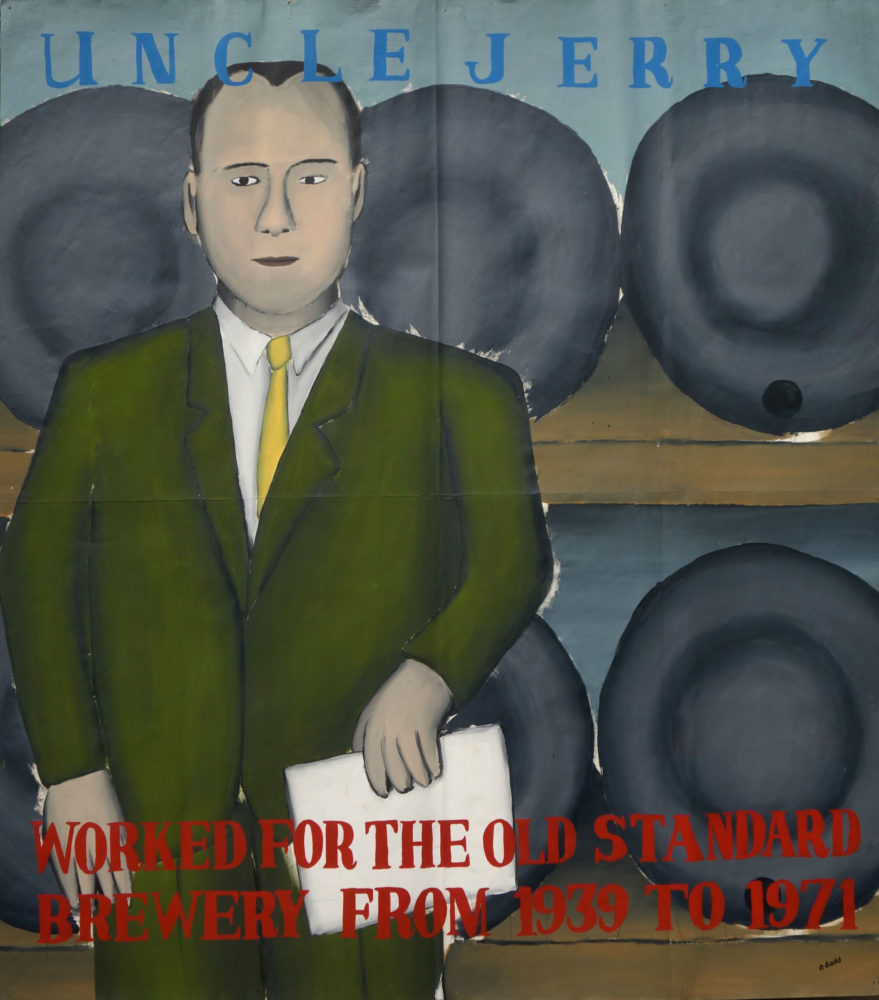 Back in the day Genesee had some serious competition from Topper and Standard Dry Ale. Jerry Austin worked as salesman for Standard. He was a real estate agent in later years and sold us out house on Hall street for twenty thousand. He called it a "starter house" but we lived there for twenty seven years.
Ann Oliver was the only one of my aunts and uncles not living in the Rochester area. She married Bob from Niagara Falls and they lived there. Before she married she taught grade school at Midvale.
Leo Dodd Sr., my father's father, was a bootlegger during Prohibition and when that finally ended he and a partner opened the Munich Bar on the west side. When World War II broke out they quickly changed the name of the place to the Dodd Miller Tavern.