three Margaret Explosion pages
ABOUT • VIDEOS • MUSIC
NEW ALBUM OUT NOW! "PER LA PRIMA!"
Available now on most streaming services!
See track listing and album information here.
12 inch black vinyl available now. $25 plus postage.
See track listing & album information. • Purchase here.
UPCOMING LIVE DATES INCLUDE:
Wed. May 24, 7-9pm Little Theatre Café 7-9pm
Wed. June 14, 7-9pm Little Theatre Café 7-9pm
Wed May 24 Little Theatre Café 7-9pm 7-9pm
Wed June 14 Little Theatre Café 7-9pm 7-9pm
Fri. July 28 Highland Park Conservatory 5:30-7:30
Wed August 23 Little Theatre Café 7-9pm
Wed September 13 Little Theatre Café 7-9pm
Wed October 4 Little Theatre Café 7-9pm
Wed November 22 Little Theatre Café 7-9pm
Wed December 20 Little Theatre Café 7-9pm

All Little performances 7-9 pm. Free Admission.
Savor expresso and pastries, sip wine or gulp beer in the acoustically superior cafe.
"Margaret Explosion's music is infinite, eternally elegant, and mystical. Their esoteric wonder paints pictures in my head nonstop."
– Frank DeBlase – Rochester City Newspaper
SEE MARGARET EXPLOSION YOUTUBE PLAYLIST
"One of the most original and unusual bands in Rochester; a five-piece ensemble exploring all sorts of musical dimensions linked to free jazz, Third World melodies, exotic instrumentation and a spacey, enveloping sort of music. The Explosion plays with a single-minded purpose and organic oneness that's most impressive."
– Jack Garner – D&C
Margaret Explosion – Per La Prima! – 2023 – Earring Records
Per la Prima! translates as 'for the first!' and indeed the music performed live on this disc are first time (and probably last time) appearances as nearly everything Margaret Explosion plays is purely improvisational.
ME are hard to pin down or put in a box. Yes, they play experimental jazz, often ethereal, spiritual, moody, mediative, psychedelic, groove based, with elements of middle eastern and lounge tones. But the sum of those elements are bigger than their parts. They are essentially a live band although they have released studio as well as live recordings before.
This selection of music was recorded live at The Little Theater Cafe in Rochester NY, where the band has taken up seasonal residence for over a dozen years. The collective features founders Paul and Peggi on drums and Soprano Sax, Phil on guitar pedal board, Ken on double bass as well as a rotating cast of other friends and players.
A supremely satisfying set of music, and probably a definitive document of who and what the band has contributed to the local Rochester scene for the past couple of decades.
– Howard Enis, WAYO dj
Margaret Explosion's Marshall Plan
INTERVIEW BY FRANK DE BLASE
The neon flashed "Vacancy" after guitarist Bob Martin packed a grip and skedaddled west to Chicago, leaving a hole in the Margaret Explosion the size of space.
The Margaret Explosion is known for its atmospheric, borderless seek and find, and Martin was an integral component.
It is the perfect music, really; a narcotic moment in time framed by the audience's desire to take a ride. No charts, no rehearsal – it would seem the band is perfect for those who hate prep work. But that would be missing the point. Specifically, Margaret Explosion is a listening experience that requires a suspension of disbelief, like an agnostic search for god.
On a recent Wednesday evening, over the blood of the bean at The Little Theatre Café, fans kibitz and chatter excitedly to hear music they've never heard before and will never hear again. Margaret Explosion plays completely freeform, improvisational music; one and done.
Tonight's lineup is Peggy Dodd on saxophone, Paul Dodd on drums, Ken Frank on upright bass, and Martin's replacement on guitar, Phil Marshall, sitting cross-legged on the floor. Now Marshall ain't Martin, nor does he claim to be. But if there's a guitar player in Rochester capable of anything, it's Marshall. And by way of guitar sent through a pedal board that looks like it came out of the cockpit of Air Force One, Marshall sounds in form as he tackles tunes he – and the band – has never heard before.
Marshall has been on the scene for eons: as a founding member of The Colorblind James Experience, La La Land, The Fox Sisters, The Phil Marshall Band; as a sideman for multiple singer-songwriters, like Annie Wells; and as a musical therapist in hospice care, giving comfort to those in the end stages of life.
CITY: How did you feel going into this band?
Phil Marshall: I think initially the idea was a little daunting; Bob Martin has such a history, not only with this band, but with Paul and Peggy in general going back to Personal Effects, and the Hi-Techs. When I heard that Bob was leaving, my initial thought was I wanted Margaret Explosion to carry on, to continue. And I thought I'd throw my hat in the ring.
Was there a ring?
Not that I was aware of, but I kind of assumed that lack Schaefer would step in, but he didn't. So I said, "Look, if you guys are interested, I'm available."
What did you do to prepare?
No rehearsal. I'd sat in a few times before, and I'd seen how it kind of works. The groove gets started; Peggy states a theme – it's usuallv a one or two-chord progression … I guess if it's one chord you're not really progressing anywhere, but you just figure out the key. And the idea for me is to be lush and ambient and create atmospherics.
You manipulate your pedal board with your hands. Why?
That's because I want to work it with my hands. I like to tweak the nobs. I like to treat it as if it were its own instrument. And I'm new enough to pedal boards that I don't trust my feet, especially with levels of reverb, stuff like that. I don't just want to turn it on and have that be just what I use: I want to be able to adjust it throughout and even in the context of one piece, one song.
So even if you create a memorable passage, the band won't revisit it?
No, and I think it's a philosophy in the band: every chance you play, it's a new conversation, a new dialogue. I can't be original every minute that I'm playing. But if I have something I like, a riff, I might try it again next time, but possibly on an entirely different piece of music. I really like the freedom of not having to worry about arrangements. With Colorblind James and La La Land, everything was rehearsed to a "T.» There was no room for error. Once La La Land dissolved, I didn't really want to have a situation where I would have to play things the same way in my music. But I'm playing guitar in The Fox Sisters and Im having a blast with that. We have arrangements. Sometimes we crash and burn, but nobody panics and keeps playing.
Has the Margaret Explosion ever crashed and burned?
Sometimes well be playing and it's like, "This doesn't feel like its working." But that's part of it. You've got to get your hands in the clay and see if you can come up with something, because then you have the opportunity to create something better than you ever imagined. If you rehearse everything, chances are you'll play at one level – and that's a good level; you'll entertain people, you'll get the message across. Sometimes when you improvise, you bottom out, but you're also gonna go higher than you ever expected. It's like jazz players with free improvisation.
Does recording in the studio defeat the Margaret Explosion mission?
It's a document – nothing more, nothing less. Lately, Ive got into this thing where all I want to do is release live albums and not play in the studio anymore. It probably won't last, but I like taking that chance. I like the risk.
Listen to "High Life" from Margaret Explosion CD Civilization.
SEVEN MARGARET EXPLOSION CDS ARE BELOW
MARGARET EXPLOSION PRESS
CITY NEWSPAPER, F WORD 2019
Wednesday night I found myself at The Little Theater Café wallowing in the ether and digging the images this group routinely paints in my head. As the open-minded melodies really kicked in, the brain candy got more acute and I started hearing words coming out in a sort of celestial-Beat cadence. "Shit, I gotta write this down." But alas, I had no paper, So I clicked on my phone's notepad feature and began to write:
Space cowboy
Got stars for spurs
He's got his
You've got yours
Rocket to the moon
On a Wednesday night
It was a tight flight
Out of reach
And outta sight
– Frank De Blase
ALBUM REVIEW: CITY NEWSPAPER 2017
Margaret Explosion seems to pull songs out of the air. No pre-planning; no script. The music plays them, and what's left is a perfect in-the-moment moment for this purely live band playing songs we'll never hear again. It is sexy and cool to the max. And just remember: "sensuous" wasn't reserved just for the loins.
On "Civilization," however, Margaret Explosion had a little studio fun. The basic tracks are still improvised, but they're left open at one end to make room for another set of layers. There's stereophonic panning so severe in spots you may fall out of your chair. And the guitar is prominent as the soprano sax snakes and undulates through. It's trippy in the extreme. It's darkness at the end of the tunnel. It's heady, and it's beautiful. Adding to the finality, the band has announced that guitarist Bob Martin is leaving the group and Rochester, for that matter. It's quite a loss — ironic, really. It's an end for a band that played songs with no end. "Civilization" is now that end.
– Frank De Blase
"DISAPPEAR," MARGARET EXPLOSION CD: DEMOCRAT & CHRONICLE 2014
A dozen live tracks from Rochester's premier avant-garde jazz band, Margaret Explosion recorded these live during some of its frequent, month-long residencies at The Little Café, 240 East Ave. The group introduces Disappear with a 7:30 p.m. Wednesday show at the venue.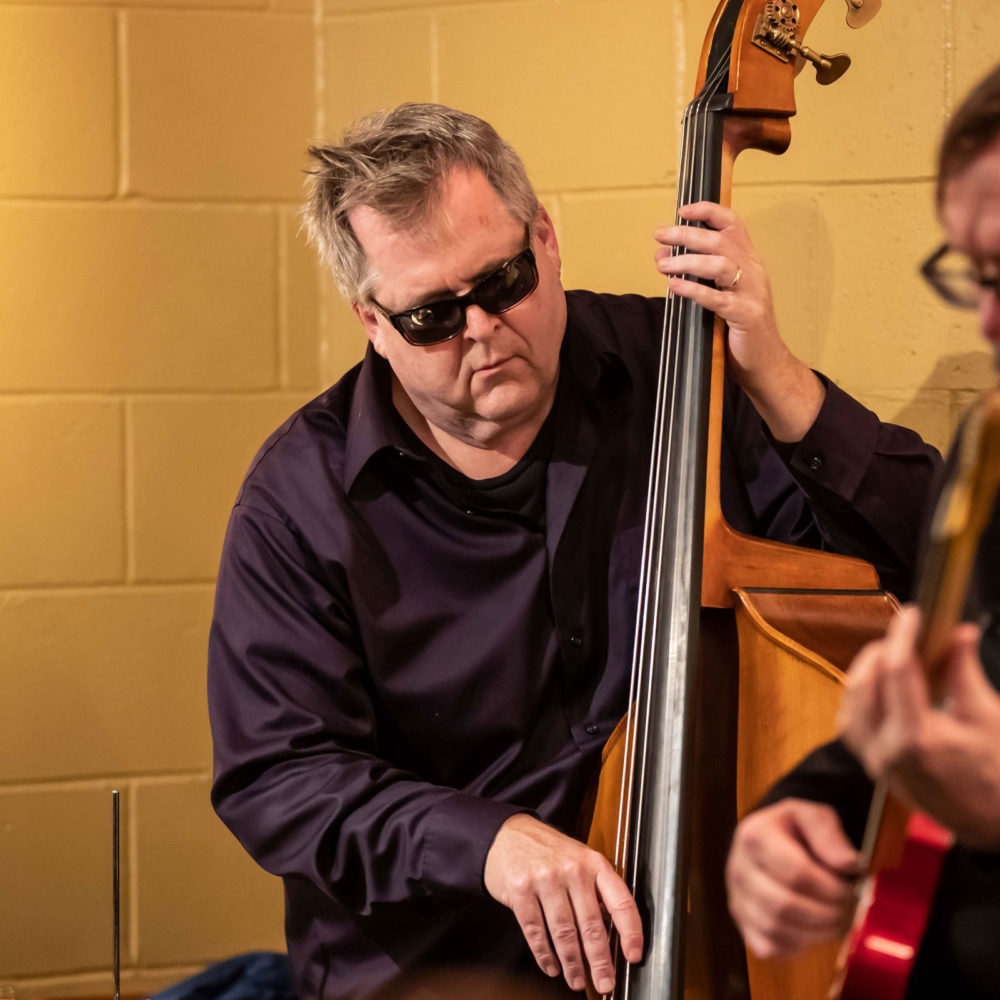 The sound is immediately recognizable. Margaret Explosion is a narcotic soundtrack, sinuous improvisation on original impulses. Peggi Fournier not so much plays the soprano sax as breathes it. Paul Dodd's drums are notable not only for the precision of his carefully selected notes, but the notes that he seems to not play. Like bassist Ken Frank, Dodd's often in a hypnotic state. Guitarist Bob Martin is one of the wondrous curiosities of the local scene. He sits with his instrument and a vast array of effects pedal and buttons at his feet, creating sounds with the drawn-out elegance of Bill Frisell.

Disappear includes work by two like-minded, frequent guests of the band, bass clarinetist Jack Schaefer and Pete LaBonne on grand piano. It's ethereal stuff from a prolific group that never rehearses, just plays. And posting much of it — including the clatter of plates and utensils from Little Café patrons eating — on its web site free for your downloading, margaretexplosion.com."
– Jeff Spevak
ROCHESTER DEMOCRAT & CHRONICLE 2013
"Margaret Explosion is the Big Bang Theory of bands, only in far less volatile language. It does not rehearse. It merely exists.
Currently holding down a weekly Wednesday residency though May at The Little Cafe, 240 East Ave., the four musicians show up, assemble their instruments and chat amiably with patrons of the cafe, who may have shown up to hear the band, or are merely passing through on their way to a movie. At some point at around 7:30 p.m., the four pieces of Margaret Explosion – saxophonist Peggi Fournier, drummer Paul Dodd, Bassist Ken Frank and guitarist Bob Martin – drift toward the stage after hearing some kind of signal that only they can hear, and appear to be doing a sound check. But no, without any kind of an announcement ("Ladies and gentlemen, Margaret Explosion!") they are now playing avant-garde jazz.
The music is slow, sinuous and spooky. It is David Lynch soundtrack material. All of the shows are recorded. Songs are frequently uploaded onto the band's web site, margaretexplosion.com. At this moment, 150 of these Margaret Explosion relaxed accidents are available as free downloads. Most with their own cover art. I am listening to "Great Wall Flower," with guest Jack Schaefer on bass clarinet, as I type this. I feel like lighting incense and assuming the lotus position on my desk, but that would be abusing company property…."
– Jeff Spevak
LIVE DIVE REVIEW: ROCHESTER DEMOCRAT & CHRONICLE
Rochester's most unique band offers a new collection of live tracks, recorded over four years at various local venues. ME is certainly not everyone's cup of tea (and what sort of artist would ever want to be?). They play spacey, floating dreamscapes with smart improvisational skill, carefully listening to each other as they move forward with their own slices of mercurial, musical mood. I'm reminded of some of the Scandinavian free jazz one would hear on ECM Records over the years. Most of the tracks are relatively abstract. One cut, though, offers what surely must be the most offbeat ode to a deceased artist. Who would have thought they'd create a tune called "Sleep Michael Jackson?" —
– Jack Garner
MARGARET EXPLOSION A COOL BLUE FLAME OF JAZZ: DEMOCRAT & CHRONICLE 2009
While Camera Obscura would be a fine band to write a soundtrack for David Lynch (see After Dark column on facing page), Margaret Explosion is what the dwarves dance to. Rochester's leader in psychedelic jazz celebrates the release of its new live CD, Live Dive, 5 p.m. Wednesday at Abilene Bar & Lounge, 153 Liberty Pole Way.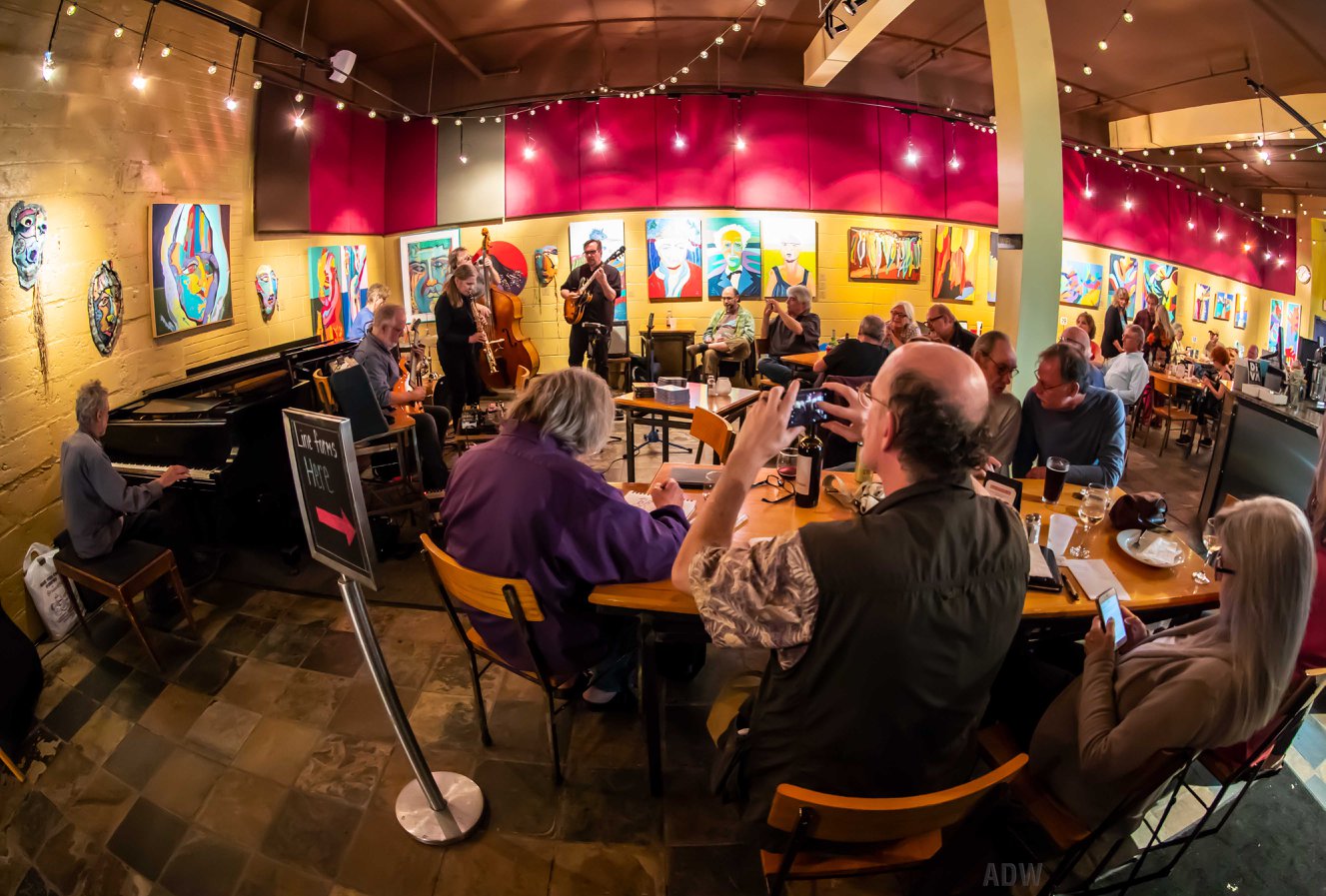 The music burns with a cool blue flame. It is cocktails in space. Saxophonist Peggi Fournier, drummer Paul Dodd, bassist Ken Frank and guitarist Bob Martin fill out this 11-track collection of "spontaneously composed," sinuous rhythm with guest appearances by pianists Pete LaBonne and Charles Jaffe and guitarists Jack Schaefer and Phil Marshall.
Margaret Explosion, which never rehearses, records virtually everything it plays. Hence, Live Dive offers tracks from four years of The Little Café, Rochester Institute of Technology, Flat Iron Café, Bug Jar and the Bop Shop. And it is very live: beneath the opening track, "Lakeshore Boulevard," the undercurrent of the espresso machine and patrons chatting and probing their quiches at The Little Café is an extra sound. "Five Star Surf" feels like Ry Cooder sitting in with the Buena Vista Social Club. Dodd's mannered, stylish drumming brings to mind one of those drinking bird toys. Left in the archives was the night Margaret Explosion was playing at a local club and someone was shot on the street outside. "You can hear everyone clearing the room and pressing their noses against the windows," Dodd says.
– Jeff Spevak

CRITIC'S PLAYLIST, MARGARET EXPLOSION SKYHIGH: DEMOCRAT & CHRONICLE 2006
This is one of the most original and unusual bands in Rochester; a five-piece ensemble exploring all sorts of musical dimensions linked to free jazz, Third World melodies, exotic instrumentation and a spacey, enveloping sort of music that often echoes the works of Scandanavian saxophonist Jan Garbarek and other Europeans who record for the ECM label. The 13 tracks on Skyhigh vary from the funk of "Shep's Paradise" (a tribute to the legendary local jazz club), to the geographic tributes to "Ionia" and "Bilboa." Despite the offbeat material, the Explosion plays with a single-minded purpose and organic oneness that's most impressive.
– Jack Garner 11.17.06
"SPONTANEOUS COMPOSITION" ACT, MARGARET EXPLOSION, CELEBRATES NEW CD: ROCHESTER CITY NEWSPAPER 2006
The Margaret Explosion's music is infinite, eternally elegant, and mystical. It is a musical journey with no end — or beginning, for that matter. The Margaret Explosion is slow-motion psychedelia that conjures images and colors. It will awaken things in your head. You will see.
The lyric-free lilt the music offers is a more complex and interesting narrative than found in most songs with words; like thoughts in larval from, before they get fleshed out with consonants and vowels. And in this case the narrative belongs to the listener — as well the band — for there is no map, no compass, no divining rod.
The Margaret Explosion set out as the most unlikeliest of things if you consider what the band sounds like now. The quartet — Peggi Fournier, Paul Dodd, Bob Martin, and Ken Frank — had secured Friday happy hours at The Bug Jar in October 1996. "The initial idea before we started playing was we were going to do covers," says drummer Paul Dodd. "But we never came up with any covers and then we had the gig." "When we sat down to do it we just jammed," says saxophonist Peggi Fournier. The gig lasted three years.
The Margaret Explosion's home for the past three years has been the Little Theatre Café, where the audience's ebb and flow is contingent on movie times. The band plays comfortably beneath a haphazard symphony of slurps, sips, and the clatter and clunk of silverware and coffee mugs. Pre- and post-cinematic banter adds to the din. Not everyone listens directly. This doesn't rattle the Explosion. "No, we like it," Fournier says. "We like to be background."
The Margaret Explosion has just released its third CD, Skyhigh.Skyhigh was recorded live in the band's basement studio. And in much the same way the band plays live, the songs were written as they were being laid to tape. "They were all spontaneous," says Fournier. "The first time we ever did those songs was when we were recording them," adds Dodd. "We just count and go," says guitarist Bob Martin. Then he reconsiders: "We don't even count. We just go."
When artists jam, someone typically holds the baton; there is a framework. The Margaret Explosion doesn't have one. It's the blues without the bones. "We call what we do simultaneous, spontaneous composition rather than jamming," Martin says. "And it's a huge difference."
The key to The Margaret Explosion's exploratory freedom is the fact that its members hang on the one; there are virtually no chord changes. Yet they keep it interesting somehow. The narcotic push and pull of Dodd's drums with Ken Frank's casual camel-in-a-caravan bass walk combine with Martin's lush wash of six-stringed layers that suggest a big, big sky. Fournier's soprano sax undulates like smoke. This is where melody merges with atmosphere. "Fortunately Peggi's in the band," Martin says. "Otherwise it would sound pretty boring." And when Martin solos, extant melodies sometime bubble to the surface. It's like faces in the sky; you stare at clouds long enough you're bound to see someone you know.
"If I sorta hear it in there, I'll play with it a little bit," Martin says. "It's kind of a staple of jazz; to quote a melody and move past it. It's very subtle never over the top." Despite the sonic expeditions and excursions to anywhere, The Margaret Explosion does have a vague idea of what the music requires and how they can keep it fresh. "There is certainly a pattern to what we do," Fournier says. "I'm sure a lot of people think everything we do sounds the same. We do try to make some variations."
Variations not withstanding, the core Margaret Explosion sound is eerie and dreamy and picturesque. You can thank the minor keys for that. "It's a very happy minor," Martin says.
The Margaret Explosion celebrates the release of Skyhighwith guest pianist Pete LaBonne and assorted circus performers, Wednesday, November 29, at The Little Theatre Café, 240 East Avenue, 258-0412, 7:30-9:30 p.m., free. Videographer Duane Sherwood will also premiere his video interpretation of the band's tune "4 A.M."
– Frank DeBlase
ROCHESTER CITY NEWSPAPER 2006
As I said a while back in reference to our own brilliant Respect Sextet, jazz is the truth, albeit an interpretive truth. And though I have no aversion to the truth, I prefer my own version. Listening to jazz bands like Margaret Explosion – which has a residency at the Little Theatre Café – helps me get there. The band started playing last Wednesday even as the members slowly assembled on stage, each member gradually joining the others. There were no words other than those already in my head. It was cool and beautiful and dreamy and you have no idea what I'm talking about, do you?
– Frank DeBlase
'EXPLOSION' IS NEW EACH TIME: DEMOCRAT & CHRONICLE 2006
Words to explain the Margaret Explosion are startlingly elusive, even for the band itself. "Bob was trying to describe it to somebody," drummer Paul Dodd says of guitarist Bob Martin, "and I watched him fumble all over the deal." Alas, Dodd proves to be no more adept at painting the picture. "Peggi, help me out on this," he calls out to his sax-playing wife, who gets on the phone.
"The music comes out the best when we're listening to each other and playing off each other," she says. "Responding to little subtleties that take us down a track we didn't expect to go down." Well, that's more the means to the end. The Margaret Explosion is unrelentingly cool jazz. Within its Beat Generation beat, there is an element of cocktail music for zombies. And a strong David Lynch hallucinogenic factor. Sleek and translucent as the steam rising from your hot coffee.
Whatever it is, the Margaret Explosion celebrates the release of its third album, Skyhigh, at 7:30 p.m. Nov. 29 at The Little Theatre Café. Manson-bearded pianist Pete LaBonne will make the five-hour drive from his un-electrified house deep in the Adirondack woods to ensure us of the full Margaret, which is him, Peggi, Paul, Bob and bassist Ken Frank. The evening will also include a display of artistic juggling by Airplay With Just Foolin' Around, and a showing of a video for Skyhigh's songs, 4 a.m.
The Margaret Explosion was born out of the Dodds' mid-'90s happy hour gigs at the Bug Jar. "We were just gonna play cover songs; we weren't gonna rehearse," Paul says. "It's just what came out." Not a cover band at all, but one drive-by jazz-minded improvisation. And one that delves deeper into the minor keys than the Dodds' '80s rock band, Personal Effects.
"It's spiritual," says Peggi. "Because of the way that we play, you get in the zone. It's really relaxing, great after a stressful day. "We record everything we do, and when we listen to it, we'll say, 'Oh, let's re-create it.' But we couldn't. "It would never be as good as the first time."
It's jazz as a juggling act; the songs have structure, but a mind of their own. "I think we all kinda thrive," Paul says, "on that tightrope kinda thing."
– Jeff Spevak
ISCENEIT : ROCHESTER CITY NEWSPAPER
"Wednesday night found me diggin' on the Margaret Explosion (complete with a re-hydrated and upright Paul Dodd) in the Little Theatre Cafe. I can get sick of just about everything I like, eventually – fried chicken, blondes, The Stones – but not The Margaret Explosion. Their esoteric wonder paints pictures in my head nostop. And I mean cool stuff, too, like a three-legged Little Egypt undulating up to her knees in coconut cream pie, while big bears on little motorcycles circle around singing "doo wah diddy diddy dum diddy do." No drugs, honest, just real good music. Good deserts, too."
– Frank DeBlase
MARGARET EXPLOSION – ECLECTIC JAZZ: ROCHESTER CITY NEWSPAPER
So I'm sippin' black coffee, Little Theatre Cafe with Margaret Explosion aloft on gossamer wings and complimenting assorted musings. Ray Anthony sounded the charge back to reality and Iceberg Slim came in to add a few snaps and give us all the finger. But I didn't see you there, did I?
Not all bands sound good in the Little Theatre Cafe. Sure, it's a tres cool joint, but harnessing the acoustics sometimes proves to be tricky. Margaret Explosion not only harnesses the room's sound, but also throws a saddle on it and rides it around. Even without the Leary-esque visuals, this band is an experiment in texture and color that just works. How, you may ask? Because they sound good.
Rooted in dreamy improvisation and just a pinch of post-Beat aesthetic, the band seems to rely on a relatively thin structural framework. They just dive into the 12 cuts on their new CD 1969. Hear them for yourself when Margaret Explosion plays Friday, November 28, at The Montage Grille, 50 East Avenue, at 8pm.
– Frank DeBlase
more Margaret Explosion pages
ABOUT • VIDEOS • MUSIC
PERSONAL EFFECTS CONTINUED: RNEWS
One of the big names on Rochester's 80's music scene was a band called 'Personal Effects'. Where are they now?
After a half-dozen albums, 'Personal Effects' disbanded in 1987. But you'll find its nucleus in 'The Margaret Explosion'. "I think it was nice to sort of musically take a break, and then come back to it," says guitarist, Bob Martin. "Because we never got like those big bands who hate each other or anything like that," he laughs.
Bob Martin, Peggi Fournier, and Paul Dodd have been friends since 'Personal Effects' began in 1980. The band's first album came out on New York City's Cachalot Records in 1982. That label deal was short-lived, due to the group's determination to be in control of its own destiny. "We always fought to do just what we wanted to do," says drummer Paul. The arty band played the East Coast, including NYC's Danceteria, Peppermint Lounge, The Ritz, and the Mudd Club. Locally, it drew more than a thousand fans to its big shows at Rochester Community Playhouse and Top of the Plaza.
"People still..'Oh, I remember the Top of the Plaza!'," says Peggi. "But those were kind of extravaganzas, and we had liquid light shows, and dancers behind a scrim, and that kind of thing." The 5-year old, stripped-down 'Margaret Explosion' takes the atmospheric sounds of 'Personal Effects' even farther. "(It's) more abstract," explains Paul (who's been married to Peggi since 1976). "I think we all sort of lean that way now… (We're) just looking for something fun to do."
You can check out 'The Margaret Explosion' live, Wednesdays through October first at Little Theatre Cafe from 8 to 10pm.
– Sally Cohen
HAIL BOHEMIA: ROCHESTER CITY NEWSPAPER
The Margaret Explosion is not screaming for your attention. At its weekly Friday night happy hour gig at the Bug Jar, the band sets up in the darkest corner of the club. It makes no announcements or introductions. The musicians don't take flashy solos, or make grandiose musical statements.
What they do, from their dark corner, is provide the crowd with a cool, knowing, improvised soundtrack for its early evening activities. They cast a bohemian glow over the room, and, like magic, people look more interesting, conversations become more engaging, and Rochester seems like a better, hipper place to be.
– Chuck Cuminale – City Newspaper
SPACE JAZZ: ROCHESTER CITY NEWSPAPER
Watch me play taboo with myself. Here are the words that most lazy, ordinary music critics lean on, words I will not use in this description of the Margaret Explosion: dreamy, ethereal, eclectic, lush, David Lynch, wash, soundscape, trippy, hypnotic, waterbed.
Ok, here goes.
The Margaret Explosion floats with with an artistic style and grace and a loose, relaxed reference to melody that hints at jazz dissonance, beatnik hipness, and lullaby comfort. Though thoughtful, moody, and peaceful in a leopard print, red-velvet-camouflage, lounge kind of way, the quartet still reveals an underlying sense of personal effect, purpose, and intimidation lurking in their inky noir like a demon in a fairy tale.
The Explosion's beautiful saxified music is most akin to that prelude to REM, when we first drift off to …OK, so maybe they are a little dreamy (gimmie a break).
The Margaret Explosion celebrate the release of their new CD, Happy Hour, on Friday, February 28, at The Bug Jar, 219 Monroe Avenue, from 6:30 to 8:30 p.m. Free. 454-2966.
– Frank DeBlase
BUG JAR VETS STILL PLAY ETHEREAL JAZZ (COMMUNIST COCKTAIL): DEMOCRAT & CHRONICLE
Happy Hour Fridays at the Bug Jar have assumed an air of high-brow, art-school dilettante excess. The eclectic bar is filled with baguette ladies and grad students in their 1st year of film study, conducting serious chats over the whisper of ethereal jazz by the Margaret Explosion.
The Margaret Explosion is a loose collective of local music scene veterans who produce music that sounds as though everyone was sucking on an ether rag before the show. At the moment, the band is four musicians; five if someone like La-la-land guitarist Phil Marshall sits in.
The Margaret Explosion plays dark, tribal cocktail music It's the perfect band for an Easter Island barbecue. If David Lynch walked into the Bug Jar, he'd sign the band for his next film soundtrack
Paul Dodd supplies the bohemian percussion. He's married to Peggi Fournier who plays a slow, enchanting alto sax, which was a respected jazz instrument until Kenny G turned its music into the official interlude of dentists' waiting rooms.
Dodd and Fournier have been a part of the Rochester scene for more than a decade, going back to the Hi Techs and Personal Effects. Now 47, Dodd remains a presence here, pointing out that "I think I'm still playing in the Ripton Band." As the Ripton Band hasn't had a gig or a rehearsal in a while Dodd is a little unsure, but that's how it goes on the local scene; bands fade in and fade out and fade in again, like a weak radio signal.
But the Margaret Explosion, that's regular employment. The band has played nearly every Friday at the Bug Jar since October 1996.
The Margaret Explosion was born when Dodd and Pete LaBonne, who's living in the Adirondacks, were throwing around ideas for a band that would cover old '60s hits such as Hound Dog. But when they booked that first gig at the Bug Jar—the trio didn't have a name at that point—they threw away the idea of playing other peoples' songs and improvised jazz all I evening.
"After a month, some people started asking if they could sit in," says Dodd "After three months, we had 15 people playing. We had a cello, three saxophones, a trumpet, violin, mandolin. Another percussionist, a drummer, a couple of poets. It got so unwieldy, we had to move to the back room."
LaBonne ended his stay in Rochester and returned to the Adirondacks, and Dodd and Fournier began to reel in their increasingly bloated project. It's now basically Dodd, Fournier Michael Rizzo on drums and Greg Slack on bass. Slack played with Lou Gramm in the late '60s, but didn't wave his resume at Dodd to get the gig. "He was always there at the bar and one night he offered to play bass, says Dodd. "We didn't know him or anything."
To this day, the Margaret Explosion—originally conceived as a cover band—has never played another musician's music. Bug Jar favorites such as Jungle Extraordinaire can be heard on one of the Margaret Explosion's four live cassette tapes, available at the shows.
The band's improvisational skills came into play the night someone pulled the fire alarm at the Bug Jar. As fire trucks pulled up outside, the crowd migrated to the windows to watch the flashing lights. The Margaret Explosion riffed over the whole thing, and later at its Monday-night rehearsals developed the music into a piece called Fire Engine.
"It's spacey pieces, kind of hypnotic instrumentals," says Dodd. "There are no real solos. Phil Marshall sat in last week and kind of stepped up to the front a few times, and we filled in behind him, and it wasn't until after we were done that we said, 'I guess we don't really do that sort of thing.' "
So the Margaret Explosion is sort of a communist cocktail mix: Equal parts for everybody, including the people who have shown up for just for the $1 Rolling Rocks.
"It's just a really easygoing thing," says Dodd. "Fun. The Bug Jar is a perfect spot for it. The music's meant to be a deliberate background thing. It's just kind of stuff to space out to."
– Jeff Spevak, Rochester, NY Democrat & Chronicle
CITYNEWSPAPER
Margaret Explosion is an otherworldly lounge band that played an esoteric weekly Friday night happy hour at the Bug Jar for a year and a half. The ethereal soundtrack they provided cast an often eerie, slow-motion effect on the just-out-of-work crowd's revelries. The group's improvised minor-key melodies bathed the room in a melancholy glow, suggesting old eight-millimeter home movies, and blurring the line between experience and reminiscence."
– Chuck Cuminale (AKA Colorblind James)
FILM MAKER SKIP BATTAGLIA
1969 is still playing on my speakers. On repeat. No, I haven't worn it out yet. It has much more discipline and evocative emotion than "Invisible Idiot." I stopped in at the Little Theater show the last evening that you were there. The sound and playing was fabulous — even better live! Paul's smoothed theatricality on the drums was most impressive, the drum sound slightly more reduced on the CD. When I'm done with it, it goes on the shelve between Coltrane and Jon Hassell. Congratulations! Even my hard-to-please brother-in-law will dig this one. If he still lives.
– Skip Battaglia
BAND LEADER STEVE GREENE
Surely Greg Slack is captain of the Barney Ruble bass team. He sits and fires a few low enders to Catcher Dodd. He Paul semaphores pulsation's from the Marcelle Marceau school and Peggi and Bob chew on it masticating former Buddhist incarnation honey tones from the basements infrastructure. I'll bet many will sip a laté not knowing their lips are being sound tracked yet there will be a certain gliding resonance in the engine of the Honda on the way home. I dig it. The only thing I'd say is : say a few words to the audience once in a while. They dig you.
– Steve Greene
JERRY FALZONE BLOG REVIEW 2015
Last night I sat at a table at The Little Café with a retired Monroe County Sheriff, a lawyer and a young man who spent the past four years in a prison in New Jersey as we listened to Margaret Explosion. In all reality, the titles and circumstances meant nothing, really there were five people talking at a table while this really cool, atmospheric music was playing, kind of in the background, kind of in the fore ground. Though I was too young to be a part of it, to really know, I imagined that scenario had probably been played out over and over again in Greenwich Village in the early sixties.

So much of that ambience has to do with another Rochester music treasure, Margaret Explosion. This band, Bob Martin on Guitar Peggi Fournier on Sax, Ken Frank on Bass and Paul Dodd on Drums has been in residency at The Little since, well it feels like the early Sixties. Margaret had its genesis as Personal Effects, a band that was a large part of the Scorgie's scene a few decades ago. Bob, Peggi and Paul were the nucleus of that band along with bassist Bernie Heveron. To say that the band was ahead of its time back then is an understatement borne out by the fact that R.E.M. opened for them.

They have been called a lot of things, Psychedelic Jazz, Ambient, narcotic but what they are is a soundtrack. You can be alone with Margaret playing out numerous scenarios in your head or you can be lost in a conversation with anyone, it doesn't matter. The music emanating from Margaret will enhance whatever situation you are in.

It is so easy to get lost in their music that you might not notice the dynamic between these superb musicians who have played together for a lifetime. Ken Frank will lay down a bass line, solid as a brick wall. Paul Dodd will then fall in behind him. Bob Martin will add the atmosphere in this atmospheric blend by utilizing his myriad effect peddles and then Peggi Fournier will soar with some of the most melodic lines that you will ever hear come out of a sax.
What strikes me about this band is that their music seems to come from breathing. To watch Paul play drums is a study in controlled breathing. He takes a breath before he starts and then seems to time his next breath to the meter of the song. It is a study in total concentration. He plays so softly yet I don't recall a drummer who plays with more intensity. I have seen a lot of drummers play, I stand by that statement.
Bob Martin was and is a member of my band Liar's Moon. When he started with us he brought such an authentic Beatle's/Byrds mix to what we do. What impresses me the most about Bob is that there is no trace of that brilliance in what he does with Margaret Explosion. There is an all together different type of brilliance that he captures. It almost seems like he is behind the control counsel of the Starship Enterprise. He coaxes pictures out of the sound that he creates, colors even. If this band were animated his sounds would have been created by Ralph Bakshi. He sits down while he plays. How many electric guitarists do that? Yet it is right that he does. He keeps a physical low profile and is quite content to keep the focus on the playing.

Peggi adds the smoke to this picture. Her notes waft up towards the ceiling, encircle the room, find their way to your table and then into your bloodstream. It is almost mystical…mystical, that's is another word for Margaret Explosion. Peggi also has this wonderful face, a face so open and intelligent that you can't help but hold what she does with the utmost respect. And she is such a nice person.

Of course, all this ambient music would evaporate in the air if it wasn't being held down and that is just what Ken does. He is a true anchor that holds everything in place. He gets more out of one pattern than most electric bass plays can and he does it with an upright bass. And because he does, this band gets more mileage out of one chord than your average band, jazz or anything gets out of flurry of chords.
Last night, the conversation that I had with the lawyer, sheriff and ex-con was a bit surreal. Certainly to have that kind of dynamic invites surrealism but, I'm not sure if that was the conversation or if it was the vibe of the room. Not unlike those coffee houses of Greenwich Village where Miles Davis might share a stage or a room with Dave Van Ronk or Coltrane might lay down a lick with Dylan lurking about. We have a scene here, a real scene with real artists who weekly lay their art on the line. Sometimes you have to live past a dream to realize that you lived through it at all. For those of us who like grasping at smoke, we are living that dream right now.
ABBREVIATED MARGARET EXPLOSION HISTORY
Pete LaBonne and Shelley Valchovic were housesitting in Rochester's South Wedge in the winter of 1998. We set up a Friday happy hour gig with Casey at the Bug Jar and asked Jack Schaefer if he was interested in joining. We never rehearsed or anything, just showed up and kind of jammed. Pete came up with the band name.
Jack played guitar, Pete played bass. Peggi Fournier played sax. and Paul Dodd played hand drums. Shelley Valachovic played the shakers. We played every Friday through the summer and then Pete and Shelley moved back to the mountains. Jack bowed out to spend more time with his family and Greg Slack, who used to play with Lou Grahmn, joined us on bass. Mike Rizzo played on drums and Scott "Fex" Smith sat in on trumpet. This new Margaret Explosion lineup continued playing Friday Happy Hours at the Bug Jar for two more years.
The original Margaret Explosion lineup recorded a cd as Invisible Idiot while the "new" Margaret Explosion lineup recorded a cd of the songs developed at the Bug Jar entitled "Happy Hour". Pete LaBonne, Jack Schaefer, Phil Marshall and Bob Martin all played on Happy Hour.
Bob Martin officially joined the band on guitar in 2003 and he, Peggi, Greg and Paul recorded the cd entitled "1969". So Bob, Peggi and Paul, who had all played together in Personal Effects were back together again.
Greg left in September, 2004 to play with his church band and Ken Frank, who played with Colorblind James Experience, 5 Star Buffalo, The Flower City 5 and Lydia Lunch before she left town, joined us on bass. In 2017, Bob moved to Chicago and Phil Marshall, formerly of Colorblind James and LaLa Land joined on guitar. Pete LaBonne and Jack Schaefer continue to record and sit in with the band.