Thinking About The Stations of the Cross
In 1996, in the tradition of my patron saint, I started thinking about a re-telling of Christ's crucifixtion, commonly depicted in most Catholic churches as the Stations of the Cross. I looked at Renaissance paintings of the crucifixtion and looked to popular sources for a modern-day Christ figure. I gathered classic depictions, my own drawings, holy cards, and source material from newspapers. I collected this all in a big sketchbook. Two Lenten seasons came and went while my sketchbook grew. Ted Kaczynski was a front page story on Good Friday, 1996 and then on Good Friday, 1997, the leader of the Heaven's Gate cult was featured on the front pages.
I decided on a contemporary route for the crucifixion. Jesus would be sentenced at East High near our home. He gets his cross across the street at Carroll's or in McDonalds' parking lot, works his way down Main Street and gets crucified at the Liberty Pole in downtown Rochester. I took this route almost daily and was baptized at Corpus Christi Church (Station #7). I also took some photos of the locations, one roll of slide film, and I chose settings for the fourteen Stations from those.
Lent, 1998 rolled around and I was overwhelmed with source material. I assembled the key elements in fourteen digital files and printed 21″ x 28″ digital prints on watercolor paper at Scale 2. I called them "Passion Play" and showed them at the Bug Jar during Lent 1998. I entered them in the 1999 Rochester Finger Lakes exhibition and they won both The Averill Council of the Memorial Art Gallery Award and the Harris Popular Vote Award.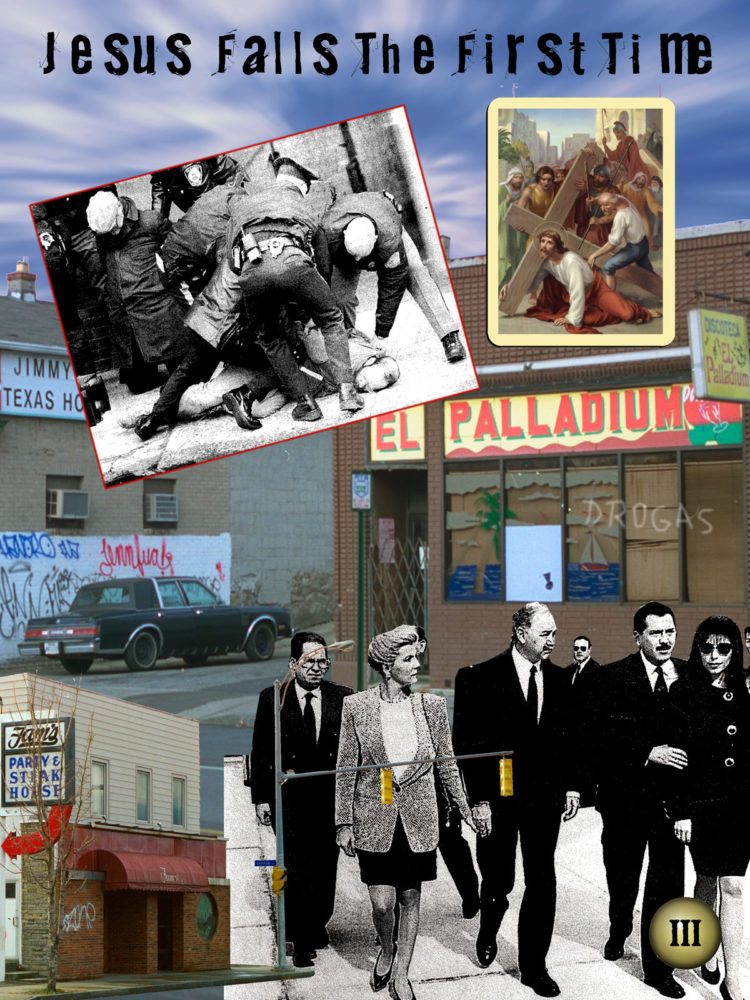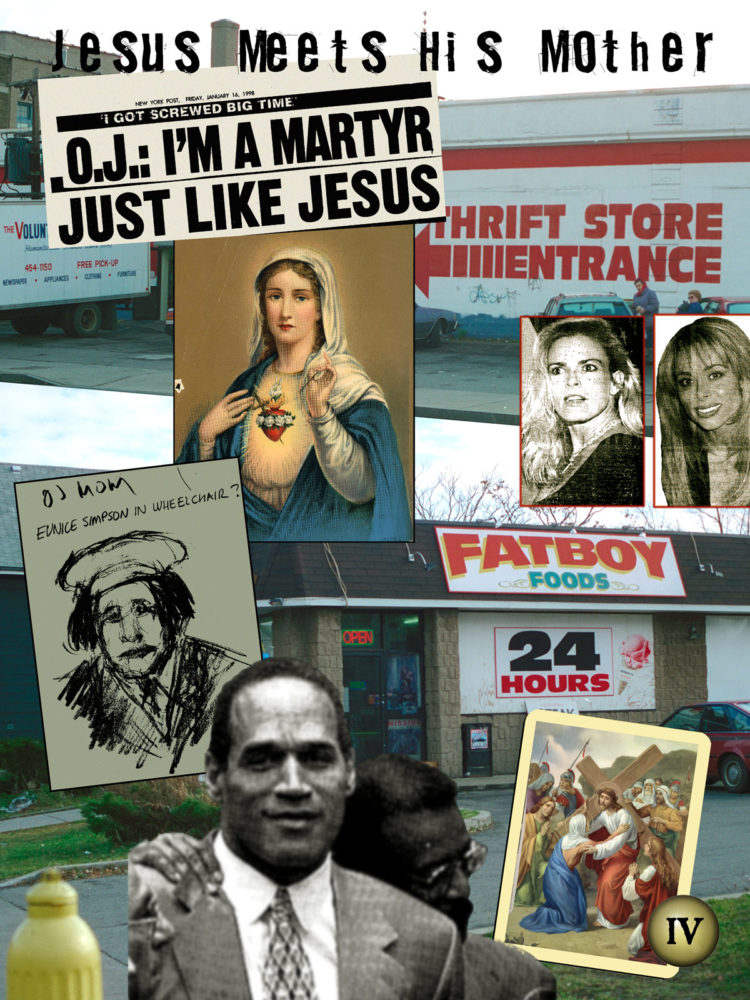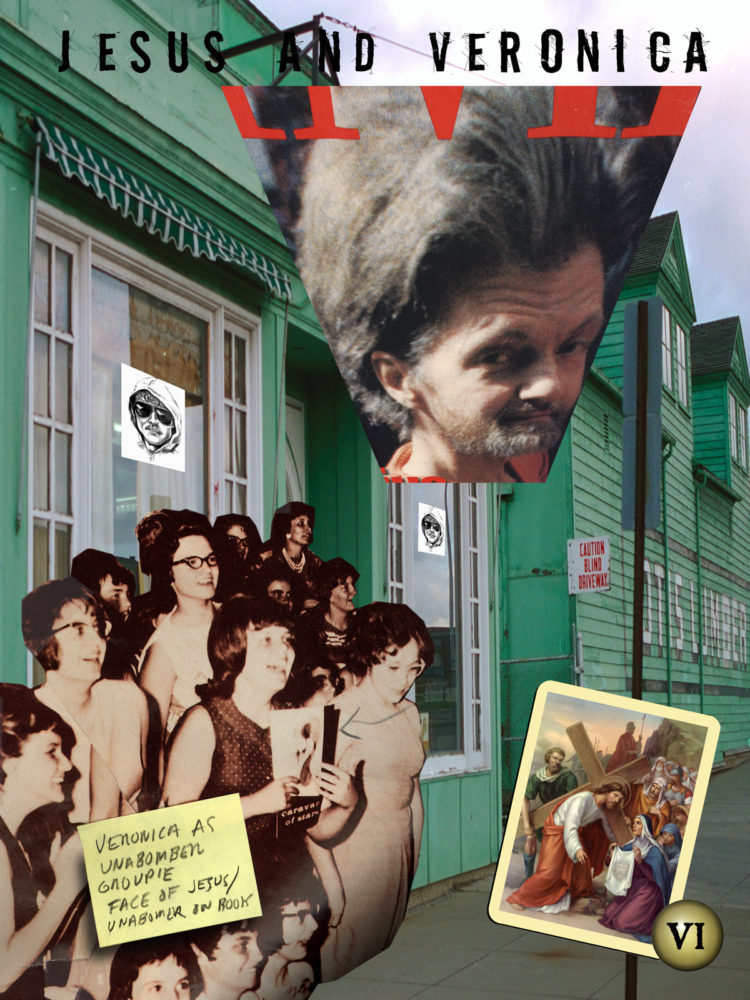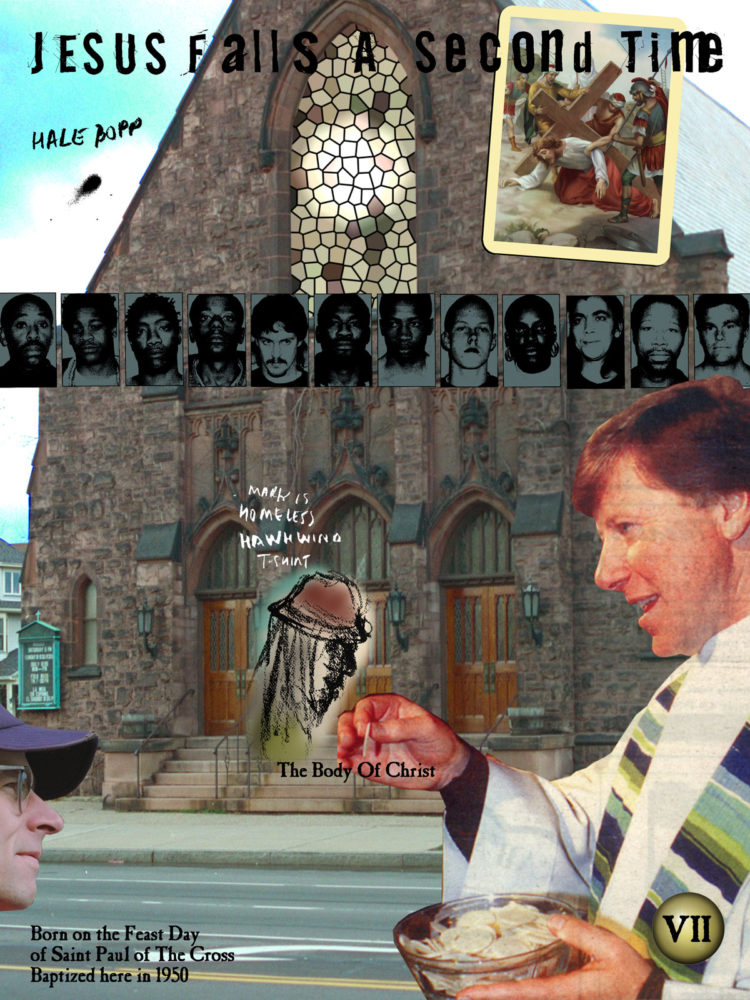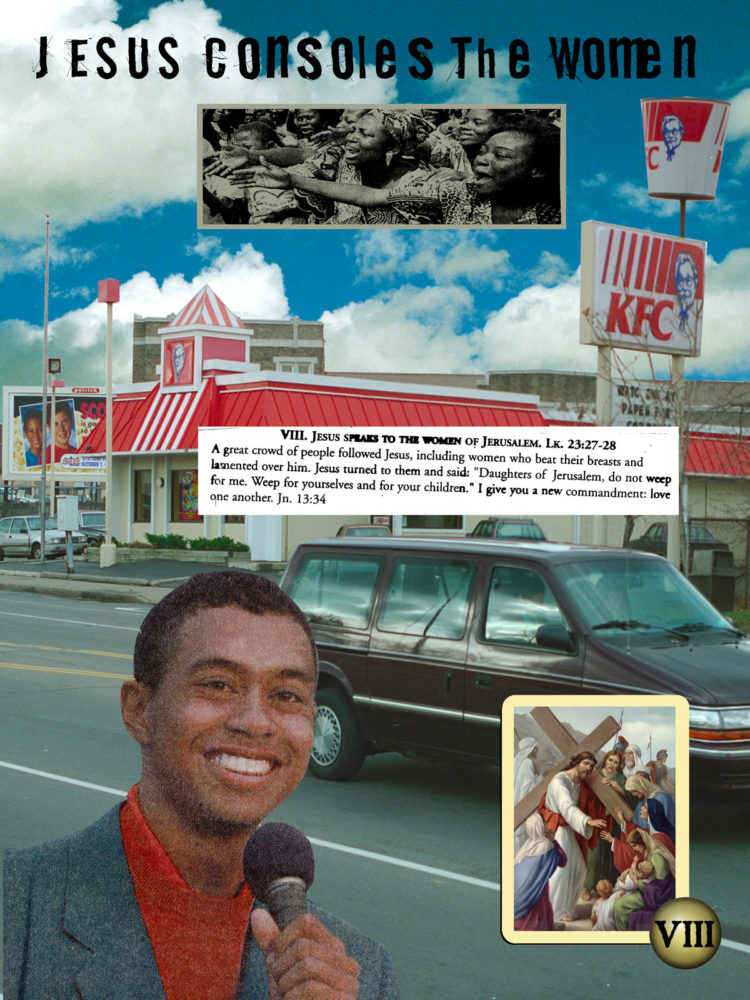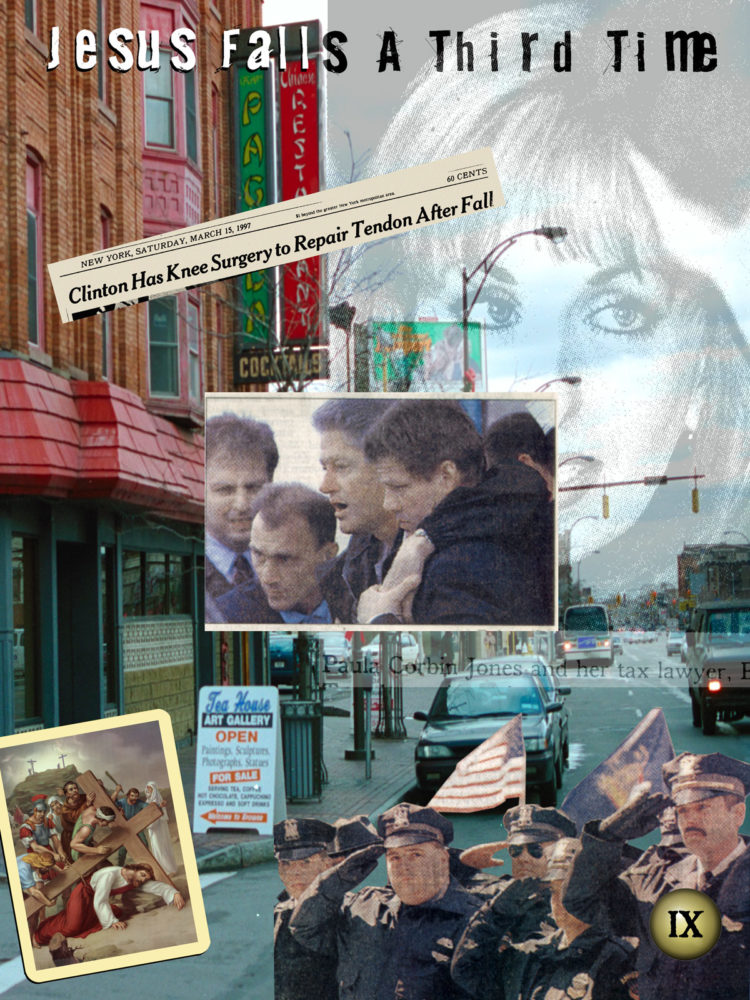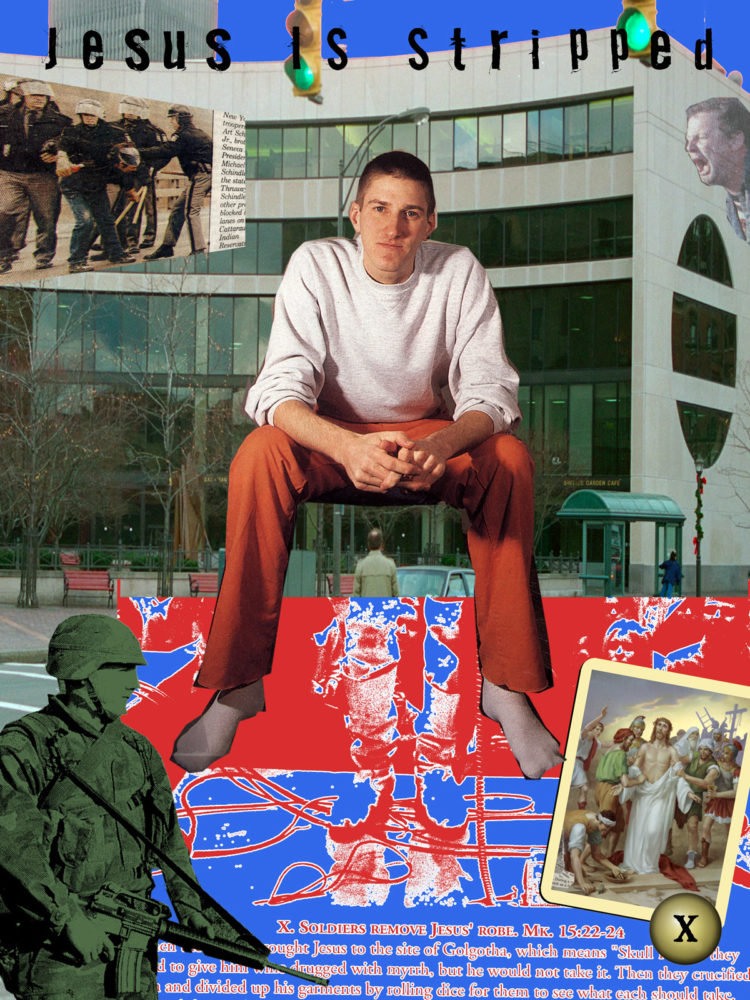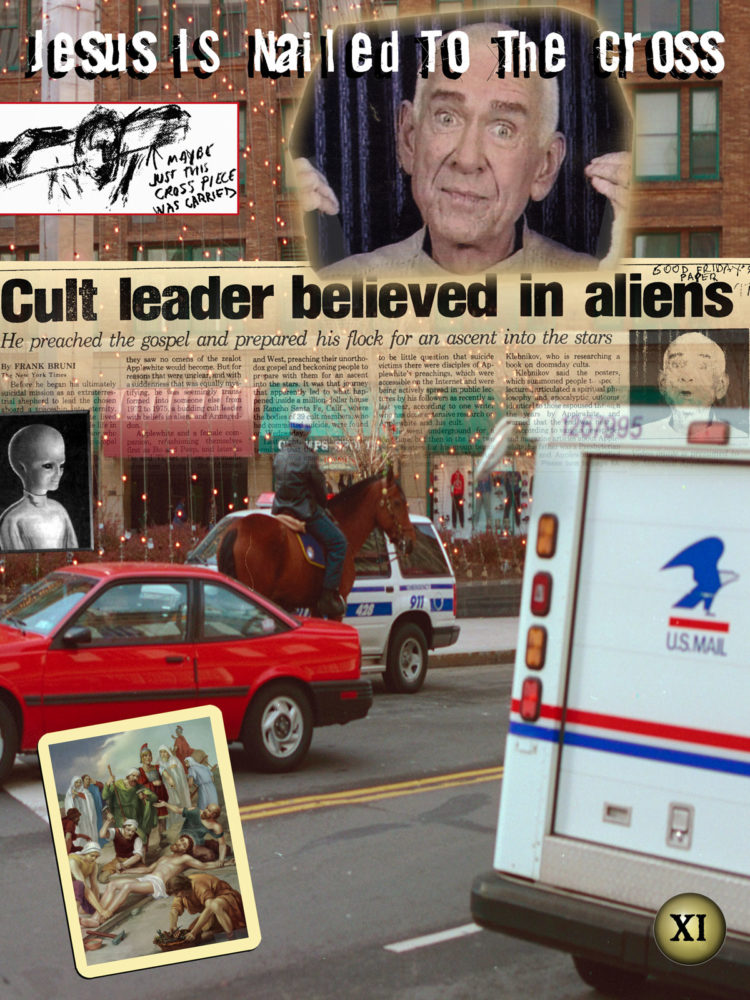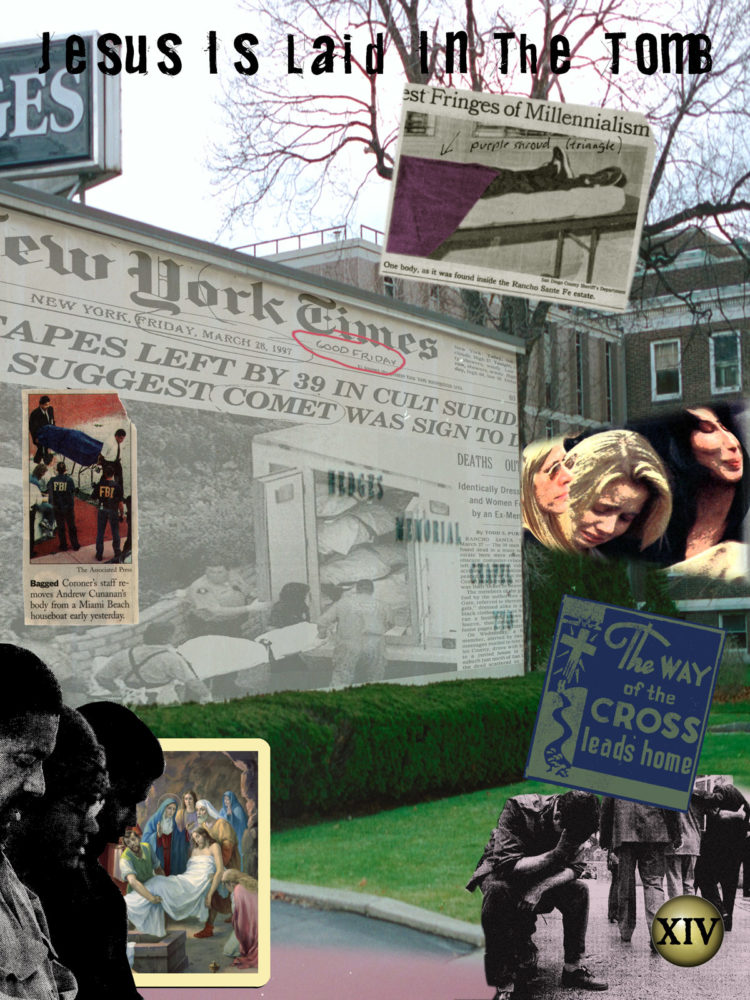 ---
Source Photos for Passion Play
I took a role of slides as location source material and had them transferred to cd. I used some of the images in the digital collages that I compiled in Photoshop.
In 1993 I took a role of slide film, approximently 36 shots, of locations on East Main Street in Rochester, New York. I used these as source material for a project where I retold the story of Chist's crucifixtion. We lived near East High so I started there and worked my way down to the Liberty Pole where I thought Christ would be crucified.
While I was taking this photo a security guard came out and told me "You can't photograph the school." East High became a perfect location for Jesus to get sentenced.

Carroll's Irish bar, with a Kali Poulton poster in the window, is right across the street from East High. Kali was eventually found a few blocks from here in the old Nortel building. I considered this location for Jesus to get his cross.
This McDonald's is at Main and Culver and would make a perfect location for Jesus to get his cross. The cops hang out here.

This place was Effinger's German Restaurant for the longest time and then it went Irish. It's all boarded up now with a sign in the window announcing "Southern Bar-BQ".
Hard to believe but Fam's Party House was hot during the Disco Days. Now it is some sort of church or ministry.
Jimmy's Short Order (what exactly is a short order anyway?) and El Palladium (a Puerto Rican dance club) are both gone now, like completely gone. The buildings were leveled.
The city leveled a a whole block of run-down houses to build this bus station.
I feel sorry for Christ having to parade down East Main Street. It often feels so god-forsaken. I'm thinking he falls for the first time around here. He would probably be run over by a bus today.
Jesus would meet his Mom near here. That could be her with the red babushka.

My brother lived nearby on Garson Avenue, next door to a guy named "Fat Boy." He made a fortune selling cocaine. I'm sure there is no connection to this place.
I used to have to cash my paycheck in here. I would pass it through the bullet-proof glass and and then they'd say my signature didn't match a previous signature or something. Arthur Shawcross, the infamous serial killer, worked at G&G Foods next door. I used to pass him on his bike while I was on mine. They tore that building down. They have torn down quite a few houses and buildings in this stretch.
Remember cigarette billboards? They are illegal now but the Black Velvet babes are still working.
Even the Adult Book Store has gone out of business. I remember driving by this place with with my mother-in-law and her saying "I don't know what's so adult about it."

I used to like patronizing this lumberyard and would much rather go here than Chase Pitken. Veronica will have to come forward to help Jesus at this point in the route.
The old Armory building would make a great setting for an episode in this dramatic story. Slayer played here and Margaret Explosion.
This part of town was once a lot heathier than it is today. When Dylan played here the crowd got out of control and actually took the stage with him.
I was baptized at Corpus Christi Church in 1950. Father Jim Callan was pastor when I took this shot but he was kicked out by the bone-headed Church hierarchy for his Christ-like qualities.
Just over the tracks is Staub's Cleaners. I was on a little league team in the Cobbs Hill league that was sponsored by Staub's. I pictured the business as being a lot friendlier than this.
My neighbor, Sparky, eats here a lot. Last time we were in here there was bird flying around inside the restaurant.
Hedges, the only funeral home on the route, would have to be where Jesus is laid in the tomb in Station Number 14.
39 degrees is probably an average year round temperature in Rochester.
KFC was just inside the old Inner Loop and almost downtown with radio station WDKX just across the street. I started picturing Christ as an African American.
This sculpture sits on the corner where a funky place called Muggs Up used to be. If the City put benches in this little park or planted live things, it would just invite peopleand then they would have to arrest them for loitering.
Jesus falls for the third time in front of the Cathay Pagoda. What happened to the Tea House Art Gallery?
The small park in front of the Eastman Library atrium makes a perfect spot for Jesus to be stripped of his garments.
I should be able to work the Eastman Theater into this story.
This spot in the parking lot is where the Rochester mobster was blown up in his car about 25 years ago. I worked downtown at the time and I remember looking at the big pit in the pavement right behind where that red pick-up is.
Christ gets crucified at the Liberty Pole.
Christ dies on the cross while Midtown Plaza dies in the background.
The Roman guard on the horse is ready for crowd control duties.
I turned to get a good shot of the Liberty Pole and found I was out of film. I forced the last shot and ripped the film (see photo above) but got a nice double exposure for the dramatic thirteenth station.