add Moondog stuff
Add Dreamland Faces movie in downloads folder. Dreamland picture at Lux.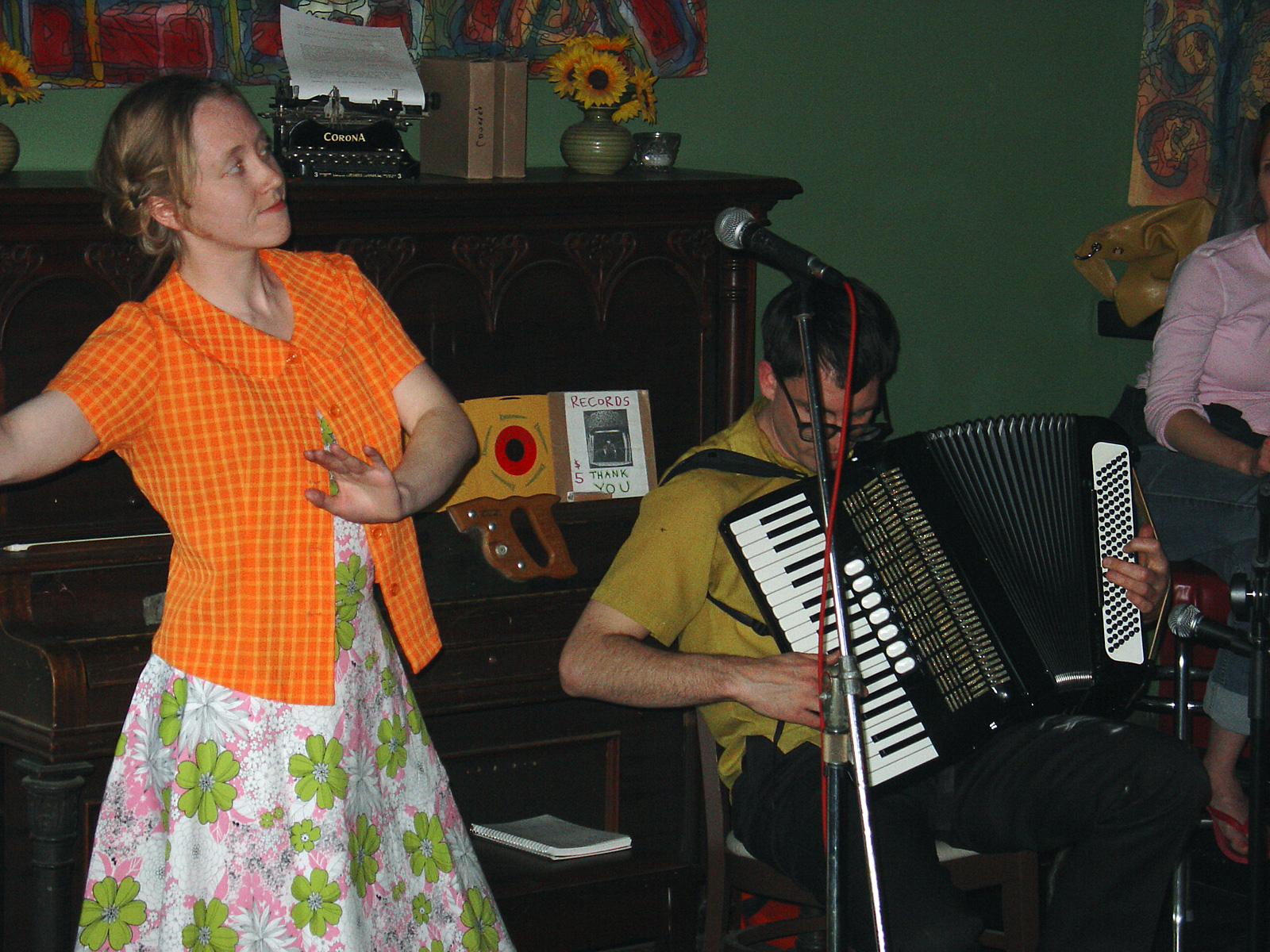 Pete's Rock Band
Pete's Rock Band played only a few gigs and recorded oe casstee for Cheryl Lauro's Godiva Records. Arpad Sekeres did the production. Pete LaBonne played guitar and sang, Bruce Eaton played bass and Paul Dodd played drums.
Here is the title song from Godiva Records cassette, "Antique Revolt" Recorded by Arpad Sekeres in 1992
White Stripes – 10th Annual Bug Jar Fest, Highland Bowl, ROCHESTER, NEW YORK August 12, 200.
Rochester Poet Scores Top Forty Hit
If you frequent Rochester coffee houses where poetry readings occur you have probably heard Norm Davis read. We think he's great and he's a wonderful storyteller.
For some reason, though, you really have to pull this particular story out of him. It's almost like he's embarrassed by it all. But to hear Norm tell it – he is the voice behind Alley OOP, the top forty hit for Kim Fowley's "Hollywood Argyles." He was traveling across the country with a bunch of guys and they stopped in Las Vegas where they met someone who paid Norm $50 to sing the song. They were out in California when they heard it on the radio and they almost died.
And what is more amazing to my wife is that this single was the first 45 she bought when she was a kid.

1. Brady Miller Trio "Qui Zas, Qui Zas, Qui Zas" (6:16)
2. The White Hots "Black Cat Bone" (4:15)
3. The White Hots "Why Don't You Do Right?" (3:54)
4. Ben Gallina Trio "Windows" (9:53)
5. Margaret Explosion "Floating at the Bug Jar" (5:57)
6. Trio East "Stop-Start" (6:48)
7. Bob Sneider Duo "Benjamin" (4:26)
8. Bob Sneider Duo "My Funny Valentine" (3:50)
9. Diane Armesto Quartet "I Fall In Love Too Easily" (7:29)
10. Gene Bertoncini "Cavatina/The Shadow of Your Smile" (7:45)l
LINER NOTES: by Frank De Blase
Yessir, the Little Theatre Café; where time and calories are of no concern or consequence and where mellow is allreet.
Wish you could've been there. You shoulda seen me; the perfect two-tone, gabardine, patent leather personification of lonely and hopeful. Man, it was tres cool. I strolled in the joint rejected, dejected, determined to wallow in my woe over a cup of joe, to replace lost affection with confection. And dig the tunes.
Now, the cheesecake never bent to adjust its hose, nor did the brownies waltz around with bellies full of Ektachrome, but I knew them all well. We were pals. We had indulged in each other over the blood of the bean for many, many nights.
Nestled in the hip pocket of Rochester's art house movie palace, the café hops and hums and buzzes nightly with the smart set's witty back 'n' forth and live jazz.
Jazz groups like those you now hold in your hot little hands serve as punctuation to each point you make, every mood you feel…even a little heartache.
You see, the red head beauty with the green eyes had just given me a one-way ticket on the adiós express leaving me with little 'cept for a burning passion for music and dessert.
And besides the carnival monkey playing a calliope in my head, jazz has always been my soundtrack.In fact it's yours too.
The subtle pangs of joy or righteous indignation or elation are jazz. Those lows so low they seem like numb-less highs are jazz. If it's in the back of your mind working its way to the tip of your tongue, it's jazz. It's the way you walk, the way you talk. Now you know.
It's taken me years to arrive at this, and when I finally did, I felt pretty damn smart. As well, every time I emerge from a movie, I feel somehow smarter. And I find myself (post cinematically, I suppose) wanting to prove it in the Little Theatre Café waxing – reflectively, esoterically while waving a hand that would have a cigarette in it if John Houston directed my life. Then again if he did, maybe the redhead wouldn't have left. Or maybe she would have simply killed me instead. Perhaps he'd have me sipping espresso as opposed to my usual cup of java with enough sugar to stand a spoon in. I do know one thing…he'd have this music, sho' 'nuff. Bring a date, save room for dessert. Spin this disc in the meantime.
Love your site – makes this former Rochesterian want to come back (not), but it's still fun and I have fond memories. Saw your pictures of a Beefheart appearance and thought I would send this stuff along. Beefheart made a tour through Rochester in 1971, playing at RIT (Ry Cooder opening!). Attached is the flyer handed out plus one of the photos I took with my little camera. Maybe your readers will like it – I have other bad shots of good bands from that era if there's interest. It served me well, I'm still doing it (www.kebya.com is my site). Take Care, Kevin Yatarola

CAPTAIN BEEFHEART
an artist, a heartist
from FUTURE #3 010378 usa
by greg prevost and carl mack
is 11.77 interview
as we approached captain beefheart for an interview, he was remarking to a small gathering of fans seeking photos:
i wish i was an octopus, i really do though. i mean, could you imagine standing there octapied like that? no, i mean man, that's beautiful, really…. i love dolphins, and octopuses.
we met the captain (don van vliet) in the parking lot, between concerts at the red creek inn here in rochester [new york, usa – t.t.] recently, during his north eastern tour. we recorded the following interview:
greg (photographing carl and the captain holding a 'trout mask replica' album, leaning against a white station wagon): have to stand back a bit further. – snap! – did it work?
carl: yeah.
i thought you said for us to stand back a bit further. i mean, that's asking a bit too…. impossible…. but no, it is possible to go right through the car: i have done a lot of things like that. no, i mean, i have.
what is your favorite album that you recorded?
the one i just did. the name of it is 'bat chain puller', and i'm serious – and that isn't for publicity reasons – and it is, man, it is góóóód! i got to hear every little note. i wrote every little note – of course, i always have – but i got every little note right on the tape.
do you write your music down?
i don't write it down. well, i do write it down sometimes, but the way i write it most people can't read it. like paintings. i actually do, like in 'electricity' (from 'safe as milk'): the theremin fellow that played that was about 65, had a little pencil thin moustache, conservative suit, black, very, ummm… –
(in the background friends were whistling for their dog to stay out of the kitchen) – let him go. please let him go.
owner: in the kitchen? sure, let him go get something to eat. (returning to subject:)
no, what is it? bella lugosi – no: boris – ummm, bella lugosi: 'tonight we fly' (waving a pointed finger toward the sky). no, he looked like that, played a theremin and was an apprentice of dr. theramin [the russian inventor of that instrument – t.t.]. and i wrote it on a blackboard and he played it note for note. i mean, i wrote it advanced music – and he played it note for note. i am talking about shapes: he did it note for note, and he didn't miss what i thought. i mean, he was fantastic.
were you originally a musician or a painter?
i was a sculptor, a child prodigy sculptor. when i was 13, i had a scholarship to europe from 'nuitsence creamery' (or so – editors), and then my folks moved me to muhabbi (or so – editors; what about: mojave? – t.t.) near the high desert, where they put the oriental people during world war two, which was real sick. so here i was in mojave, a marine base, no, an air force base; i mean, in order to keep my mind the way it is, they didn't like my eyes you see, so i had to defend myself. i mean: i had to every day. five people at a time. i mean, all you can do when people jump you like that is punch your way out – i mean, who would want to punch out? but if you don't punch, you get poked. and i never got poked.
that was terrible, leaving that art area in los angeles. i used to go to the park zoo, i knew all the animals, sculpted all the animals, they were all friends of mine, and that's about what all i knew were animals, and then bóom!: here i am in mojave. my folks moved there, i couldn't get away. i ran away many times. i never went to school in my whole life. if you want to be a different fish, you've got to jump out of the school.
what other bands do you listen to?
i don't. i mean: i don't. i have one that suits me just fine.
i'll tell you who has been on this tour with me – and i wished he was here tonight. his name is sunnyland slim, a black blues pianist. the most fantastic. listen, i thought i had heard it all, but man, i hadn't even begun. this fellow is a genius. there's no doubt about it. i mean, this man is brilliant. brilliant. brilliant. i mean: brilliant. just a grand piano, and a drummer, and man he did 'tin pan alley' for me the other night and i was crying my eyes out. i almost fell off, in buffalo. i was standing there, and denny walley, our slide guitar player saved me, because i was falling backwards – like that, man (captain demonstrates) – and he saved me. i was falling down a hell of a flight of cement stairs. i mean he just took me. i swear i was off the ground, i think he did levitate me. i mean, i mean that. you've got to hear him, man.
the captain's new drummer approaches:
and here is the percussionist, and his name is:
robert williams: robert williams.
and he is the best i have ever played with, and i have played with a lot of them. he is the best i've ever played with.
what label are you on now?
i wrote 'lick your labels off, baby', and i'm having a little trouble getting back on a label, because they know i believe in it. but we're in negotiation with several companies: epic, capitol….
when you changed to mercury records, your style was a little bit different from the previous albums on straight / bizarre…
'trout mask replica', 'lick my decals off, baby', 'the spotlight kid' and then 'clear spot' – the steps down, because i like people, i like to play, and i want them to play to me, with me – you see. and the point is that then i did an album for the group, because they weren't making any money. they lent me their hands to do 'trout mask replica', 'lick my decals off, baby' – i didn't want to do 'clear spot' at that time. i went down a little lower like that for the group and did 'unconditionally guaranteed'. they left me after that, and left one with some monsters. i got these people who they could relate to, and then they gave me… –
robert williams: the shaft.
one, two, three, four, fíve days! and i gave them six yéars! they gave me five days with their audience, and with their fans as well as my fans. in europe, england, everywhere, holland, switzerland, germany, america – a tour, a big tour, and they gave me five days to get a group together to do my music. that's what you get: 'tonight we fly' (once again pointing a finger toward the sky).
but thís group! i have looked for this group for twelve years! we all love animals, the whole group, complete consciousness, we know that the largest living mammal is the absent mind….
i've been getting these record negotiations out of the way, so i will be completely clear for publishing books and things like that. i mean, i really have a lot of novels, and a lot of poetry.
is any of that available now?
it will be. as soon as the end of this negotional things that's on going. i have exhibits of paintings available now if you have a plane ticket. they're back there (california – editors). i would like to do an exhibit in new york.
this concluded the interview with the captain. the band (captain – sax, lead vocal, harmonica; robert williams – percussion, drums; jeff morris tepper – guitar; denny walley – slide guitar; eric 'black jewel kittaboo' feldman – bass, keyboards, synthesizers) went on to do the 10:00 performance to a packed house. they played cuts from the new album and various classics from the captain's earlier works. the band performed with amazing accuracy and enthusiasm along with the captain's inimitable, charismatic personality.