Rochester International Jazz Festival
We have been to every Rochester International Jazz Festival and I take a few notes on the acts we catch.
This page contains entries from 20O2 – 2010
2011 to the present found HERE
2010
There's Scott Regan down front for Billy's Band (head down, to the right, probably sketching). We kicked off this year's festival with these guys even though we had seen them here a few years ago. Sounded pretty much the same and why should they change things? It worked for Tom Waits. They put an entertaining Russian spin on Waits and ride it home. The sound sucked in Harro East. Couldn't even understand the guy who announced the band. It was a release of sorts when they did "Clap Hands."
The Jeremy Pelt Quintet at Montage were really good but relentlessly straight ahead. How did jazz get so studied? I prefer the not so good students.
The Lynne Arriale Trio at the Xerox Auditorium was a real treat. A sensitive band who really listened to each other, they were able to maximize the beautiful. lyrical piano melodies. At times meditative like Keith Jarrett, she played a fantastic version of Sting's "Wrapped Around Your Finger." The drummer supplied an infinite variety of percussion sounds like a fine craftsman and the bass player was right on.
Stan Tracey is the kind of piano player you want to hear unaccompanied. He has a great sense of rhythm, evident in his Monk takes, and a light handed touch with distinctive voicings. His son played drums and I liked the bass player a lot but Stan is the man.
Catherine Russell has a great voice and she is a great entertainer. She makes great song choices too so what else is there? How about a band that goes one better than backing and deepens the the mood of the song with her? That would be powerful as well as entertaining. She paid respects to Peggy Lee and imitated the way Peggy snapped her fingers while she sang.
Guitar player Torben Waldorff of the Torben Waldorff Group announced "my" new cd is on sale in the back making it clear who runs the show here. There was too much guitar/sax unison and claustrophobic arrangements for me so we left after a song. That doesn't seem fair but it is a big festival.
Brass Jaw was amazing. Their horns sounded perfect in the cavernous Christ Church. The ambience was welcome and they played with the space, moving all through the church as they played.I closed my eyes as the mix took on new dimensions. Their arrangements are inventive. Their own songs completely unique. Chamber jazz it is with a boyish edge. Oh, and two of the guys wore skirts.
Terry Clarke Trio with Greg Osby on sax were fantastic. Top shelf jazz by top shelf players. I only wish thay hadn't misprinted the start time in the program. We would have seen and heard more.
We stopped in the street to catch a little bit of Rochester's Filthy Funk and were quite impressed. They have a solid soul sound. Lead singer Danielle Ponder told the crowd that she grew up on Bay Street which we had just taken to get here. Then the band launched into a hefty Reggae groove.
Chuchito Valdes, the son and grandson of famous Cuban bandleaders, opened with a rousing Cuban number that came on like a tropical storm and brought the crowd to their feet. This guy is sensational! His piano playing is every bit as powerful as the powerful drummer who was sitting on the other side of the stage from him. And then it was as delicate as can be on a beautiful rendition of "Over The Rainbow." These guys made everyone else we have seen this far in the festival sound like a toy band.
Charnette Moffett was named after his father, Charles, and Ornette Coleman, who Charles played with. Charles plays drums on the fabulous "Golden Circle" albums from the mid sixties and Charnette plays bass on two of my favorite Onette cds, the two "Sound Museum" releases. We had to check him out and we were richly rewarded. Although billed as a trio he opened with a mindblowing solo performance on stand up bass where he pulled out all the stops. He switched to the electric bass after a half hour or so and was joined by a woman on tambura for a beautiful version of "Nature Boy". A drummer joined next on tablas and drum kit and then a piano player and a trumpeter. They proceeded to take it out! During their last song an alarm went off and kept going off at regular intervals every twenty seconds. Charnette stopped the band and started playing with the siren, wrapping melodies around the mournful siren.
Bassekou Kouyate & Ngoni Ba from Mali play primitive looking four string instruments that Bassekou Kouyate describes as the grandfather of the guitar. Duct taped guitar pickups on the body and a "cry baby" pedal for Bassekou make for a solid groove. That and the two percussion players. Bassekou's wife sang beautiful harmonies, a dramatic flamenco-like song and was a joy to watch as she danced.They sounded great in Kilbourn Hall but would have sounded even better in a dance hall.
We ran into Frank DeBlase and he predicted that the Amy Lavere Trio might be the sleeper of the festival. Quite an endorsement. Amy wears high heels, sounds great on bass and has a cute voice. I wish she was standing front and center. The drummer is certainly not the attraction. Her trio sounded best when they played quietly enough to hear the lyrics but when they did this the crowd in the back of the tent only got louder. Her guitar player had a perfect touch and accompanied her like a real pro. They have a cool, timeless sound.
Francois Bourassa Quartet has everything you could ever want in a jazz band. They are incredibly musical, gorgeous melodies and loose limbed arrangements. This is the kind of cinematic music that you just want to close your eyes to so your ears can take it all in. But if your eyes are open you'll catch the band having the time of their life.
Samuel Hallkvist Center was one odd ball band, young Swedish guys who sounded like a progressive rock band without the steroids. Quite delightful!
Every Jazz Fest we stumble on one act that is so good we see both the first and second show. Dave Liebman Quartet and Blake Tartar were both in that category a few years ago. This year it was Francois Bourassa Quartet from Canada. Three quarters of the band have been playing together for twelve years and it shows as they complete each others' thoughts and delicately support one another as they solo. The wild card here is the young Philippe Melanson on drums. Like a Warhol Factory star you can't take your eyes off him and he plays in a completely unique way so you can't help but keep your ears glued.
We checked out a few videos by Dominic Mancuso and we liked what we heard. They had an old world gypsy like touch and we decided it would be our first stop. The ballroom is great venue but big round tables with white tableclothes and Italian music made us feel like we at someone's wedding in Greece, the subburb not the country.
Eivind Opsvik Overseas are the most adventurous band we have seen at this year's festival. Eivind Opsvik, the bass player, composes angular, modern music, not entirely jazz, and he has chosen an outstanding band to perform it. The guitarist played played like a scientist how had just dicovered his instrument and he reminded us of Jack Schaefer. My favorite song was the last one with bowed bass, mallets on the drums, sustained Farfisa organ chords. That's Kenny Wollesen on drums. We last saw him playing with John Zorn in Chelsea and he's been to the Jazz Fest twice playng with Bill Frisell.
Jacob Fred Jazz Odyssey were here before without the lap steel and they played on the street. I'm guessing their name came from the Spinal Tap song and they had sort of a Tap moment tonight when there wasn't a stand up bass waiting for them at start time. The piano player stalled with a few solo numbers until a bass was delivered. Beatles to Monk, this band covers a lot of ground.
Palle Mikkelborg was sensational over at the Lutherin Church. This is a perfect venue for spacious music. You wouldn't think a drummer with a set like Helen Davies' could ever sound spacious. She was surrounded by a drum store's worth of percussion instruments. The harp and guitar were minimal as well like The natural ambience and the added reverb on Palle's mic made this a heavenly experience.
Get The Blessing from the UK is led by the rhythm section from the trip hop group Portishead. Their promo piece said they were united by a love of Ornette Coleman but they didn't sound a thing like him. At times they sounded like Morphine. Instrumental songs more than jazz but very enjoyable.
Brad Shepik's group performed compositions from his "Human Activity" release from last year. With a name like that you'd think there would be a little more emotion involved. Of course a lot of human activity is rather tedious. The pieces seemed to be arranged too tightly for much interplay.
Little Red Suitcase, from Spain and Germany, push the boundaries of jazz and that's good thing. They brought their little red suitcase on stage with them. That's it on the piano although it looks more like a lunch box. They had some cute songs about the joys of travelling light and butternut shells but they may have been travelling a little too light.
Next up, Susanna & The Magical Orchestra. There really wasn't anything magical about them unless you consider backing tracks magical. The woman hiding behind the music stand reminded us of Karen Black in Five Easy Pieces.
Since we were striking out tonight we stopped in Abilene for a beer. Bryan Lee & The Blues Power Band were playing out back. They sounded a bit like the Allman Brothers so we walked out the side door with our beers.
We walked through the tent on our way to Booker T and saw festival promoter, Jon Nugent, playing with Djabe. This band is becoming a perennial favorite and the bass player still knocks peoples socks off.
Booker T & The MGs packed East Avenue so we walked around the block and checked them out from the rear. The sound was great back here and not as deafening. The heavy set drummer had a heavy set style. That is he dragged the beat just slightly and set up a perfect groove.
We finished he night with Joyce from Ipenima. She is a real pro, a one name star in her own country, with a beautiful voice. We loved her. She would have been sensational if the band had any personality.
We were quite a ways back in the line that formed early for Denmark's Ibrahim Electric at Montage yet we were still able to grab front row seats. People seem afraid of the front row. Maybe that's a holdover from school days. We prefer getting out of the way of the PA. We sat down next to a couple from Sweden and were talking about Denmark's victory in the day's match at the World Cup when Ibrahim Electric took off. Their are songs propelled by an agile, energetic drummer and a guitar player who played lines, leads and rhythm with intensity. The Hammond B3 player took care of the bottom end like he was driving the tour van, determined to keep the band on the road at this exhilarating clip. Their last tune started like a Fela Kuti song and finished like Santana in the Woodstock movie.
Mikko Innanen & Innkvistio hit the highest peaks at this year's fest. Young and bright with world class influences (Ornette and Yusef Latef) they get there without getting heavy. The synth player played bass with his left hand and otherworldly keyboard sounds with his right. The drummer was amazing! The sax players introduced themes, soloed beautifully and stepped off stage while the other two soared. At times I couldn't tell what was going on and I loved it. I closed my eyes and took it in on some other level. When I opened them I was amazed to see only the keyboardist and drummer playing. An arranged two horn tail ala Ornette Coleman and Don Cherry brought us back to earth.
We were a little afraid of the word "velocity" in Dennis Rollins Velocity Trio but their YouTube videos looked pretty interesting so we gave it a shot. What we found was hard driving drums, grinding organ and the world's least likely lead instrument, a trombone.
Gwyneth Herbert was a complete surprise and she is almost impossible to pin down. She covers songs by Neil Young, Dolly Parton and Portishead but she does it all like a jazz cabaret singer. Her voice reminded us of Marianne Faithful when she had a voice. She is an entertainer first and she has picked the perfect musicial accompaniment to let her shine. The acoustic guitar and bass playing was stripped to the core and right on. She played piano, drum and closed the night wandering through the crowd with a ukulele singing a beautiful lullaby. We loved it.
2009
Xerox is the big sponsor this year so they plugged up two stories of Gibbs Street with their corporate tent. That's Mayor Duffy in the lower right hand corner taking care of business. I see he has his "Club Pass" on" and is good to go.
In a repeat of 2005 we started the Festival with the Bill Frisell Trio at Kilbourn Hall. There was a lot more interplay with this trio. Tony Scherr and Kenny Wollesen are great players and fun to watch. I wish Bill had given them a little space of their own but it is Bill's band after all. The show started with about five minutes of bird sounds and they worked the tweets into the first tune. Bill was was wearing the dumpiest white sport coat you've ever seen. He handles his effects boxes, including the one labeled "Kook", with exceptional flair. You are always aware that they are part of his sound but they are never obtrusive. Each song was distinct from the next and they ranged from Dead-like wandering to Monk swing with some very pretty stuff in between.
Along with their sponsorship bucks Xerox has opened the doors to their beautiful performing arts center. We had front row seats for Billy Bang and the band sounded tremendous in this venue. I remember being here in the mid-seventies for jazz shows. The stage is low and wide open. Billy had his regular touring piano player and drummer and a new bass player, Hilliard Green, who looked and sounded like Willie Dixon. Look at this guy. He's standing up back there but getting down! Billy also brought along a trumpet player for some reason. We've seen these guys many times and they are always great. Gutsy, they swing and take it to the edge, reworking Billy's beautiful, haunting, Viet Nam melodies so they never get old.
Rochester's Gath Fagan Dance and Garth told Bang, "Billy, you've got to play your solo the same way each time because I have arranged these movements for my dancers." Billy told the crowd, "Garth taught me how to play Billy Bang"
Peggi and I are pretty good about finding free parking spots in downtown Rochester, not that it is much of a sport in a small city. We don't mind walking either so we parked down by Richmonds on Main Street. One of these guys, maybe Celino was disbarred for a while and Barnes went solo but they're back and not looking a day older. Someone has changed the phone number here to 454-DRED. I am afraid to dial that. And the small print at the bottom suggests their business may now be advertising.
We were sort of lost on the second night because none of the night's sound files excited us. We read the blurbs in booklets but we make decisions with our ears. And we know that sometimes a band will sound great live while their recordings are lifeless so we soldiered on. We ran into Rick and Monica coming out of Tim Posgate's Banjo Hockey at the Xerox Auditorium. Monica warned us, "they aren't improvising". We gave it a shot. Indeed they were reading and then playing while we watched.
Nordic Connect at the Lutheran Church was melodic piano based compositions and featured two sisters on horns playing arranged parts with the trumpet player's husband on drums. For me they really hit the mark with a piece written by the trumpet player and dedicated to the planet. The piano player switched to the Fender Rhodes, the drummer played mallets and the tune sounded like something from Miles' "In A Silent Way" lp. Not like one of those tunes but just pretty.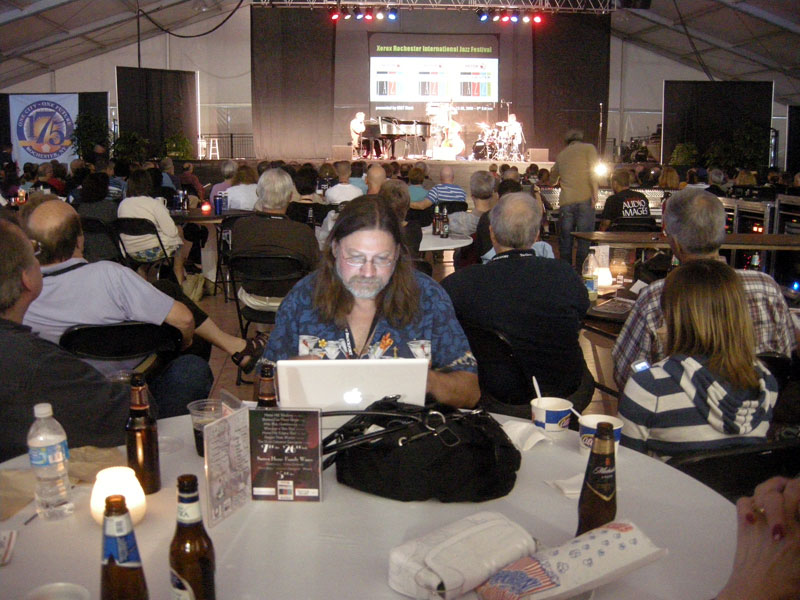 There is something maniacal about deadlines for a review of the night's shows for the morning papers. But Jeff Spevak is better at this than anybody. He finds the color in every assignment and makes it all sound like fun. If only you could find his stuff online. The D&C continues to make their website the least hospitable stop on the web. Every time I go there they have added a new layer of nav bars. It is almost impossible to use. The articles disappear in ten days unless you want to pay for them. And we do subscribe if anybody cares. Did they really set up a blog for Jeff on the "HerRochester" site? We were happy to see him on a Mac this year. And that was Jon Cleary, an Englishman, playing classic New Orleans music on stage in the tent.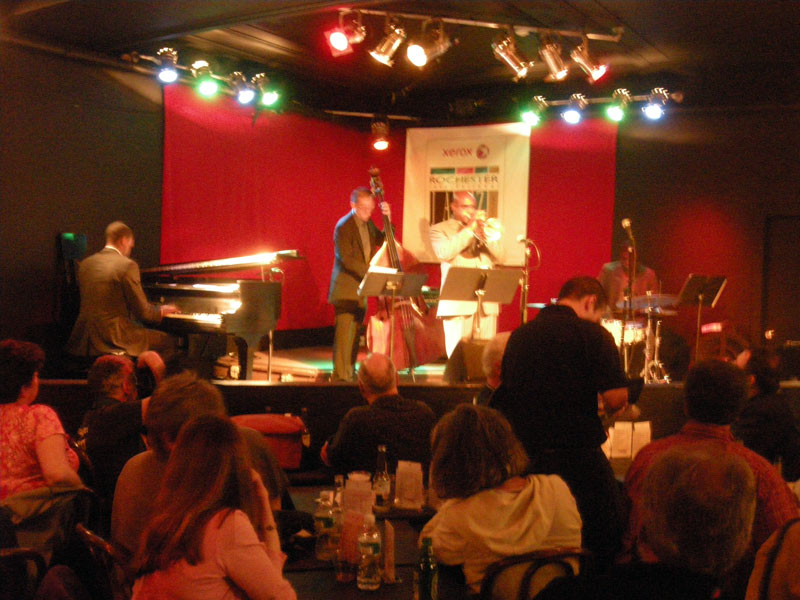 Terrel Stafford Quartet at Montage was really good. The were all really great players in fact. But we long not for the academic with the perfect tone but for the edge that reminds us we are alive. Like when Terrel sat out during their version of "Taking A Chance On Love". He leaned against the dark door to the right of the stage in this photo and the door flew open. Terrel almost fell into the light filled void.
Hal, the guy on the left, is one of our Jazz Fest buddies. We compare notes, sit with each other and he gave us a Duke Ellington quarter the other day. Sir Duke is the first black man and/or musician on a US coin. About time. Hal is giving one of the coins to the European performers at the Fest and we caught him passing them out to Jonas Kullhammer as we filed into the Xerox Auditorium.
he Jonas Kullhammar Quartet have been together for eleven years. They sound like it but they also sound fresh. Jonas jokes with the crowd between songs about looking for a wife in "Beautiful Rochester". That charm obviously works for him and it opens doors to their dense, wild, swinging, musically rich music. All four are tremendous players and fun to watch. Our favorite tune of the night was written by the bass player about a former girlfriend. I plan to request that one tonight when we hear them at the Lutheran Church. I'm happy to say I survived this appearance by the band. When they were here five years ago I lost it.
Peggi led the way as we ran from the Xerox Auditorium in order to catch Soren Kjaergaards Optics at the Lutheran Church. The piano player looks like our nephew, Caleb will in another ten years and we saw him last year in our favorite act of the year, Blake Tartar. He is a delicate and delightful piano player. The great Andrew Cyrille was on drums and contributed the perfect accompaniment to these abstract and beautiful pieces.
We caught a bit of the Stephane Wrembel Trio on the free street stage. I dug the guy's unusual drum set up. World music drums that he mostly played with brushes. The bass payer looked like a young Bob Dylan. The band is from France and is not a trio. There was another guitar player out of range of my camera. They sounded like thay have played their gypsy jazz music a million times.
We stood outside Christ Church for a while because the Neil Cowley Trio had filled the place. While waiting, one of the volunteer workers told us that there was plenty of room over at Max's because people were leaving in droves after each song. She described their music as "very contemporary", the way some people describe abstract art that they hate. We took this as a good review and made a mental note to check them out. Neil Cowley Trio are pegged as the British Bad Plus and that sort of works. The Bad Plus, though, are more rambunctious and unpredictable.
on Ballantyne Trio in fact was abstract. No bass player clears the air. Jon Ballantyne played the inside of the piano, the drummer bowed a metal percussion instrument and the bass clarinet explored the wide range of this long instrument. It was the perfect way to end the night
What a gas it was seeing Chico Hamilton play drums at 89 years of age. He was around when the hi-hat was invented. His band recaptured that 50's west coast sound, both mellow and slinky. Chico's "Original Ellington Suite" lp with Eric Dolphy is one of my favorite albums of all time and it was a real treat to see him live.
Over at the Lutheran Church Jack Garner introduced Jonas Kullhammar by thanking the Church for bringing a different kind of spirituality to its chambers.He said, "Sometimes the most beautiful prayer is a sax solo." Right on!
Jonas Kullhammar was even better in church. The band took a trip to Niagara Falls and the House of Guitars between dates here and they had dinner at Dinosaur Bar BQ. They dig into tunes like Coltrane's band did, the ballads too, and they go all out. The drummer did an amazing solo on his cymbals. This Swedish band puts their own stamp on this formerly American idiom and makes it exciting. These guys are the best band at the fest and we haven't even heard the rest.
The Andrey Razin & Second Approach Trio over at Montage was small but mighty. These three stock Russians came off like siblings putting on a performance for their family. Lucky us. We were invited. They mixed opera and jazz and cartoon music. Nothing was lost in translation. The vocalists does not sing in any language but music. They were not just wacky, they dove into uncharted WTF territory. They are performing again tonight at the Xerox Auditorium.
As great as the three horn players in the Dafnis Prieto Sextet were at Kilbourn Hall last night they looked like lunks standing in front of the band leader even when they weren't playing. We stood in line with kids wearing t-shirts with drums on them and a guy in the bathroom had a t-shirt for a drum throne company! The owner of Cadence Drum Store was there. This was theb drummer's gig but the complicated arrangements all got in the way. I snagged this shot when the horn players finally got out of the way. One song hit a nice Cuban groove. We wanted to feel like we were on vacation and were expecting more. We should have stuck around for the last song when Dafnis sang one drum part and played another on a hand drum.
This gig was billed as Paula Gardner Trio w/ Huw Warren. We sat next to some people who were raving about Huw Warren's performance here the night before. The band played as a trio for most of an hour before Huw took the stage. Their songs are sparse and gentle. The natural reverb in this church setting complimented their performance which came off like one of those pristine ECM records from the early seventies. There was a folky side to all this too. The band is from Wales and Paula has spent some time exploring that country's Celtic roots. The drummer, Mark O'Connor's playing was crisp and right on. He was one of my favorite drummers of this festival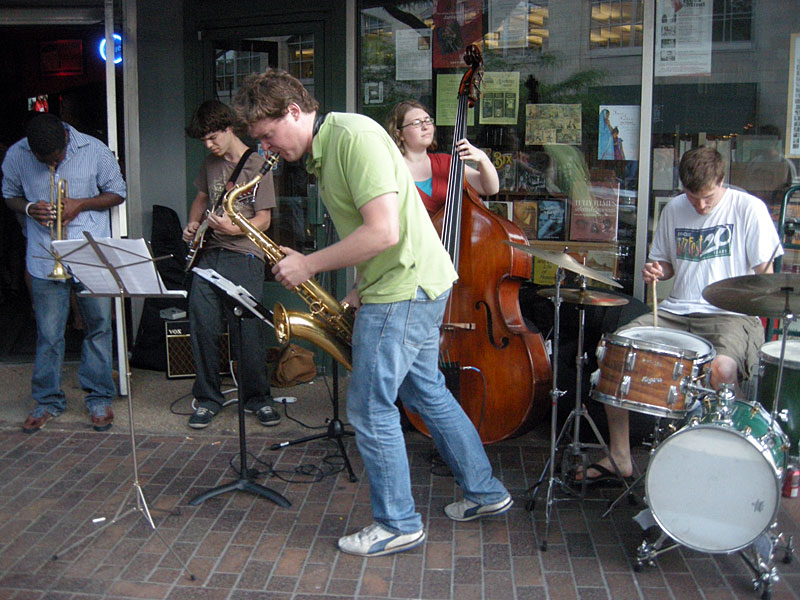 We stopped in RoCo to see the 6×6 show on the way out of the church and then ran into Dan Hanley outside of Greenwood Books where this band of Eastman students was playing. I always get a kick out of left handed drummers because it all looks backwards to me. Another woman bass player and she played beautifully
We had a hard time picking which show to go for in day six of the Jazz Fest. We only had the first hour available so we started with Michael Occhipinti & The Sicilian Jazz Project at Max of Eastman Place. We sat with Sue Rogers and Scott Regan from WXXI and were wowed by the first song. The band entered from the back of the room chanting a call and response in Italian. It was led by the lead singer and had something to do with the band members judging by the broad smiles on their faces as they were each addressed. Maybe it was simply an introduction but it was effective. And then they launched into a fairly straight ahead jazz piece that was not at all like the exotic, old world sound files we heard on their web page. The front line took turns with solos while the others sat out. They had to sit out because it felt like there were too many guys in this band. They do get extra points for featuring an accordion player.
It was raining so Peggi and I ran over to the Little for our weekly Margaret Explosion gig. We had a good night.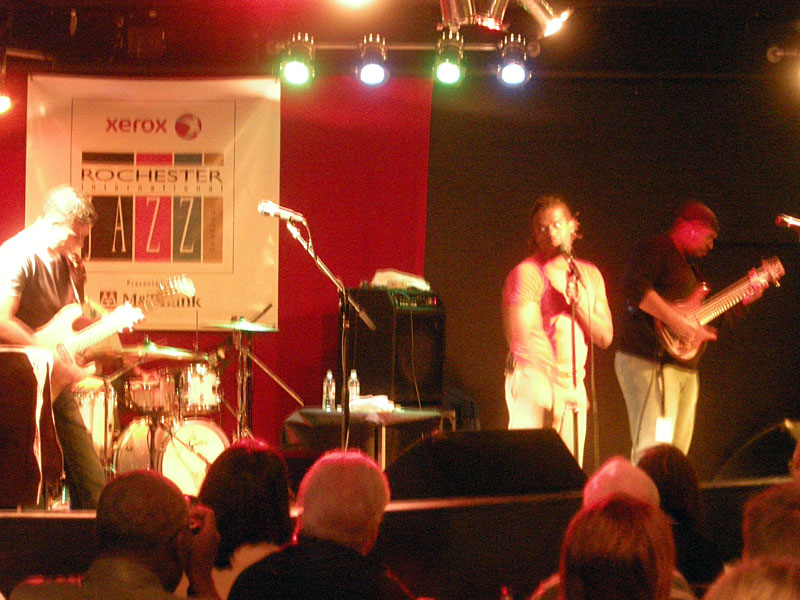 We stuck our head in the tent a few years ago to check out Ryan Shaw and gave him another chance last night. We do love the early Detroit r&b era that he is mining but this muscular approach, not just Ryan's buff build but the five string bass and heavy hitting drummer, takes the sweetness out it. I couldn't get past the ready cell phone on his belt.
We popped into the Xerox Auditorium to check out Joe Baione on the vibes. He looked like Jeff Daniels and played in a loose limbed manner that was clearly at odds with the studied approach of his bandmates. I wanted to like the Milt Jackson tune they were doing but I couldn't get past the disconnect
Gary Brandt and a number of fans were in line early for Nils Petter Molvaer at the Lutheran Church. These were people without Jazz passes who were ready to plunk down cash for this guy. We knew nothing about him other than the sound files that we had spot-checked before leaving the house. Nils plays trumpet through two mics, one with an arsenal of effects boxes and one with only reverb. Both the guitar player and Nils had an Apple laptop to augment and mix their sound with. Their spacious, austere sound worked perfectly in the church and it all would have been more relaxing if we didn't have to watch the performers fussing with the equipment. But I know that is now part of the modern performers' dialogue.
The drummer in Nils Petter Molvaer did not have his own laptop but he did have to lock into some loops. I thought their sound was more interesting without the programed tracks and this guy sounded fantastic playing the drums with his bare hands like he did for the first part of the set. In a song called "Gong" he soloed with a cymbal in his hands while standing in front of a mic confirming that these guys would have sound better without all the non organic trappings.
Never mind that Monty Alexander looked about twenty years younger in the promo photo. He stole the show last night and may be our favorite act at the Jazz Fest. We almost didn't go but there was a line for Tony Kofi at Christ Church so tried Kilbourn. We sat next to an older woman who greeted us with a smile. I said, "You already saw Monty didn't you?" She said, "How did you know?" Peggi said, "You have that Monty glow." She had a Wegman's bag next to here on the floor, one of the new green ones with the limes on them. She showed us a photo that she had Monty sign after the first show. It was her and Monty outside of Birdland in NYC a few years ago but she was a regular at the Roundtowner in the seventies when Monty came through town on a regular basis. We had heard Monty at Art Park about ten years ago and we were bothered by hs hyperactive quoting of so many songs that you forget what song he is playing. He did a bit of that last night and his sidemen seemed to shake their heads at the cornball tactic but it was all in the name of a thoroughly entertaining show. And entertaining alone would sell Monty way short. He did a song of his called "Hope" with a bowed bass solo that almost made me cry it was so beautiful.
Herlin Riley could be the best drummer in the world. I was blown away by this guy's incredible control. He had the perfect touch with every beat. No exaggeration! Both the drummer and bass player had genuine smiles on their faces the entire set. Monty had a blast finding his groove and he hit his master showman stride singing Day O and Nat King Cole's "Lorraine" while reaching into a black bag to pull out a melodica to play amazing versions of Bob Marley's "Redemption Song" and "Running Away" and then an instrumental that we recognized from Augustus Pablo.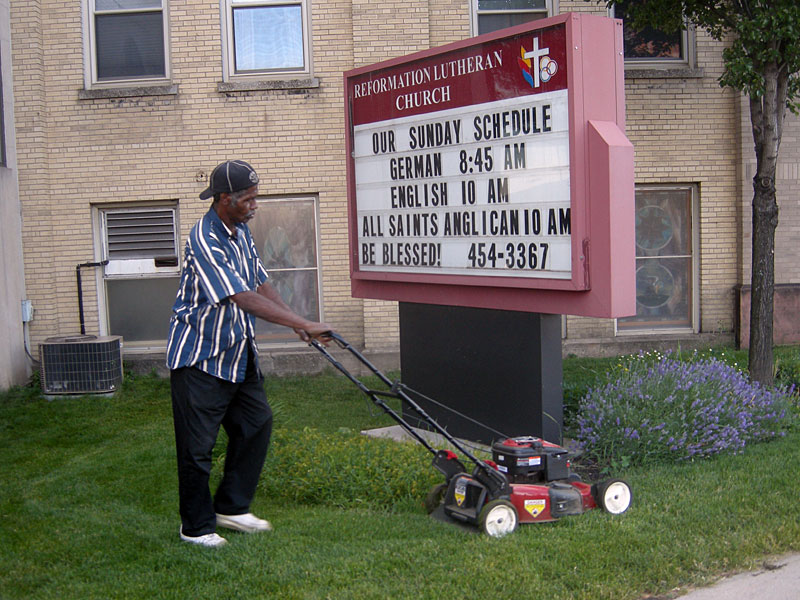 We spent some time following links to sound files for Friday's line-up. We watched a video of Pat Martino and coudn't even count the number of strings on the bass player's instrument but we guessed there were seven so we nixed that show. Turns out he played with an organist and no bass player. We heard he was great. We chose to start with Arve Henriksen, a trumpet player from Norway, who was performing with a dj at the Lutheran Church. We thought there would be a bigger line for this event but it was pretty laid back. We chatted with friends while they mowed the lawn at the church. Hal told us there was a review of Arve (and Nils who we had seen here the night before) in today's New York Times.
Thank god churches are are hurting for patrons (except for the Evangelicals) these days because all these beautiful urban buildings are now available as performance spaces. The Cowboy Junkies recorded the Trinity Sessions in a Toronto Church letting the ambiance of the hall define their whole sound. One of the most popular reverb settings is called "cathedral". Ani DiFranco bought an old church in Buffalo and converted it to a performance space and Doug Rice has recently converted an old Baptist church on Atlantic Avenue into MUCC. Arve Hendriksen let the room breathe and he made the most of it with his beautiful sparse but melodically rich trumpet playing. And looked completely relaxed sitting on the piano bench while the dj sampled the horn live and processed the horn parts adding them to the mix. I closed my eyes and heard an Arabic falsetto voice chanting and assumed the dj had added a vocal loop. When I looked up it was Arve singing into the mic. If only church going was this meditative and restorative. We stopped over at Abilene and then came back for the second set.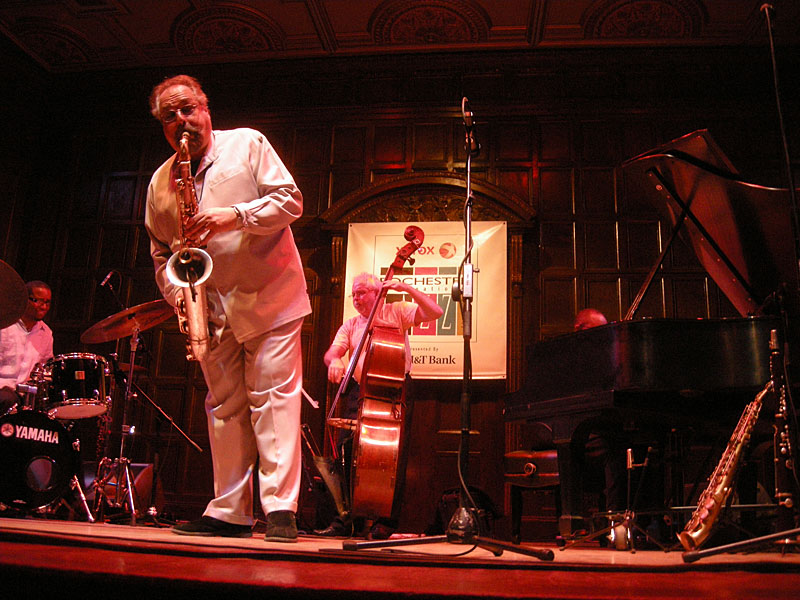 Joe Lovano opened the last night of Day 9 with a different Us Five than his YouTube video. This one featured only one drummer and his wife, Judi Silvano, in that order. Joe moves about the stage with a wireless mic and tosses off melodies like he is in the middle of a lively conversation and most of the animation was between the amazing drummer, Francisco Mela, and Joe. Judi's skat, Cameron Brown's bass, (he's recorded bass with Archie Shepp and Mal Waldron) James Weidman's piano made this a rich musical experience. Joe Lovano is big league.
Delirium at first seemed like a toy band. But that is only in comparison to Joe Lovano. This Finish quartet has been together for ten years and they sound it. Their arrangements are crisp and cleanly delivered with lots of unison horn. They are all great players but the tenor sax player was exceptional. They have their own European (more pageantry and less blues based) jazz sound and it's a lot of fun. Their last tune was entitled, "Let's Have Some Pie".
Aaron Parks has one of the goofiest haircuts I've seen in a while. We were excited to see the Respect Sextet's Ted Poor in the drum chair and gave these guys about a half hour but never warmed up to them. Aaron's flowing, lyrical piano style seemed to butt heads with Ted's rambunctious rough edges and the bass player was not holding this all together. Can't we have Respect Sextet here every year?
We finished the Fest at Montage with the Antonio Ciacca Group. We had see Antonio at Kilbourn a few years back and really loved his playing. He came out limping (literally) tonight and seemed kind of tired. We were sitting right next to his piano but he was not loud enough. The tenor sax player was great. Everybody is great. This festival just keeps getting better and better. We said hi to and thanked co-promoter John Iacona on the way out (he was a former student of Peggi's) but we can't thank him enough.
2008
Getting into Kilbourn Hall means waiting at least an an hour in this line. It has the best natural sound and the acts that perform here are usually well worth the wait.
We started the night with the Al Foster Quartet at Kilbourn. Al played drums on two of my favorite Miles albums, "Get Up With It" and "On The Corner." We saw him a few years back at Art Park in Buffalo with Joe Henderson. And we stopped in to see Sonny Rollins at the Eastman during the 2005 Jazz Fest to hear Al play with him. He is loose with a master's touch. He started one song playing with his hands and liked to play the rim of his floor tom with the side of his stick. The band stayed in check and were the perfect foil for Al who took off at a moment's notice but always returned with a soft landing.
We stopped in the Harro to see Ben Riley's Monk Legacy. Riley played on some of Monk's best work and still had the goods but the four horn players in the front line were too chart oriented for our tastes. There was a great quote in Frank DeBlase's interview with Ben Riley where he talked about rehearsals with Monk. "We never rehearsed. If you rehearse you start playing things you know, and you don't put anything creative in it." The sound in this room though is problematic at best.
elsinki must be a swinging city. I know I liked the section of Jim Jarmusch's "Night On Earth" featuring that city the best. And Helsinki's Timo Lassy Band at the Lutheran Church for the opening night of Rochester's Jazz Fest was hot. They play jazz like it was played in America in the fifties and sixties and they manage to make it sound exciting and new. This is the third time we have seen Timo Lassy at the Jazz Fest and each time it was in a slightly different setting. He was here with the U Street All Stars in 2003 and Five Corners in 2007. Last night he switched from tenor to baritone for an afro-centric, Pharoah Sanders like thing where the drummer played mallets and the percussion player dug a deep groove.
We finished the night in the Big Tent with the Spam All Stars while it poured outside. It was a new tent this year. No leaks and no poles to obstruct our view. A guy with a really short haircut (balding) stood behind two turntables and a sound generator of some sort kicking out contemporary bass and drum loops while three horn players and a timbale player played along. The horn lines were kind of exotic and worldly. But having just seen two of the best drummers in the world, the rhythmn section seemed pretty lame.
The Bad Plus are truly the rock stars of jazz, adored by their fans. And the individual players seem to each have their own fan base, especially the drummer, David King. The bass player in the middle holds the wildly divergent classically tinged piano player on the left and the raucous angular drummer on the right at bay while tying it all together. We saw them the last time they were here but really liked them this time.
.The Bad Plus morphed into a competent back up band for Wendy Lewis when she took the stage to sing beautiful versions of new standards by Nirvana, Pink Floyd, the Bee Gees, Bobby Vinton, U2 and Heart. This was their first gig with her, a preview of their upcoming cd.
The Jazz Festiva grey hairs with the Crocs can be an unruly crowd. Officer Friendly on his segway keeps them in line
The Ola Kvernberg Trio at the Lutheran Church featured a sort of hard driving violin. Some songs reminded us of Jean Luc Ponty workouts. But they could slip into respectful folk melodies that were very pretty.
Another year and another church was added to the list of venues.This is the Episcopal Christ Church next door to RoCo on East Avenue. The sound in here lacks any sort of definition and it picks up long room reflections.
Inside the church the Kris Davis Quartet worked with the sound problems like pros. They left space for Kris' lingering piano notes to float and her husband's drums to crescendo. They walked the line between free and beautifully controlled compositions. We spent some time trying to figure out which one is Judas.
We finished Saturday night standing at the newly remodeled High Fidelity (they took the Labatts beer signs down) for Stephanie McKay, "Soul Sister Number One." Her sincere, heartfelt songs deserved a real band, not the hot dogs (five string bass, one handed rolls with a goofy smile) she appeared with. She has one cd out in England and another on the way here. She took the stage like Sly Stone and came out in the crowd to dance and invited people back up on stage with her. Angela Davis crossed with Diana Ross, she is a great entertainer with some real songs.
We were looking forward to seeing the tabla player, Badal Roy, with Dharma Jazz at Max's but Badal Roy was a no show. We had seen him years ago with Ravi Shankar and he plays on Ornette Coleman's "Tone Dialing" and a number of things with John McLaughlin. Dharma Jazz found a pretty good sub in Dan Johnson but the piano player had the better sense of rhythm. It appeared to be his band even though he announced that it was a collective.
Jazz Kamakazie on the street was not all that interesting but the show was free. They had some Kraftwerk-like electronic effects on the vocals.
Crowd at the 2008 Rochester International Jazz Festival
We were wondering if this bank makes house calls. And what would happen if if someone stole the car?
Yggdrasil from the Faroe Islands combined slides, nature sounds, flute, piano, bass, guitar and drums. They were as spacey as this photo looks. We heard a beautiful piece that lasted forty five minutes and completely transported us to a Nordic seashore. We were sitting on some rocks and marveling at the landscape. I forgot I was in church.
The Dave Liebman Quartet was last here for the 2003 version of the Rochester International Jazz Festival. He tore it up then so we prepared ourselves for takeoff last night. We grabbed a table down front at Montage and ordered a Brooklyn Lager (one of the sponsors of the show). The waitress asked for the cash up front and explained that she had to buy the beer from the bartender. This club is on its last legs and I suspect they are already out of business. They still had the "STEEL" sign up on the wall from the days when they went metal and the barricade to keep the meatheads from diving on the stage.
The set was exhilarating. Dave is in complete command and he gets there every time. The guitar player was amazing and we recognized him from the Sunday night's Dharma Jazz which must have been a pick up gig for him. The group has been together for years and they play like a real band. They listen to and work with each other like the seasoned pros that they are. They did a tune from their new cd that was the slinkiest, low down, film noir track I have ever heard. Dave started it with a little wooden flute and he switched to soprano sax while the bass player strolled through some dark, swinging neighborhoods.
At the end of his set he told he crowd, "OK. You go see the rest of the bands. And you tell me." Martin Edic had just chided us for darting around. He said, "You can't just pop in for one or two songs and decide whether you like someone or not." So we looked at each other and decided to just stay right here for the second set. It was equally good if that is possible. Dave did a song dedicated to an African pop singer who he heard everywhere while traveling to the Sahara for his sixtieth birthday. He played percussion in the intro and then some wildly exotic tenor. You rule Dave!
It takes guts to get on stage with former Miles sax player, Dave Liebman but John Nugent has 'em. He co-produces a wildly successful Jazz Festival in Rochester, New York doesn't he? Dave introduced John as one of his students from the eighties in Canada. We are lucky to have a musician booking the music for this event but John still needs a few lessons in the wardrobe department.
We passed John Nugent on the way into the Lutheran Church for Wildbird & Peacedrums. He said, "You won't be disappointed. This is my favorite act of the whole festival". They were pretty sensational. Mostly voice and drums, they managed to sound like they were playing folk songs from an undiscovered tribe. I have a recording of prison tunes from down south where the songs are all voice with foot stomping, banging or hand clapping accompaniment. Wildbird & Peacedrums kept reminding me of those blues based tunes but in this case they removed the swing like only the Europeans can. Vocalist Mariam Wallentin sang mostly in English, I think. But I could only catch phrass and imagine what she might be singing about. I really liked this aspect.
Doctor Lonnie Smith made a triumphant return to RIJF with two sets in the tent. He is from Buffalo and he used to play sock hops in this area way back in the day so he is a thoroughly seasoned entertainer. He did his impressions. He smiled a lot. He got down on his knees and crawled under his Aztec organ to do a bass solo on the foot pedals. The band got all revved up and muscular but I liked it when they got slow and groovy.
Murray's bass player was Jaribu Shahid, also the new bassist with the Art Ensemble of Chicago. He started a song called"Banished", from the documentary of the same name, with a beautiful bowed intro. Murray switched to bass clarinet and the drummer played mallets. It was the standout tune of the night. We tried to add the movie to our NetFlix queue but it has not been released yet.
Iro Haarla, pianist-harpist-composer from Finland, makes modern music in the mid seventies ECM mold, austere, detached and quite beautiful.
This is the rest of Iro Haarla's band. The bass player played one of those half scale stand ups (i.e. a sit down model). This church has a really good wide open sound unlike the cavernous Christ Church location. This band sounded great in here.
We popped into the Harro to check out The Wild Magnolias. They looked and sounded like a halftime act at a football game. We walked across the street to Abilene's for a beer.
Jake Shimabukuro, the YouTube ukulele sensation, did a short set at Bernunzio's between his two sets at High Fidelity. We happened to be walking by and I took this shot through the window. That's happy owner, John Bernunzio, in uniform in the doorway and another YouTube sensation, Julia Nunes, first row, down front.
Jae Sinnett Quartet at Christ Church was mostly great. They sounded better when the bass played played his double bass and not so good when the keyboardist switched to electric piano. The sax sounded great in this room. Leader/drummer, Jae Sinnett, reminded us how lucky we are to have jazz at our Jazz Fest. He said, "Compare yourselves to fifty other major cities and look at the line-up of their jazz festivals". Here we were worried that the promoters were bringing in too many mainstream music acts. I guess we're doing better than we knew. Thank John Nugent when you see him darting around.
I wish you could see Joe Locke's pointed white shoes in this shot. The right one was busy pumping his dampening pedal. His Buddy Miles lookalike drummer added the umph to his ""Force of Four" Quartet. Joe went to East High but got his start playing in clubs on the west side of Rochester. This is his third appearance at the Jazz Fest and this time he packed Kilbourn Hall for two shows. Next stop is the Eastman Theatre.
We didn't find time yesterday to read the lineup for the Jazz Fest until we were in our seats at Kilbourn waiting for Joe Locke. The notes in the program guide said "Blake Tartare's repertoire includes works by Charles Mingus and Sun Ra" so we decided to head over to Montage. Blake Tartare was loose, freewheeling and sensational like a wedding band after a break in the parking lot. They did a song from Rahsaan Roland Kirk's "Rip, Rig & Panic" that lasted a half hour and received a standing ovation. They were the most exciting group of the festival so far. We made plans to come back for the second show.
Beady Belle completely changed her look from the photo in the program guide. The heels, tablecloth and perm were all in contrast to the relaxed, funky band look but she had a beautiful voice and the band was a perfect fit for her dreamy pop jazz. If you were trying to find a guitar player who could play exactly the right tasteful part for every song, her guitarist would be the guy to go to. The whole band was especially good at keeping their arrangements sparse and right on for the song. The group is from Norway and this was their first gig in the US. They sounded like the lounge band in heaven on a rainy day
Back to Montage for Blake Tartare's ten o'clock show. Is there such a thing as punk jazz? If so, these guys hold the crown. I don't mean to imply any lack of musical ability, I just want to emphasize their wild streak. Michael Blake is the leader but he called a song, a cover of a Curtis Mayfield tune, which led to a few minutes of discussion amongst the band and then the decision to launch into another song. Blake lives in New York and the other three live in Copenhagen. I can't imagine how they pull this off. They did an encore with the Slickers "Johnny Too Bad" complete with an audience sing-a-long. But that wasn't enough. They stayed on stage and improvised a whistling (the piano player is playing the beer bottle) song with percussion that brought the house down again. They were the most exciting group of the festival so far.
Billy's Band looked like a bunch of hobos. In fact they were hard to photograph because they all huddled in circle like bums around a barrel of burning trash. The Saint Petersburg quartet sounded like Tom Waits singing in Russian. Most of the material was Tom Waits' too. Tom Waits is good so they were good. The guitar player looked like Abbie Hoffman or a miniature Armand Schaubroeck. The bass player worked the room with his broken English and they were very entertaining. Tom would dig them.
Music Music Music at the Lutheran Church were good but just a little too polite for the near end of the Jazz Fest. The comparison to the Bad Plus in the program guide only forced the analysis.
Even the atonal accordian player made an appearance at the Jazz Fest.
We should have made a move right here to see The Skatellites playing on the East and Alexander Street Stage. I know they would have been good – they were Coxson Dodd's house band. But you can't do it all. John Vacaro sent this great pic.
Guy Barker and Ian Shaw's "Made in the UK" was something completely different. Their sparse sound really worked in this spacious room. Ian Shaw has an amazing voice with a showman's personality which is perfect for delivering the standards and show tunesthey do. The best part though was the stories they told betwenn songs. Ian would ask the crowd, "Do you remember that scene in "Wait Until Dark" where Aubrey Hepurn . . . and then launch into some obscure film music.
It seems every time Cyro Baptista steps out of the house he is peforming with a new band under a new name. Supergenerous featured Canadian guitarist, Kevin Breit and Cyro with a new bass player. We were excited to see Cyro because his performance with Beat The Donkey in this same club, Montage, a few years back was so sensational. This time around the band barely gelled. Kevin is not up to the Brazillian groove.
Carolyn Wonderland played the night before at Montage and we heard a few rave reviews from friends who caught her so we made a point to check her out when played for free on the street tonight. She was surrounded by the Headhunter's trapping but all eyes were on her. She is cute and tough at the same time and an incredible guitarist with a great voice. She plays without a pick and sings like Janis Joplin. If she is not already huge, she should be.
he Sliding Hammers have been here twice before and they were appearing in different locations three nights in a row this year. They are very popular. For me two trombones are already one too many but they make the best of it by playing everything from sambas to straight ahead bebop. One of the sisters now sings and she wrote a beautiful slow song called, "My Wedding Shoes" that they peformed here.
We walked down East Avenue to the Alexander Street stage to check out the scene and Medeski, Martin and Wood. They were pretty good but nothing to write home about. Wait, we are home. I almost forgot. We have seen and heard so many amazing groups in the last week. We stood in line for Catherine Russel but couldn't get in. We talked to Tom Kohn, Frank DeBlaise and Julia Fiqueres outside of Kilbourn while a fight broke out across the street. Frank said, Now it's a real festival"
2007
We had bought our Jazz Fest tickets so long ago that we forgot where we put them. We finally found them in a drawer and scurried downtown. We ran into John Nugent on the street and he asked if we needed passes. So we swapped tickets for 2007 Club Passes and got in the long line for Kilbourn. Kilbourn Hall is considered one of the finest chamber music halls in the world. It is our favorite jazz venue. The room sounds natural, not too lively or dead, and it is not dependent on the sound system. Geri Allen looked like royalty. She is. She played with Ornette Coleman.
The Geri Allen Trio consisted of Kenny Davis on bass and the classic jazz drummer Jimmy Cobb. He played on Miles' "Kind of Blue" and "Sketches of Spain." He is my father's age and still a joy to watch. Geri Allen started alone with a flowing classical sounding piece and set a perfect mood for the evening. Her playing is rich and colorful and she drove this band with a strong sense of rythmn. Geri Allen plays with the best. We were looking at a cd in the Bop Shop Tent with her, Ron Carter and Jack DeJohnette. If they had either of the ones with her and Ornette, I would buy that again – or was that only vinyl where you bought a fresh copy of a favorite?.
This sign was posted inside the Lutheran Church on their bulletin board. Did God create jazz or did it evolve? I like" the language of the soul." That works.
The Peter Asplund Quartet, from Sweden, were nice. There were no rough edges here. The sound in this space was very nice as well.
We left the church and it was raining. but the light on the Eastman Theatre was beautiful. Solomon Burke was in the theatre, no doubt working the crowd with his authentic country soul.
Harro East was another new venue this year. I thought we might still see Wease working the door like he did when it was the Triangle Theatre. This has always been a tough room for acoustics. You have to overcome the tall hard surfaces with enough projection to negate the reflections. It worked for reggae bands like Toots and the Maytals, Peter Tosh, Dennis Brown, The Wailers, Third World, Max Romeo and Black Uhuru with Sly and Robbie who all played here. Mike Mainieri & Steps Ahead had the volume but very little clarity. That's Steve Smith from Journey on drums and a steamroller of a bass player sitting down back there. Who ever thought of combining vibes and fusion?
Toronto's Shuffle Demons were back. They are real crowd pleasers and fill the Djabe shoes from other years. They had pretty much the same lineup as before and the same costumes. The drummer had the same haircut but the bass player was wearing a wig this time. The Shuffle Demons leave the stage at the end of their set and parade through the crowd New Orleans style. They know how to work a room. The baritone sax is their secret weapon.
The Stephane Wrembel Trio was rained out of their first slot but took the stage around 9:30 when the rain had stopped. They play driving gypsy jazz with a world beat flair. We ran into Brian Williams from Lumière here and Bob Henri was sitting down front.
We checked the sound sample of Saturday night's lineup before we left the house and Montage seemed like the clear choice. We certainly weren't in the mood for the "smooth jazz" offerings elsewhere. Jason Crane, former host of WGMC's "Traffic Jam" introduced the Paul Tillotson Love Trio at Montage. I miss Jason's daily show and it was good to see that he was still in town.
Montage is now a heavy metal club (when the Jazz Fest is not in session). The room still sounds nice but they have built a short wall around the stage for some reason. You can see part of the wall in the lower right hand corner of this photo. Paul Tillotson reminded me of Jim Carey and his patter between songs was just as funny. Love Trio's drummer, James Wormworth, is a maniac on the drums. He is now one of my favorite drummers. Paul Tillotson drives the band with a rollicking, barrelhouse piano style. He is so rythmic on piano that the drummer and bass player act like they are in heaven. They are all smiles and play effortlessly. The Love Trio's sound is infectious and they build a joyful, party atmosphere in the room reminding you of just how much fun jazz can be in the right hands.
Zanussi 5's three horn players played arrangements written by the bass player that went from abstract soundscapes to beautiful theme music to fanciful dreams. Not really swinging but really musical. These guys were a treat.
Ryan Shaw from Decatur, Georgia sounded like something out of the mid sixties. This was a live soul band with real musicians. We watched them from the side of the tent over by the bathroom exit. We tried going in the front door of the tent but this band was LOUD. May have had something to do with that Marshall amp.
Los Lonely Boys were on stage but you couldn't see or hear anything. This event may have been too successful. We packed it in for the night. –
.Saskia Laroo from Amsterdam was billed as a female Miles Davis. She played great and did sound like late Miles, like when we saw him at Finger Lakes in the eighties. She looked great and was wacky and fun to watch. She wasn't going to trust her sound to any sound man. She wore her effects boxes around her waist and used them well. Saskia Laroo's band played hard and the funky beat got a lttle too insistent by the end of the set. They would have better off trimming their set to an hour or less. It s hard to complain though, because we did like Saskia. She looked right at home in the former metal club.
Our nieghbor, Rick, came over this morning with his laptop open to a Lotte Anker video on YouTube. It looked fantastic. Her trio improvised the night away at the Lutheran Church. This was the perfect venue for them. The place was packed and when they finished their first twenty minute piece, half the crowd left. This was the heaviest and most avant garde music of the festival so far. Jeff Spevak described it as "rain falling on the instruments." Lotte played soprano, alto and tenor sax. The music was hypnotic and abstract.
We came out of the church and spotted Saskia Laroo and her band headed down to the Harro East for Benny Golson.
Mamadou Diabate started his show by announcing "We are here to make you happy tonight" and he fulfilled his promise. He is from a long line (like seven centuries) of musicians in Mali and his music is is steeped in old African melodies. He was here at Kilbourn two years ago without the percussion and bass players and he really didn't need them this time. He plays a 21-string harp called the kora and its light drone and plucked strings sound beautiful with the wooden, xylophone-like, balafon. Mamadou did a song he wrote that had a one word title in his language that meant "someday the enjoyment will end" (their language is more concise than ours). The song was not a warning but another reminder to be here now.
We only caught one song by the Dave Glasser 4tet as we passed through the tent on our way to the church. But that one song, "In A Sentimental Mood" was absolutely beautiful. Dave graduated from the Eastman and that's Jeff Campbell on bass and Rich Thompson on drums from Rochester's Trio East.
Midaircondo's performance at the Lutheran Church came together like magic. I know this because we watched the setup. We were there early thinking this event may be crowded. There was all this hubbub around a table of gadgets and wires. It was the group's first performance in the US and they apparently were not prepared for the power supply difference. And if ever a group was dependent on power, it would be this one. We watched while they patched multicolored cords into a myriad of effects boxes and boards checking imaginary sounds in headphones. This whole thing would have been nerve wracking for most performers but these two handled it like performance art. They sample and loop their voices and percussion under real sax for a strikingly modern sound. The film loops they played in front of were mostly as blurry as this shot. I grabbed some sensational shots while they were soundchecking and I will put them up here as a detour when the Jazz Fest is over.
WRUR's Scott Regan introduced Dan Hicks and told the crowd how Chuck from Colorblind James had introduced him to the band. Dan Hicks is a rather large presence these days but his voice sounds as good as ever. He is as wry as ever too. Funny how their time came and went in the early seventies and yet their music is so timeless. In fact, it sounded like some sort of throwback when they came out. They did switch the lyrics of "Canned Music" to "heard it on the internet" instead of "radio". Dan Hicks and His Hot Licks actually fit under the jazz banner with their brand of western swing. Dan even did some scat singing. They delivered a top notch version of "I Scare Myself" providing a glimpse into Dan's thinly veiled dark side. And they finished with "Pennies From Heaven." Only a cynic could see the dark side in that song.
Bonorama sounded promising and they came out with a bang but they were too loud for this place. There's four trombones up there.
Five Corners from Helsinki were over at the Lutheran Church and they were fantastic. Young and energetic, they breathed new life into bop. The tenor sax player was outstanding and surely has a long career ahead of him. As young as this band was, the sax player was here three years ago with another band called the U Street All Stars.
Five Corners were led by the drummer and he practiced his English between sets. They played in New York the night before and only brought five cds with them for some reason that we couldn't follow. They sold those in a hurry.
We stopped into Harro East to catch a little bit of Clint Eastwood's son Kyle. That's him on the bass guitar up front. This band looked even younger than the last one. Kyle did a really nice middle eastern sounding bowed bass intro to a song from his "Paris Blue" cd (now why would anyone be blue in Paris?) but then he picked up his electric bass again.
Matt Wilson plays drums for his band, Art & Crafts. His bachelor pad style of dress was apparent in the feel of their second song. It was one of his tunes and it sounded like Esquivel on jazz. His quartet featured a keyboardist on piano and Leslie organ to seal the lounge deal. They opened with a Monk tune and finished with an Ornette Coleman song. In between, they played a beautiful Pat Methany ballad. I didn't even think I liked Pat Methany.
We left Matt Wilson at the Montage and scurried over to the Little Cafe for our weekly Margaret Explosion gig. We were talking about the festival during our break and someone recommended the Ilmiliekki Quartet from Finland at the church so we kept our jazz passes on and ran over there for more Nordic Jazz.
The Ilmiliekki Quartet were playing Thelonious Monk's Three Corners when we walked in. This was the perfect setting for their pristine sound. I tried to buy some water during their set andI felt clumsy just moving around while they were playing. There is a piano player off to the left and they were sparse and exceptionally beautiful. The bass player played here the night before in Five Corners but he seemed more at home in this setting. They finished with Ornette Coleman's "What Reason Can I Give" which the trumpet player introduced as "one of the most beautiful songs I know". The bass player played the melody alone and the trumpet player played into the top of the opened piano so the strings of the piano resonated with his notes. We bought their cd on the way out.
We ran into Dick Storms and Jeff Spevak as we were coming out of the church and they highly recommended Bettye Lavette over at Harro so stopped in. The band played some ridiculous intro numbers without her giving no clue as what she would sound like – that's why they call them "back-up" musicians. Bettye has been around and she sounds it. That's a good thing. She was bluesy and soulful and she sang her old songs like she was just starting out. She is the real deal and the band backed her liked pros. She put soul into Dolly Parton and Lucinda Williams numbers and the slower it got the better she sounded
We got an early start on Thursday with a 5PM Margaret Explosion gig at Bernunzio's Guitar Shop on East Avenue. There was plenty of seating to say the least. The room sounded crisp and clear.
Jason Moran was in this same spot on the Montage stage five years ago when he played with Greg Osby. This time he was in complete charge of his own trio plus a box of samples. Jason told the crowd that "these songs are about things that we care deeply about" but the samples bogged down the musical interplay. They finished with an exceptionally beautiful, haunting melody that Jason stated simply as the song rolled on for ten minutes or so. It was our favorite piece of music of the whole festival.
The church was packed on Thursday so we stood in the back of the balcony and I grabbed this blurry photo. The drummer covered the drums with towels to dampen the clean tone of the beautifully tuned set from the previous night. It suited In The Country's rock tinged sound, slow piano pieces, most of which built in intensity to reach crescendos. They covered David Bowie's "Ashes To Ashes" and on the next tune all three players chanted "Everyone's Going To Die. Cheer Up." It was not at all as dreary as it sounds.
The Latin Side of Miles is a testament to the enduring popularity of Miles, but Miles never sounded like this. The trombone player, Conrad Herwig leads this group of great players in muscular versions of Davis and Coltrane classics. We had seen the sax player before with Pete LaRoca. And the trumpet player, Michael Rodriguez, who is taking Brian Lynch's place here was just at the Montage with Matt Wilson's Arts & Crafts. Rodriguez was taking Terrell Stafford's place with Matt Wilson. Thanks to Jason Crane for straightening us out on trumpet situation. The percussion player sang and played a great Afro Cuban intro to "Flamenco Sketches" from "Kind of Blue" and I found myself wishing these guys had either more Miles or more latin in them.
We stopped at the tent for a few songs by Corey Harris. His trio fused the blues with African pop and came out with a rootsy Caribbean sound. We didn't know anything about them but enjoyed what we heard.
We got a late start on Friday and heard that the line for Don Byron at Kilbourn was already around the corner and out to East Avenue. We hadn't been in the new Milestones (High Fidelity now) so we stopped in. We lived next to East High for years and the marching band there did every conceivable song in the drum and bugle form. There were some big guys in the Soul Rebels and and they threw some hip hop and bullfight music into their hefty mix. I felt like I was at a funky football game at halftime.
We wandered around the various venues and tried not to be jazz snobs tonight. We ran into Steve Greene outside of Bernunzio's Guitar Shop. He and the White Hots had just finished a corporate sponsor gig outside of Max at Eastman Place.
We walked down East Avenue to the Alexander Street stage where the crowd was starting to form for Toots and the Maytals. Giant Panda Guerilla Dub Squad, the band with about three too many words in their name, was playing. They sounded great in this huge sound system. I thought it was a cd playing until we got closer. They have a real contemporary roots sound and a great groove.
Ron Stackman from Bahama Mama and The Majestics introduced Toots and the Maytals. Toots came out swinging with a killer version of Pressure Drop. They sounded as good as ever. Toots is a little guy but a giant of an performer. That's his daughter doing backups at the far right.
Maceo Parker was playing at the same time as Toots at the Chestnut Street stage. We caught a few numbers but couldn't get close enough to hear properly.
Saturday night, last night of the Jazz Fest, and we had a five hour gig at the Memorial Art Gallery playing for the opening of the Finger Lakes show. Our Jazz Passes sat in the car. We played the first two sets as a trio while our guitar player, Bob Martin, listened to Bill Frisell at Kilbourn Hall.
Here is Bill Frisell at Kilbourn Hall with Tony Scherr and Kenny Wollesen, the last act of the 2007 festival. This festival keeps getting better. It may not be putting Rochester on the map but it sure brings a lot of excitement to town. Buy your pass early next year. They go up in price and then sell out as the festival nears. The pass lets you roam around and hear top shelf musicians that you have probably never heard of or big name players like Bill Frisell.
2006
The 2006 Jazz Fest passes sold out this year before the event started. You gotta buy your tickets early. We saved $20 each by buying ours before Christmas. What a beautiful way to kick off the 2006 edition. Dr. Lonnie (not Liston) Smith was at the Hammond B-3 in a trio setting with guitar and drums. Lonnie wears a turban and smiles a lot. He was born in Buffalo and told the crowd that he used to play sock hops in Henrietta with a vocal group called the "Supremes" (but not the Diana Ross group). Tonight he was slow and funky and not afraid to bring the groove way down and keep it there. He did a Johnny Mathis, Louis Armstrong and Stevie Wonder impression for dessert.
Jacob Fred Jazz Odyssey were the perfect outdoor bar band. They were playing early, in the cold, to not that many people. I knew they would not want to be taken seriously with a name taken from a wandering, ponderous, experimental number by Spinal Tap. They were fun and good and they played an exceptionally wide range of material for a three piece. Bassist Reed Mathis' bass guitar could sound like an electric guitar and did on their version of "Happiness Is A Warm Gun."
Djabe, all the way from Hungary, was back in the tent. They must be hungry. They were here in the same spot two years ago. In fact they were hawking a cd this time that had two cuts on it that were recorded here during their last visit. The bass player drives this band with his five stringed instrument. They call themselves a fusion band and I guess they are but not in the athletic sense. They are a fusion of every style from folk to jazz and they are a real crowd pleaser.
Charlie Hunter trio was pretty cool at Kilbourn. They sort of jam but Charlie calls the shots on his eight string guitar. It's a half bass/half guitar kind of set up. We had seats down front within earshot of the PA and they were just too damn loud so we left. A perfect sounding room was not good enough for them. They had to crank it. We hear they did a long version of a melodic song, "Goodnight Irene", after we left and I would have liked to hear that but I only have two ears.
We popped in Milestones on our way home and heard a few minutes of Mahavishnu Project. I used to like John McLaughlin's Mahavishnu Orchestra but that was thirty years ago.
Saturday's musical lineup started with an outdoor gig at Art Walk where Margaret Explosion played on someone's front lawn on East Avenue as the art walkers paraded by.
The Eddie Henderson Quartet at Montage was in the mold of "Kind Of Blue" era Miles and there ain't nothin' wrong with that. They did a beautiful version of Blue on Green along with "Someday My Prince Will Come". The bass player looked like a young Richard Nixon but they were all great players. As we were leaving the club I overheard WXXI's Tom Hanson telling someone that he wished they had ended with an upbeat number. Their downbeat sound was perfect for us.
The Bop Shop was the official vender for cds of the bands playing at the Jazz Fest. They set up in a tent on Gibbs Street and did a booming business. Maybe next year they will have downloads available. The official Jazz Fest merchandise booth was right next door to the Bop Shop. They've sold quite a few berets, as hard as that is to believe, because I saw a number of people walking around with them on. I bought a t-shirt last year but this year's was downright ugly. They need some help in the graphic department. I would start with the logo. It takes a city block to display that thing in all its glory.
this man had a serious job to do. He was outside the Eastman Theatre with all these suitcases of James Brown t-shirts while the Godfather was on stage. He was setting up a booth in the lobby. I would have loved to have seen James again but we were doing the Club Pass. I did see him at the Auditorium with Wilson Picket and I saw him out at Red Creek.
Whit Smith's Hot Jazz Caravan was at the tent and Whit was hopped up on coffee and beer. The cowboy swing songs were familiar and he really didn't have to try so hard but he did. The two other guys were solid as a rock. Whit was here a couple of years ago with Hot Club of Cowtown.
Cedar Walton's solo piano performance at Kilbourn was deep into the intellectual side of jazz. He couldn't help it if he looked like Homer Simpson. He did a beautiful Billy Strayhorn medley.
We ducked out of Cedar Walton and sat down at a table at Max across the street. The York Quartet was on stage and they sounded great. The drummer was wearing high heels and her blouse strap kept falling off her shoulder. She was a terrific player and did a solo with bare hands. The York Quartet was named after the the bass player, Jennifer York, who has been an early morning Skycam reporter for Los Angeles' KTLA for the last fifteen years.
We started Sunday evening with the Roberto Occhipinti Quartet at Montage. The first thing that I noticed was that there were five guys in this quartet. Roberto is the bass player and his group was quiet and sophisticated. Jeff Munson thought they were the "sleeper of the event."
Jonathan "Juanito" Pascual sounded beautiful in the atrium at Max. He explained the flamenco forms and rhythms and knocked the Gypsy Kings for using the same rhythm in all of their songs. He had plenty of anticdotes about the players he learned from and we really wanted to like him but there was too much Jonathan and not enough Juanito in his playing. Flamenco should be full of duende.
Inside the tent, we sat behind the two D&C music critics who were both preparing reviews of the evening's shows. At first I thought that they had a wifi connection but we aren't there yet.
Badi Assad is a singer/songwriter from Brazil and she put on an amazing show at the tent despite some unforgivable sound problems. Unforgivable because the guys from DiMarco/Admar Supply were just looking at each other while Badi tried to make light of the situation by saying, "These guys don't have a clue what is wrong". Sound problems happen all the time and you expect a certain pattern of behavior from the sound crew. Here the packed tent was looking at these guys who acted like they didn't know there was problem. Enough about those guys. Badi was soulful, rhythmic and playful. She created sound effects with her voice while singing. And she thumped her guitar body while playing melodically to produce a very full, rhythmic sound from one little person. She was full of life and drama.
As we left the tent we watched a graduation ceremony break out in the middle of the Jazz Fest. That is a pretty amazing collection of posters on the front of the Eastman – James Brown, Etta James, McCoy Tyner and Wayne Shorter!
Jack Allen's Big Band was up on the free stage on Gibbs Street. It really was different in these guys' day. And they still had what it was.
.Claudia Quintet were over at Little 1 where the seats are plush and lights are low. Their unusual lineup included accordion, vibes, bass, drums and clarinet. They managed to be thoroughly entertaining while reading charts. Leader and drummer, John Hollenbeck, asked if he could borrow someones' hat and then turned down an offer of a Red Sox hat. The clarinet, Chris Speed, performed in the Bop Shop atrium with another interesting group, Pachora, a few years back. They did a few beautiful mellow pieces based on Philip Glass-like patterns and even sounded like the Mothers of Invention at times.
BraamDeJoodeVatcher improvises on bare sketches of songs. They listen to each other intently while pushing the song in new directions. Pieces nearly fell apart and were reformed into something else. Their angular, deliberately off center playing was a joy to watch and hear.
I caught a few songs by Tim Posgate Hornband and Howard Johnson and couldn't really get a handle on it. Tim Posgate's electric guitar was too loud and full and the delicate horn parts were pushed to the back of the mix. And when the two horn players sat down for a guitar and tuba duo take of "Caravan," Howard Johnson was playing like crazy but the big tuba was no match for the guitar.
Here was Respect Sextet, former Eastman students, up on the big stage in front of Java's where they played every Wednesday to a handful of people. City's Frank DeBase is in the lower right hand corner with his camera. Respect Sextet has two cds available and I would strongly recommend them both although I much prefer the second one which was recorded live at the Downstairs Cabaret. The tenor sax player is terrific and Ted Poor is an amazing drummer but, much more importantly, the group has their own sound. And it's a rollicking yet pretty damn sophisticated sound for such young kids. They all improvise like pros. Next year, they belong in Kilbourn Hall.
And there was Billy Bang out on the sidewalk, heading over to the Montage for his second set. We had seen him last time he was in town and he blew the roof off the place. So this time we made dinner reservations for the show which sort of guaranteed us a seat down front.
Jack Garner introduced Billy Bang for his second set. I know that he liked the set because he picked Billy Bang's Vietnam cd to recommend in his Friday music column in the D&C. Billy Bang's drummer, Newman Taylor-Baker, got to the first show a little late. So late that they had hired Dave Cohen from Back Seat Sally and Prime Time Funk to play the first number. So Newman took a little time to tune his kit before the second set and we watched. He was here with Billy two years ago but he is not the drummer on the cds. This piano player was also here with Billy two years ago and his playing was melodic and beautiful, the perfect foil to Bang's folky abandonment.
Garth Fagen choreographed a dance to the haunting "KIA/MIA" and it was the highlight of the set here. Billy said he spent eight years with Sun Ra's band and he performed a song he wrote for Sun Ra called "Jupiter's Future". He was with Sun Ra when we saw them at Red Creek back in the seventies. There was a table of Garth Fagen dancers there and at the end of the set Garth came up and they posed for a few photos.
We started off Tuesday night back at Milestones. And there was the festival promoter, John Nugent, up on stage sitting in with his wife's band, the Dawn Thomson Quartet. They sounded real nice.
Robert Glasper was nice too, but confusing. He was clearly the leader of this trio but his improvising didn't give the others much to hang on to. They were great players but the pretty pieces wandered. The drummer would switch to brushes to support the piano player and I found myself listening to his brush patterns instead of the piano.
We headed over to the Little Theatre Cafe to catch Lumiere. They sounded especially good. These guys play here for free every Tuesday night.
Back to the tent where we waited in line to see alto saxophonist Gray Mayfield and guitarist Mark Whitfield. They are local guys and they had Ted Poor from Respect Sextet on drums and a pickup bass player. Gray Mayfield was really great and the guitar player may have been but we couldn't get past his George Benson tone.
We caught one song from the Steve Gauci Trio at Little 1 before packing it in. It looked like Nod's Brian Shaffer was on bass. They headed into tunes from charts and then started improvising on the forms. I found myself looking for the the distinction between a band who improvises and a jam band. There is one but it is a fuzzy line.
The press release on MK Groove Orchestra said they are inspired by the likes of Duke Ellington, Machito, Sun Ra, Stravinski, Debussy and Fela Kuti. Those are some heavy keywords. We even spotted someone in a Sun Ra t-shirt headed up front to see the band. Inspiration is one thing and delivering with a buildup like that is entirely another.
Wednesday night means Margaret Explosion was back in their spot at the Little Theatre Cafe between 8 and 10. We played with our Jazz passes on and headed out for more music when our sets were over.
ane Bunnett & Spirits of Havana 4tet were very melodic, maybe the most melodic band we heard at the festival. She is Canadian and we have seen her in Rochester twice before, each time with a different band. She was at the first Rochester Jazz Fest and out at MCC with a big band of Cuban percussionists. This setting was more traditional and it suited her well. She played some beautiful flute solos.
There we were at the Eastman House for our third gig of the week where we played a Jazz Festival event in the garden for a group of young professionals. We played All Blues, A Love Supreme and even honored a request from a GEH employee for Maggot Brain.
We had a bite to eat at the Little Cafe and listened to Trio East who were playing with two subs. Only bassist Jeff Campbell from the original lineup was there. I have heard that they sometimes do dates where all three players are subs.
Sliding Hammers are two trombone playing sisters plus a trio. They too were here once before. They drew a huge crowd to the tent. We couldn't get in so I snapped this shot from the open side door on Main Street back by the Port-O-Johns.
We got in line at Montage for the Terell Stafford B3 Band, trumpet, organ and drums. The line was long but they were serving beers on the sidewalk so we hung in there. The show started inside and we were still out on the sidewalk but there were only six people in front of us so we didn't think we would have to wait long. The crowd must have liked this band because no one was leaving. Festival promoter, John Nugent, darted by and announced that there was "a terrific band at Kilbourn and there were plenty of seats" but just then we were let in. We quickly determined that Terell Stafford was too tame for us and we dashed over to Kilbourn for Tom Harrell.
Tom Harrell was my favorite act of the festival. The music was incredibly beautiful. This was easily the best group of players as well. Tom has paranoid schizophrenia and his solos are intense and he would leave the band a lot of room between solos and trumpet parts. The band opened up the arrangements to feature each other but also played intensely as a group without stepping on each others' toes. They propelled long instrumental sections to ecstatic heights.
Hard to say where Tom went when he wasn't playing trumpet. He tried to hide on stage. He didn't manage to do this and would walk back to the mic, signal the piano player to stop, and then play a knockout solo. I grabbed the following quote from his press release. "My feeling of who I am is always changing. Everything is in flux. It's like Salvador Dali and surrealism: The minute you feel you've got a grip on life, it's already slipped away and changed into something else. That's the paradox of life and it brings up the role of the artist. You can't do the same thing over and over again. You'd get bored quickly with your work. It's more fun and satisfying to find new and different things to do."
We started Friday evening back at Kilbourn where e.s.t. looked a bit like professional wrestlers. They are a Swedish trio and they play European jazz. At least that is how I pegged them. Their music does not hang on the rhythm section. The bass player and drummer were following the piano player. And this piano player was fantastic. He sounded like Rocmaninoff. They are described as a pop jazz band but they sounded like a classical jazz band to me. I didn't care for the cheesy drum and bass rhythms or the goofy electronics that they piled on but I loved the Hendrix like tone that the bass player used on one song. Each member of this trio used guitar stomp boxes. They were very melodic and musically meaty.
We popped into RoCo to hear Autumn in Halifax with Chris Reeg on bass. They sounded fantastic in this space. I know the guy who did that painting in the background.
Cajun music is kind of jazzy. I liked the two fiddle players in Red Stick Ramblers. The lead singer was the fiddle player on the right. He looked like a Simon School business major but he sang a song of their's with colorful lyrics that perfectly described a small deadbeat town.
Soul Live is an organ led jam band. Their sound was kinda like Average White Band meets the Jazz Crusaders. They were loud enough to fill downtown and drown out the Gibbs Street stage.
We spotted Mayor Duffy a couple times during the Jazz Fest with his jazz pass on.
Katrine Madsen delivered warm and smoky versions of recent standards like "Close To You." Her late night pregnant standards (eight months!) were soft and intimate. We really enjoyed her.
Kristen Shiner McGuire is Director of Percussion Studies at Nazareth and she plays in a few bands. This is "Kind of Blue" at the Memorial Art Gallery, playing for the opening night of the Second Biennial. Kristen is a joy to watch and hear. She is so smooth proficient and yet she makes it all look so effortless. She even sings.
Kevin Breit and Folk Alarm 5 are from Toronto. Their accordion, mandolin, drums bass and tenor sax lineup made for a delightfully offbeat rag tag sound. They introduced a low key, laid back song of theirs by asking if anyone remembered the Fuller Brush Man. We were sitting with our neighbor who shouted that he did and in fact the Fuller Brush man still comes to his house. Kevin Breit said he did not believe it. But I know that this is true. I have seen him at their house.
Kenny Garrett was hot at Kilbourn on the last night. He was channeling Coltrane with the first few numbers. They featured driving rhythms and extended sax solos that reached for the heavens. His drummer was a powerhouse and Garrett pointed at him durning the second song signaling a full throttle drum sax duo. This was the heaviest jazz of the festival.
But Kenny Garrett has a soft side too. He did a couple of beautiful folk songs, one Japanese and one Korean with just sax and piano. This was the perfect capper to the 2006 festival.
2005
We started off Jazz Fest 2005 by waiting in a line for Bill Frisell. The promoter announced that the band's flight was delayed by thunderstorms but when Bill took the stage he announced that the Thunderbirds, who were preparing for the next day's air show, were doing a practice round. He was very casual and the show was very relaxed despite a hum from his amp. The drummer and bass player played support to Bill's lovely improvisations. Someone told us the bass player was Allison Kraus' brother. All we have to do is figure out who Allison Kraus is. He told a joke about a royal potato family that wouldn't allow their daughter to marry Dan Rather because he was only a commentator and then he did Dylan's "A Hard Rain's Gonna Fall"
We checked out Sonny Rollins at the Eastman and the sound sucked. Someone was putting way too much ambience on his sax but he had a great big sound and sure can play. He sort of teeters these days and his white shoes make him look unsteady. We had seen Al Foster with Joe Henderson at Art Park and were thrilled to see him playing drums with Sonny. The sound got better in the second set and they did another one of those fifties era swinging, squawky sax pieces with a percussion solo. The highlight of the set was Al Foster trading bars with Sonny Rollins. Sonny followed Al and tried to mimic what Al played. The trombone player is playing here but he did a lot of standing around. Sonny's solos went on too long and they didn't hold together. He never seemed to quit while he was ahead.
We only heard a few songs by Hilton Ruiz over at Montage but they were really nice. He had a women drummer and bass player and they did a beautiful version of "God Bless The Child". It was good to be back at Montage (now under new management). It feels like a real jazz club and the these guys sounded great in here
With a name like "Sex Mob" we had to check them out at Milestones. We were way in the back and could hardly see them. It was kind of jarring after Hilton Ruiz and it felt like frat jazz if there is any such thing. But that is probably unfair. We only saw one song. There is so much to hear with the club pass and you can't possibly give each band a fair shot.
We have a couple of Pete La Roca cds from the sixties and we were looking forward to The Night of the Cookers at Kilbourn. The two original members were about forty years down the road from their hard boppin' heyday but they pulled it off thanks to some great solos by the new horn players. Pete La Roca hid behind three big cymbals and never took a solo all night but he drove the band. They did songs from former bandmates Freddie Hubbard and Lee Morgan but sounded best when they slowed down for a ballad. David Weiss, the trumpet player on the left, led the band but kind of bugged us because he would step aside and talk during solos by the others, so we skipped his band at Montage the following night.
We grabbed some good seats for the second set of Steve Turre over at Milestones and this was a sensational show. Steve played with Rahsaan Roland Kirk and learned how to entertain a crowd from the master. Steve swaggered around the stage, told a manly joke and played percussion as well as trombone. These guys were all great players but the piano player was the most fun to watch. Trombone is a tough lead instrument but he clearly pulled it off. He played two conch shells at the same time to bring the house down. And we heard he did a completely different set at six.
On Sunday we went straight to Milestones for Willem Breuker Kollektief at six. The place was already full so we stood near the back. I spotted some friends at a table down front but there were no empty chairs in the place. So I hatched a plan to stand by the PA when the band was announced and then dart into the dressing room when the band took the stage. I grabbed two chairs in there and put them at our friends' table. This is Willem Breuker on soprano sax. His band has been on the road for thirty years. He writes amazing music.
I was sitting so close I couldn't possibly get all seven horn players in one shot. And there is a wildly inventive piano player back there with a bass player and drummer. This show was thrilling. They played for an hour straight running one piece into the other. They can sound like a German oom pah band, Spanish bull fighting music, an old world marching band or long hair music. Close your eyes and you feel like you are in the middle of a cartoon. And there is ample room for solos in these charts. And then there is humor like when the horn players drained their trumpets into their mute cups and doused the crowd. Tom Kohn from the Bop Shop has brought this band to town (from the Netherlands) ten times in the past so you may get another chance to see them. Don't miss it. Sophisticated and joyous, this band has it all and should be huge. What is wrong with this world? Never mind.

Counter Fit Fest organized by Joe Tunis and Chris Reeg as an alternative to the Jazz Fest. The two day music/performance event featured their bands, Pengo and Blood & Bone Orchestra, in a line up of six local and national fringe-oriented artists each night. We caught Urknee and Bjurton Russell whose name comes from the synthesized influences of Rochester's Bertrand Russell Society and the famous Sesame Street duo of Bert and Ernie. Amazingly, they pulled this combination off in sound/voice. They were joined by Jack Schaefer on guitar for this performance.
We ran into Dave Cross and told him that we planned to check out Ravi Coltrane. He warned us that "genius skips a generation" but we had to see for ourselves. Ravi had sold out the first show at Kilbourn so we got there early for the second one. He was a great player and his drummer was a bundle of energy but it is hard to believe that with a father and mother as creative as John and Alice he is not able to find his own voice.
We statrted Monday night with Bad Plus at Kilbourn. We kind of knew what they sound like because our mailman thought we would like it and let us borrow his copy. We didn't burn a copy. They had a hard hitting drummer and classically tainted piano player and they tried putting it all together. They pulled off a nice version of Ornette Coleman's "Broken Shadows". And they introduced a song called "The Empire Strikes Back" by announcing that they "were all pretty much united in their disdain for our government". "Pretty much united" could describe their sound as well. Kinda clunky for a jazz band and kind of fusiony for a rock band. We can afford to be picky with all talent in town.
Do you think the bean counters at Heluva Good Cheese actually see a spike in cheese sales after the Jazz Festival? I hope so.
Described as acid jazz, Orange Alert over at Milestones played nice melodies over a big beat. The sax player thanked his mom, who was in the crowd, and played same samples like a voice that kept repeating, "Mr. President. The subject of our conversation is the Middle East." It wasn't much of a conversation but it sounded pretty cool. I like the LaBatt's Blue display.
Over at the tent we saw Alex Torres & Su Orquestra featuring twelve guys in the same floral patterned shirt. They were from Amsterdam NY and had just performed in Cape Cod but they did a pretty good job of sounding like a band at a festival tent in Puerto Rico.
We slipped into Max's just as the second show was starting for Chiara Civello. We sat next to Gap Mangione and Steve Gadd. Steve Gadd played drums on Chiara's debut album. She was nice but we couldn't help feeling like we were on vacation and had been out in the sun all day and were now down in the lounge of a hotel. We ordered a Guiness and Chardonnay and the waitress came back to say they were out of both. We went up to our room.
Mamadou Diabate at Kilbourn Hall was magical. These two guys from Mali made a world of music on these two instruments. Mamadou Diabate is the guy on the right playing the kora (sort of like a harp). He explained that his family was from a very long line (800 years) of musicians. The guy on the right is Balla Kouyate and he plays balafon (like a xylophone). Together with their overlapping and interweaving patterns, they sounded trancelike like Steve Reich only folkier and and more melodic. The highlight though was a solo by Mamadou whose fingers moved so fast you couldn't imagine where all the patterns and drone notes were coming from.
Over to the tent again where it was really hot. We ordered Brooklyn lagers ad sat down near the stage. The bass player gives this band away. He plays a six string (read "lead") bass and wears it up high. Most of Tiempo Libre were originally from Cuba and they play Cuban progressive music. The drummer played a full kit and their horn player played a wind controller that triggered keyboard sounds. They had a young singer who was dynamite. They invited the crowd to dance but their music was so high energy that most people sat there stunned.

We showed up at Milestones for the second set of Steve Swell. We were kinda beat and the band was kinda all out. Steve Swell is a "traditional avant garde" player according to the program. His trombone, multi-reedman bass and drum quartet was pretty hardcore. Swells acted like he had hurt his lip in the first set and seemed upset, but maybe that was part of the package.
We got a good night's sleep and started over again at Kilbourn Hall. The acoustics here are great if they don't try putting a mic on everything like they seemed to do this year for some reason. Anyway, the sound was perfect tonight for The Ethnic Heritage Ensemble and they were in full control. Kahil El'Zabar leads the trio on drums, percussion, chanting and thumb piano. The sax player was great but the trumpet player, Corey Wilkes, was the best musician we saw the whole festival. He has apparently taken the late Lester Bowie's chair in the Art Ensemble. They dedicated songs to the great Ornette Coleman and the even more undersung Malachi Favors (former bass player with the Art Ensemble of Chicago). El'Zabar created deep grooves for the two horn players to play pretty melodies over and there was all sorts of room for solos. They closed with Corey playing two horns at once and the sax player with two saxes in his mouth. This may have been the best night of the Festival.
We left Kilbourn and walked over to the Little Theatre Cafe for our weekly Margaret Explosion gig. We made up songs for most of the first set and hit on a few good ones. We were happy to see a number of people there wearing their Jazz Pass lanyards. We sold a couple of cds to a couple that had just come from Chick Corea at the Eastman. We packed up and headed out for more music.
We were gonna make a short night of it but we popped into the tent for the Shuffle Demons' second set and all hell was breaking loose. These guys have been doing it for twenty years. From Toronto, they are pros and they did what it takes to rock the place. They wore these crazy handpainted outfits and goofy hats. They reminded me of NRBQ on the rock side. The drummer delivered a thoroughly entertaining poem called "What Do You Want" and adorned it with drum flourishes. "Do want an foreign beer? Do you want to burn your brassiere?" Despite the suprisingly thin crowd The Shuffle Demons got us into a line dance that headed right out of the tent and into the middle of Main Street where the drummer did some break dancing with a woman from the crowd. Get on the ferry and check these guys out.
Thursday for us started with the Harry Allen / Joe Cohn Quartet. These guys were great players but they had very little edge and we need that for some reason. They all wore suits and ties and they were so polite. On another night we might have loved these guys but we couldn't help but think of what we might be missing. We headed over to Milestones for Mad Science but didn't care for them. Can't remember why really.
We found our spot over at Montage and really enjoyed these guys. They are from France and those are twin brothers, Louis and Francois Moutin on bass and drums. It is their band but they have a sensational piano player, Baptista Trotignon and an amazing saxophonist, Rick Margitza. Apparently he played with Miles Davis in the late eighties.
The drummer did a solo with his bare hands and he and the sax player blew the roof off while the bass and piano sat out. Their set built beautifully and sound was perfect. These guys were one of the best acts we saw.
Over at the tent we caught Circle Wide with Brad Sheptik from Pachora on guitar and Donny McCaslin on sax. Without a keyboard but with vibes, they did compositions that sounded like outtakes from Miles's 67/68 albums Water Babies, Circle in the Round and Filles de Kilimanjaro. There is Tom Kohn from the Bop Shop in the lower right hand corner. The drummer, George Schuller, wrote most of the songs and really captured that pre In A Silent Way / Bitches Brew period. He announced that that was their intention and they delivered.
We checked out the sound samples from the official site and picked Jacob Anderskov Trio at Montage. They had a very detached Scandinavian intellectual sort of sound. The pieces with bowed bass and mallets on the drums were beautiful. The Jazz Fest was crowded overall but there were very few people here for this one.
We left Montage and checked out the second half of Paul Smoker at the tent. He and his band were amazing. Wide open jazz, open enough to include rocking guitar. The drummer and bass player go from free to solid and hold this thing together while the guys on either end pull beautiful melodies out their hats and develop them. We made plans to check them out again at the Little at ten.
We settled in the not so comfortable seats at Little 1. I sound like my mother-in-law, complaining about the seats, but when I sit down here I feel like I am continually sliding out of these things. If I went with the flow I would be down on the floor with all the popcorn and Juji Fruits. I know they don't serve Juji Fruits at the Little. I wish they did. This band is amazing. We loved them. Buy the Paul Smoker Notet – Live At The Bop Shop cd. Paul lives here and appears around town often, so go see/hear him. Steve Salerno is very cool on guitar. He plays electric guitar like a rock guy in a jazz band. No fussy jazz sound. His name sounds Italian but his leads sound Spanish. Paul Smoker said everyone asks what a "Notet" is and he went on to explain. He sent some paperwork to John Nugent (the promoter) that said he would be appearing with his Nowtet and someone dropped the "w". So "Notet" was a very cool typo.
We left the tent and it was raining pretty hard but there was Rochester's Steve Greene up on the Gibbs Street outdoor stage. There were two free stages tonight with another one out on East Avenue near Chesnut Street, but this was where the action was. This wasn't the Steve Greene trio with two guitars and bass. This lineup had punch with Tim Sullivan on bass and Christin Shiner on drums. I think Christin teaches at Nazareth College. We have seen her in a cocktail trio setting singing standards as she plays. This band was a treat with three great players. Too bad it rained.
They promoted Raul Midon, the New Mexican sensation, so heavilythat there are probably still record company posters for this guy on the poles downtown. He was introduced as "someone who we would remember exactly where we were the first time we heard him." I remember. It was Milestones. Raul Midón had a great voice and a very rhythmic guitar style but he threw way too much into each song. Great moments flew by and his songs just didn't hold together. Over to the Little for more Paul Smoker.
We spotted Arthur Blythe's name in this trio so there we were in the tent at six on the last day of the Festival. These guys were very spacey like they were on heavy drugs, but they couldn't have played this well if they were. They closed their eyes and went with the sparse crowd (most of whom were chatting at he bar near the back) by playing sparsely. That is an electric cello that David Eyges is playing. He leads this group by occasionally nodding at the other two. Arthur Blythe plays beautiful melodies in a very casual, confident manner. I'm guessing by his playing that Abe Speller played drums in the Army band. This set was delightful. We made plans to check them out again at the Little at ten.
The early heatwave we had cleared out with yesterday's rain and this was perfect weather for the perfect band for the outdoor Gibbs Street Stage. Lumiere plays gypsy jazz but not as purists. They sound old world but which world is hard to say. Brian Williams (on bass) played with John Mooney for many years and the fabulous Bob Henry and The Goners for the last twenty. Roy Berns was part of Steve Greene's trio. Ed Marris on accordion plays with Stone Soup. They don't need no stinkin' drummer. They play Tuesday nights in the Little Theatre Cafe which is another perfect spot to hear them.
We collapsed in the seats at the Little for the last event of Jazz Fest 2005. The Eyges/Blythe/Speller trio was less laid back than they were in the tent but just as adventurous in the theatre. They drove harder and allowed things to fall apart before they rescued them and ended the tune. The electric cello can sound very percussive and the notes are more discernable than an upright bass. We bought the cd which was entirely improvised and my favorite cut there is a slow, bowed cello piece with mallets on the drums and a very melodic sax line. This band is open enough to grab magic moments and sometimes whole tunes.
2004
The first act we saw this year was Mose Allison at Kilbourn Hall. He played with only a bass player and did all his familiar jazzy/blues numbers. He bangs them out like Dylan and they careen just under control – not my favorite device for enlivening old songs. His lyrics though (Ever Since The World Ended, Your Mind Is On Vacation etc.) recall Pete LaBonne's.
We caught a few songs by Triphazard at Milestones. They are from Slovenia and had a very cool, sort of dark, melancholy sound with some loops created from sampled live passages. The singer was fun to look at and kept the band in this detached space.
We caught the late set of Trio Da Paz at Montage, arriving an hour early to grab one of the seats available for the those not ready to spend a minimum of $20 per person for a late dinner. From Brazil, they mixed standards with their own songs and flavored them all with a heavy dose of their country's trademark sound. The guitar player was a virtuoso and the three of them were so tasteful and professional they were a joy.
ntonio Ciacca/Wessell Anderson Quartet at Kilbourn Hall were one of our favorite acts this year. We sat right down front. The natural sound of acoustic instruments in this hall is very special and this is our favorite venue. The only thing we knew about this band was the very brief blurb in the program, "Expect cutting edge jazz steeped in the tradition of the masters". This is exactly what was delivered.
Antonio Ciacca, the Italian pianist told the crowd how revered American jazz is in his country and reminded us all how lucky (or stupid) we are. Wessell Anderson, the sax player, lightened the mood with a story about his dog that would run away to the vet. He wrote a song about it. Thank God they got an encore because they played a new song by Ciacca that rivaled the best Kind Of Blue Miles.
Valery Ponomarev is from Russia and he played with Art Blakey. He told us "that applause was like food for musicians" so the crowd applauded heartily. They were good in a traditional way and Valery was was a natural entertainer. The club pass is the best deal in town. You pop in on a band from another world that you have never heard of and check out a few songs. If you get restless you walk down the street to another act.
The Wallace Rooney Quartet was scheduled for Kilbourn on Sunday night but they had an accident leaving New York. We had already seen Rooney playing with Ornette Coleman in NYC a few years ago (we named our new cat after Ornette when we got back) and we were looking forward to seeing him again. But the Michel Bisceglia Trio filled in amply. From Belgium, they have been together for fourteen years and played beautifully. They were in the Keith Jarret vein but they rocked harder.
he New Birth Brass Band over at Milestones was the ultimate party band complete with a trumpet player announcing, "the more you drink, the better we sound" at about 7 o'clock in the evening. They were a Mardi Gras band that could not be confined to any stage. They circled the club as the crowd went wild. The drummers wore their bass and snare drums around their necks and the trumpet player did the circle of breath. They can play at my funeral.
Djabe at RIJF Club Pass Tent was very entertaining. They came from Hungary and didn't really play jazz but progressive world music. The bass player, Barabás Tamás (third from the right), kind of stole the show. He played a five string bass and even did a whole song by himself. The best song they did all night was when they all played oncles.
Eric Anderson and his trio at Montage were pretty good. They got an award for "Best Jazz Album of the Year" from WGMC's Tony Gasparre before their set. They were more than pretty good. They were great players. WGMC was fun to listen to that week as they had interviews with the artists and they played a lot of their tracks. I see WGMC had two Art Ensemble records in their Top 100 of 2003!
The Flamenco Reunion at Kilbourn Hall were fantastic. The dancer known as "La Conja" sat to the side of the stage while the band led by a drummer from Barcelona set the mood. She was completely enchanting. The Flamenco Reunion managed to pull this whole thing off, combining real jazz with flamenco rhythms. They played a few Monk songs and their own material all with an exotic Spanish feel. They were so good we went back for more the next night and caught them at the tent.
The Eastman Theatre had all the big name acts. We managed to snag a few tickets to a couple of shows and were stuck by how much better the bands sounded in the clubs.
Marian McPartland worked the house at the Eastman Theatre. She loves talking and charmed the crowd with stories between each song. It was a joy to hear her in a trio setting with the Eastman's Jeff Campbell on bass and Rich Thompson on drums. They stayed out of her way while she played beautiful renditions of classic songs, improvising her way through the tunes. She even did an Ornette Coleman tune called "Ramblin'". When was the last time you saw an 85 year old woman bang on a piano with her elbow? Jeff Campbell and Rich Thompson are amazing players and can heard on the "Live At The Little' cd.
John O'Gallagher Quartet at Milestones read their way through a thoughtful, melodic, ECM kind of set.
Avant Galoppi at the Little Theatre was one of Tom Kohn's picks. They were the most "out" of the entire festival but the horn players played in unison at the head and tail of most tunes. They were officially led by drummer, Lou Grassi, but it looked like the bass player was calling the shots. He sounded great!
Is jazz the devil's music? The religious nuts were out in force. This wasn't exactly an end of civilization, East End Fest kind of crowd.
Wednesday was jam packed. There is no way you can do it all. James Blood Ulmer played solo at Milestones and was fantastic. He strums with his thumb, keeps his low E string open and slipped in and out of a few different tunings while digging deep between blues and jazz. He even played flute on one song. He did a great version of his "Are You Glad To Be In America?" We had front row seats for this one.
We left James Blood and walked over to the Little Theatre Cafe for our weekly Margaret Explosion gig. Steve Greene sat in while Bob Martin took this photo. We were suprised to find a decent crowd there during the Jazz Fest. We packed up and ran through the rain to the Montage for Billy Bang's set.
We first saw Billy Bang at the Red Creek with the Sun Ra Arkestra in the late seventies. He has performed at the Village Gate atrium a few times in the last few years and he is always senational but he tore the roof off the place at Montage. His newest material is based on his Viet Nam experience and many of the new songs start with haunting Asian melodies and wind their way to wild peaks. The crowd was estatic. Billy Bang wins the "Best Of Show".
Marc Hamilton, whose company was doing sound at Max's gave us some extra tickets to Bobbi McFerrin. We stopped in the tent for a beer before the show and it looked pretty festive. Someone told us it had leaked in the rain. You'll notice a lot of gray hairs in this crowd. Don't let that bother you.
This show was pretty cool for a few reasons. It was only Bobbi McFerrin and Jack DeJohnette behind a mountain of drums for the whole show – just the two of them. And they didn;t really do any songs – not even "Blackbirds" or "Don't Worry". They kind of played around and only fell flat when they did a country western thing. This was a remarkable show for such a commercial artist. They didn't do an encore either. Jack DeJohnette was Miles's drummer during the Bitches Brew era and the last time that we saw him was out at the Red Creek on a Sunday afternoon in the late seventies.
Geez, this thing looked in focus in the little dispay on the back of my camera. We heard a song by the Hot Club of Cowtown at the RIJF Club Pass Big Tent (attention local sponsors: they need a better name for this tent like the B&L tent or the KrudCo tent or something). WXXI's Mordecai Lipshutz introduduced the band, said they performed on Prarrie Home Companion and the recent WWII event in Washington. They fit the PBS bill but didn't live up to the Django Reinhardt comparisons.
Friday night again and we started with Cuong Vu at Milestones. Born in Viet Nam, he plays trumpet with a $2000 mic stuck in the end of it. (we talked to him afterward at the Bop Shop concession stand). The mic is plugged into an amp and Cuong Vu concocts all sorts of trippy sounds (he can sound like Rochester's joe+n when he wants to) as well as playing beautiful melodic lines. The bass player had about twenty stomp boxes patched together and they were all buzzing when they left the stage. Ted Poor from Respect Sextet plays drums with Cuong Vu.
We checked out a bit of Mike Stern at the tent but when he started playing we ducked around to the back of the stage. He plays way too loud. They had the sound system cranked just to keep up with his amp. Mike Stern smiled a lot and The bass player held down some heavy bass lines and cemented their metal/jazz sound. We headed over to Montage, the closest room to a jazz lounge in this city, for Joe Locke.
Former Rochesterian, Joe Locke calls his band "Four Walls of Freedom". The sax player player is from Scotland and he likes to wear a skirt. They sounded great. The Times of London nails it by saying"Locke, with his ability to play cool and funky, heady and relaxed, is set to become the pre-eminent vibraphonist in jazz." The last time we saw him was at Jenks and Jones over on Genesee Street. He still has family and friends here so don't miss him next time he touches down in Rochester.
aturday, the last night of Jazz Fest 2004, started with Ligeti/Bjorkenheim Duo. Raoul Björkenheim plays guitar and Lukas Ligeti plays drums and everything they do is improvised. This was a great way to start the evening, And the idea of having some of the bands play for free on Gibbs street is very cool.
The Latin Giants of Jazz is basically Tito Puente's old back up band. They also played on the Gibbs Street stage and filled the street with dancers and fans. They sounded just like they look.
Jonas Kullhammar Quartet at Montage was going to be the capper to a sensational week. We had a blast darting around from club to club and soaking in the music. But I dropped as soon as the band started. Since you made it to the last page of the Jazz Fest 2004 postings, I'll share with you what happened to me on the last night. It was quite a finale.
P DODDY COLLAPSES
My exit from the club last night was less than graceful. I had an intestinal flu for the last few days, mostly diarrhea, and I became dehydrated without knowing it. When the band started I tried heading for the door but my knees got wobbly. I fell on the way and then passed out. The last time I remember dropping like that was in church as a kid while fasting for communion.
The ambulance people were trying to determine if I had a stroke or some sort of heart thing. I pleaded with them that I was fine but I had to get to the bathroom to take care of some business. They let me up and I passed out again. They called a second ambulance and transferred me to the care of this guy who pretty quickly determined that I was dehydrated. He told me that I had "vasovagel". I wrote it on my hand in case I passed out again. He gave me two bags of water intravenously. My color came back and I felt fine. He was testing me by asking me who the people were outside the ambulance. There was Tom from the Bob Shop and Al the club owner. When I pointed out Jeff Spevak as the the music columnist from the local paper he told me he didn't read the local paper. I said, "Don't you want to know when the fast ferry is gonna take off?" He said, "I am basically a right wing Republican" which sounded like a non-sequitur at first. It seemed like the guy had just saved my life with the water bags so I said, "That's cool".
They did blood tests at the hospital and monitored my blood pressure. Everything was fine. They gave me another water bag and when they confirmed that I was only dehydrated, they finally let me drink some water.
Buy the Club Pass and I'll see you next year. – photo by Frank DeBlase
2003
The "Club Pass" is the way to go with the Jazz Fest. Strolling or in some cases, running from club to club downtown to catch a big name in jazz or a complete unknown for nine nights in a row is exhilarating. We bought our passes at Wegmans in the middle of the winter for something like $45. They were sixty dollars by the time the festival started but still worth every penny. This is one of the coolest things to happen in Rochester in a long time. On opening night this year we caught Dave Liebman and his group. Dave played on some of my favorite Miles Davis albums in the early seventies like "On The Corner" and "Bitches Brew". He was also the sax player on John McLaughlin's "My Goals Beyond". He was rough and tumble, melodic and out. Very enjoyable.
Sonny Fortune and Rashied Ali stole the show at this year's Jazz Fest. They tore this place up. Sonny also played with Miles on Get Up With It" and "Agartha" and "Pangea". Those last two are some of the heaviest, darkest, funkiest, real acid jazz in Miles' catalog. Rashied Ali played with John Coltrane on "Sun Star", Stellar Regions", "Offering" and the drum and sax duo called "Interstellar Space".
Montage is the best room in the city to see live music. It's perfect for jazz. These two blew the roof off the place opening both sets with an hour long "Pursuance" from "A Love Supreme". Rashied swithed to brushes for a beautiful rendition of "In A Sentimental Mood" and in the second set they did "Someday My Prince Will Come". This was some of the best live music we have ever seen and heard. Worth the entire Jazz Pass.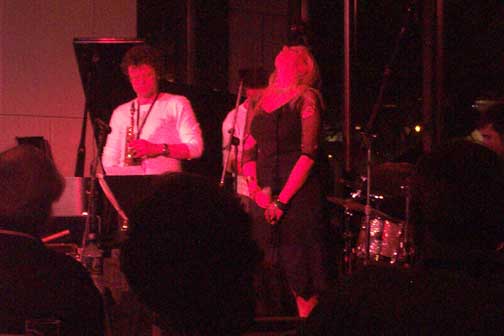 The festival is truly international. This year there were Hungarians and Fins and this exotic group from the Faro Islands called Yggdrasil. The vocalist was otherworldly and had us in a trance. The atrium at Max's under the Eastman Library is an ideal spot for esoteric jazz and world music.
From Finland, the U Street All Stars were a young, straight ahead, be-bop band that wrote all their material. The two sax players started most tunes with unison and harmony parts and then they were off trading solos. The drummer wrote the last two tunes we heard and in his solo his floor tom collapsed. The band all laughed and the drummer finished his solo. The guitar player was angular and fun to watch. This band was a real treat. We saw may more acts this year but these were the only ones I took photos of
2002
The European Jazz Ensemble at Montage Grill were the best act we saw at the first Rochester International Jazz Festival. They are world class players with an avant bent. We didn't know anything about Norah Jones so we missed her. That's the cool thing about this festival. You can not do it all. There are shows in different venues at the same time. If you don't like what you hear just get up and walk down the street to the next venue.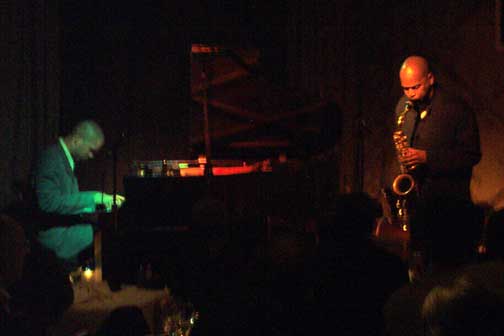 Jason Moran with Greg Osby at Montage was really nice. Great players in a polite setting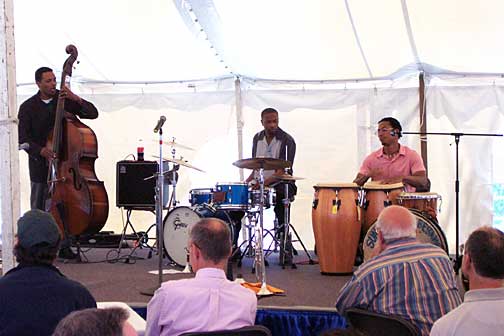 This Cuban band backed Jane Bunnett, a Canadian sax player, and was really hot. They were playing at a tent behind the Museum & Science Center. You need a program to follow the schedule and keep track of the venues.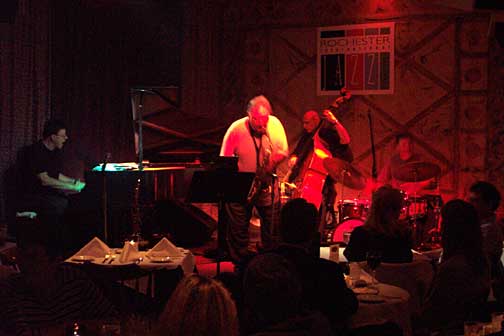 We saw Joe Lovano play at Cutler Union in the MAG and then Joe Romano played downstairs at Montage. Joe is a Rochester favorite and he was very relaxed here. He even took requests. That's Gap Mangione on piano. We saw many other acts but these were the only photos I have from 2002.