We have been to every Rochester International Jazz Festival and I take a few notes on the acts we catch.
2009
Xerox is the big sponsor this year so they plugged up two stories of Gibbs Street with their corporate tent. That's Mayor Duffy in the lower right hand corner taking care of business. I see he has his "Club Pass" on" and is good to go.
In a repeat of 2005 we started the Festival with the Bill Frisell Trio at Kilbourn Hall. There was a lot more interplay with this trio. Tony Scherr and Kenny Wollesen are great players and fun to watch. I wish Bill had given them a little space of their own but it is Bill's band after all. The show started with about five minutes of bird sounds and they worked the tweets into the first tune. Bill was was wearing the dumpiest white sport coat you've ever seen. He handles his effects boxes, including the one labeled "Kook", with exceptional flair. You are always aware that they are part of his sound but they are never obtrusive. Each song was distinct from the next and they ranged from Dead-like wandering to Monk swing with some very pretty stuff in between.
Along with their sponsorship bucks Xerox has opened the doors to their beautiful performing arts center. We had front row seats for Billy Bang and the band sounded tremendous in this venue. I remember being here in the mid-seventies for jazz shows. The stage is low and wide open. Billy had his regular touring piano player and drummer and a new bass player, Hilliard Green, who looked and sounded like Willie Dixon. Look at this guy. He's standing up back there but getting down! Billy also brought along a trumpet player for some reason. We've seen these guys many times and they are always great. Gutsy, they swing and take it to the edge, reworking Billy's beautiful, haunting, Viet Nam melodies so they never get old.
Rochester's Gath Fagan Dance and Garth told Bang, "Billy, you've got to play your solo the same way each time because I have arranged these movements for my dancers." Billy told the crowd, "Garth taught me how to play Billy Bang"
Peggi and I are pretty good about finding free parking spots in downtown Rochester, not that it is much of a sport in a small city. We don't mind walking either so we parked down by Richmonds on Main Street. One of these guys, maybe Celino was disbarred for a while and Barnes went solo but they're back and not looking a day older. Someone has changed the phone number here to 454-DRED. I am afraid to dial that. And the small print at the bottom suggests their business may now be advertising.
We were sort of lost on the second night because none of the night's sound files excited us. We read the blurbs in booklets but we make decisions with our ears. And we know that sometimes a band will sound great live while their recordings are lifeless so we soldiered on. We ran into Rick and Monica coming out of Tim Posgate's Banjo Hockey at the Xerox Auditorium. Monica warned us, "they aren't improvising". We gave it a shot. Indeed they were reading and then playing while we watched.
Nordic Connect at the Lutheran Church was melodic piano based compositions and featured two sisters on horns playing arranged parts with the trumpet player's husband on drums. For me they really hit the mark with a piece written by the trumpet player and dedicated to the planet. The piano player switched to the Fender Rhodes, the drummer played mallets and the tune sounded like something from Miles' "In A Silent Way" lp. Not like one of those tunes but just pretty.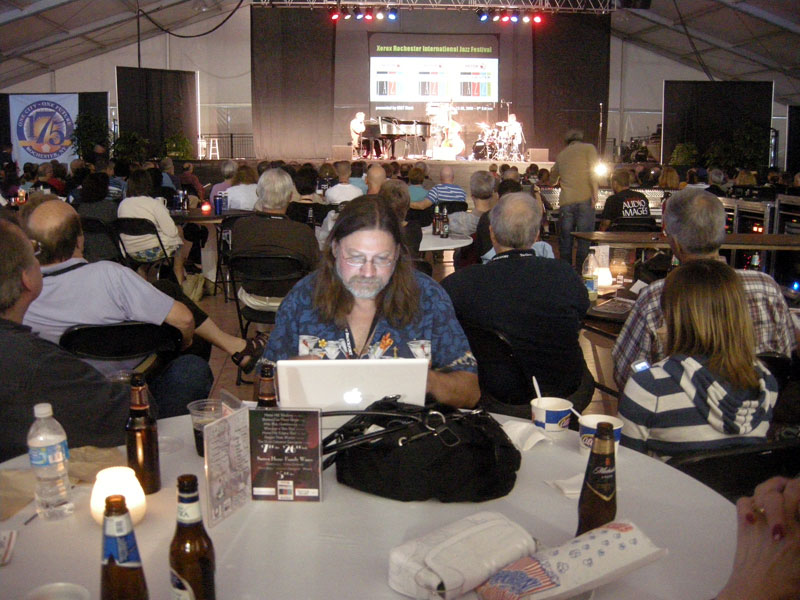 There is something maniacal about deadlines for a review of the night's shows for the morning papers. But Jeff Spevak is better at this than anybody. He finds the color in every assignment and makes it all sound like fun. If only you could find his stuff online. The D&C continues to make their website the least hospitable stop on the web. Every time I go there they have added a new layer of nav bars. It is almost impossible to use. The articles disappear in ten days unless you want to pay for them. And we do subscribe if anybody cares. Did they really set up a blog for Jeff on the "HerRochester" site? We were happy to see him on a Mac this year. And that was Jon Cleary, an Englishman, playing classic New Orleans music on stage in the tent.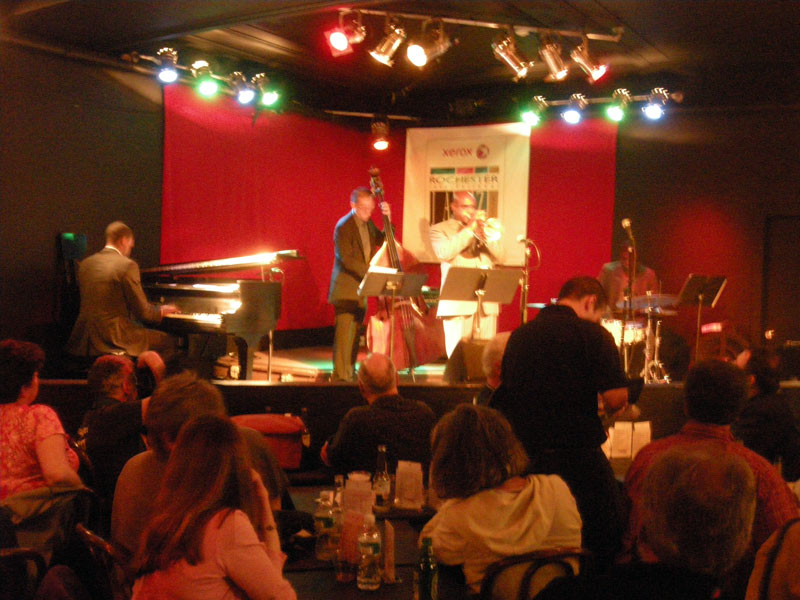 Terrel Stafford Quartet at Montage was really good. The were all really great players in fact. But we long not for the academic with the perfect tone but for the edge that reminds us we are alive. Like when Terrel sat out during their version of "Taking A Chance On Love". He leaned against the dark door to the right of the stage in this photo and the door flew open. Terrel almost fell into the light filled void.
Hal, the guy on the left, is one of our Jazz Fest buddies. We compare notes, sit with each other and he gave us a Duke Ellington quarter the other day. Sir Duke is the first black man and/or musician on a US coin. About time. Hal is giving one of the coins to the European performers at the Fest and we caught him passing them out to Jonas Kullhammer as we filed into the Xerox Auditorium.
he Jonas Kullhammar Quartet have been together for eleven years. They sound like it but they also sound fresh. Jonas jokes with the crowd between songs about looking for a wife in "Beautiful Rochester". That charm obviously works for him and it opens doors to their dense, wild, swinging, musically rich music. All four are tremendous players and fun to watch. Our favorite tune of the night was written by the bass player about a former girlfriend. I plan to request that one tonight when we hear them at the Lutheran Church. I'm happy to say I survived this appearance by the band. When they were here five years ago I lost it.
Peggi led the way as we ran from the Xerox Auditorium in order to catch Soren Kjaergaards Optics at the Lutheran Church. The piano player looks like our nephew, Caleb will in another ten years and we saw him last year in our favorite act of the year, Blake Tartar. He is a delicate and delightful piano player. The great Andrew Cyrille was on drums and contributed the perfect accompaniment to these abstract and beautiful pieces.
We caught a bit of the Stephane Wrembel Trio on the free street stage. I dug the guy's unusual drum set up. World music drums that he mostly played with brushes. The bass payer looked like a young Bob Dylan. The band is from France and is not a trio. There was another guitar player out of range of my camera. They sounded like thay have played their gypsy jazz music a million times.
We stood outside Christ Church for a while because the Neil Cowley Trio had filled the place. While waiting, one of the volunteer workers told us that there was plenty of room over at Max's because people were leaving in droves after each song. She described their music as "very contemporary", the way some people describe abstract art that they hate. We took this as a good review and made a mental note to check them out. Neil Cowley Trio are pegged as the British Bad Plus and that sort of works. The Bad Plus, though, are more rambunctious and unpredictable.
on Ballantyne Trio in fact was abstract. No bass player clears the air. Jon Ballantyne played the inside of the piano, the drummer bowed a metal percussion instrument and the bass clarinet explored the wide range of this long instrument. It was the perfect way to end the night
What a gas it was seeing Chico Hamilton play drums at 89 years of age. He was around when the hi-hat was invented. His band recaptured that 50's west coast sound, both mellow and slinky. Chico's "Original Ellington Suite" lp with Eric Dolphy is one of my favorite albums of all time and it was a real treat to see him live.
Over at the Lutheran Church Jack Garner introduced Jonas Kullhammar by thanking the Church for bringing a different kind of spirituality to its chambers.He said, "Sometimes the most beautiful prayer is a sax solo." Right on!
Jonas Kullhammar was even better in church. The band took a trip to Niagara Falls and the House of Guitars between dates here and they had dinner at Dinosaur Bar BQ. They dig into tunes like Coltrane's band did, the ballads too, and they go all out. The drummer did an amazing solo on his cymbals. This Swedish band puts their own stamp on this formerly American idiom and makes it exciting. These guys are the best band at the fest and we haven't even heard the rest.
The Andrey Razin & Second Approach Trio over at Montage was small but mighty. These three stock Russians came off like siblings putting on a performance for their family. Lucky us. We were invited. They mixed opera and jazz and cartoon music. Nothing was lost in translation. The vocalists does not sing in any language but music. They were not just wacky, they dove into uncharted WTF territory. They are performing again tonight at the Xerox Auditorium.
As great as the three horn players in the Dafnis Prieto Sextet were at Kilbourn Hall last night they looked like lunks standing in front of the band leader even when they weren't playing. We stood in line with kids wearing t-shirts with drums on them and a guy in the bathroom had a t-shirt for a drum throne company! The owner of Cadence Drum Store was there. This was theb drummer's gig but the complicated arrangements all got in the way. I snagged this shot when the horn players finally got out of the way. One song hit a nice Cuban groove. We wanted to feel like we were on vacation and were expecting more. We should have stuck around for the last song when Dafnis sang one drum part and played another on a hand drum.
This gig was billed as Paula Gardner Trio w/ Huw Warren. We sat next to some people who were raving about Huw Warren's performance here the night before. The band played as a trio for most of an hour before Huw took the stage. Their songs are sparse and gentle. The natural reverb in this church setting complimented their performance which came off like one of those pristine ECM records from the early seventies. There was a folky side to all this too. The band is from Wales and Paula has spent some time exploring that country's Celtic roots. The drummer, Mark O'Connor's playing was crisp and right on. He was one of my favorite drummers of this festival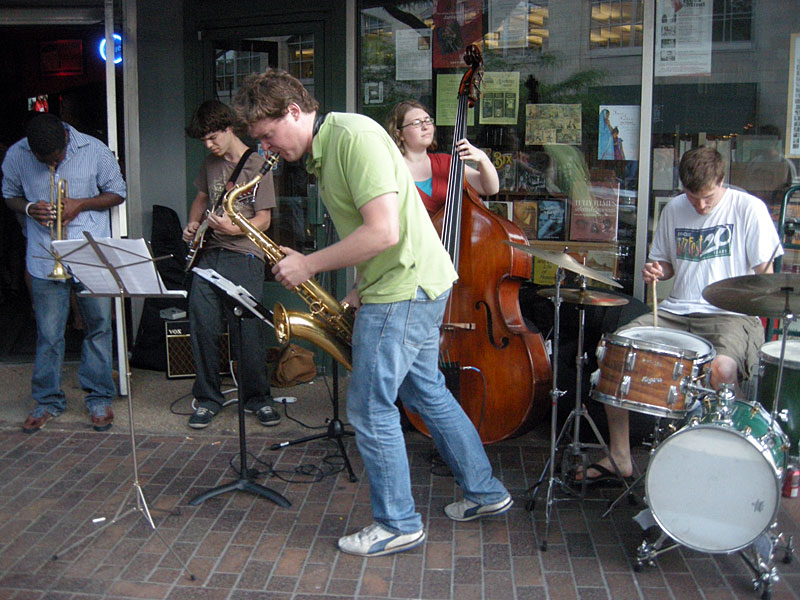 We stopped in RoCo to see the 6×6 show on the way out of the church and then ran into Dan Hanley outside of Greenwood Books where this band of Eastman students was playing. I always get a kick out of left handed drummers because it all looks backwards to me. Another woman bass player and she played beautifully
We had a hard time picking which show to go for in day six of the Jazz Fest. We only had the first hour available so we started with Michael Occhipinti & The Sicilian Jazz Project at Max of Eastman Place. We sat with Sue Rogers and Scott Regan from WXXI and were wowed by the first song. The band entered from the back of the room chanting a call and response in Italian. It was led by the lead singer and had something to do with the band members judging by the broad smiles on their faces as they were each addressed. Maybe it was simply an introduction but it was effective. And then they launched into a fairly straight ahead jazz piece that was not at all like the exotic, old world sound files we heard on their web page. The front line took turns with solos while the others sat out. They had to sit out because it felt like there were too many guys in this band. They do get extra points for featuring an accordion player.
It was raining so Peggi and I ran over to the Little for our weekly Margaret Explosion gig. We had a good night.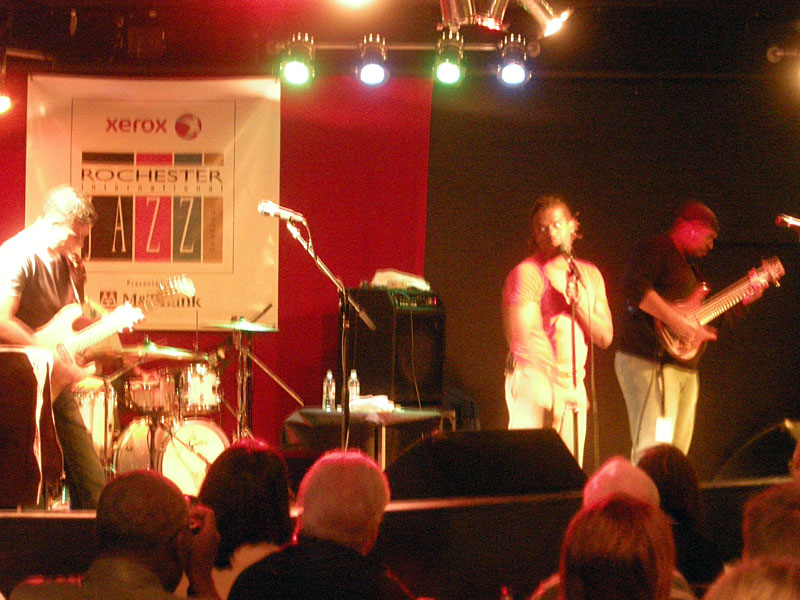 We stuck our head in the tent a few years ago to check out Ryan Shaw and gave him another chance last night. We do love the early Detroit r&b era that he is mining but this muscular approach, not just Ryan's buff build but the five string bass and heavy hitting drummer, takes the sweetness out it. I couldn't get past the ready cell phone on his belt.
We popped into the Xerox Auditorium to check out Joe Baione on the vibes. He looked like Jeff Daniels and played in a loose limbed manner that was clearly at odds with the studied approach of his bandmates. I wanted to like the Milt Jackson tune they were doing but I couldn't get past the disconnect
Gary Brandt and a number of fans were in line early for Nils Petter Molvaer at the Lutheran Church. These were people without Jazz passes who were ready to plunk down cash for this guy. We knew nothing about him other than the sound files that we had spot-checked before leaving the house. Nils plays trumpet through two mics, one with an arsenal of effects boxes and one with only reverb. Both the guitar player and Nils had an Apple laptop to augment and mix their sound with. Their spacious, austere sound worked perfectly in the church and it all would have been more relaxing if we didn't have to watch the performers fussing with the equipment. But I know that is now part of the modern performers' dialogue.
The drummer in Nils Petter Molvaer did not have his own laptop but he did have to lock into some loops. I thought their sound was more interesting without the programed tracks and this guy sounded fantastic playing the drums with his bare hands like he did for the first part of the set. In a song called "Gong" he soloed with a cymbal in his hands while standing in front of a mic confirming that these guys would have sound better without all the non organic trappings.
Never mind that Monty Alexander looked about twenty years younger in the promo photo. He stole the show last night and may be our favorite act at the Jazz Fest. We almost didn't go but there was a line for Tony Kofi at Christ Church so tried Kilbourn. We sat next to an older woman who greeted us with a smile. I said, "You already saw Monty didn't you?" She said, "How did you know?" Peggi said, "You have that Monty glow." She had a Wegman's bag next to here on the floor, one of the new green ones with the limes on them. She showed us a photo that she had Monty sign after the first show. It was her and Monty outside of Birdland in NYC a few years ago but she was a regular at the Roundtowner in the seventies when Monty came through town on a regular basis. We had heard Monty at Art Park about ten years ago and we were bothered by hs hyperactive quoting of so many songs that you forget what song he is playing. He did a bit of that last night and his sidemen seemed to shake their heads at the cornball tactic but it was all in the name of a thoroughly entertaining show. And entertaining alone would sell Monty way short. He did a song of his called "Hope" with a bowed bass solo that almost made me cry it was so beautiful.
Herlin Riley could be the best drummer in the world. I was blown away by this guy's incredible control. He had the perfect touch with every beat. No exaggeration! Both the drummer and bass player had genuine smiles on their faces the entire set. Monty had a blast finding his groove and he hit his master showman stride singing Day O and Nat King Cole's "Lorraine" while reaching into a black bag to pull out a melodica to play amazing versions of Bob Marley's "Redemption Song" and "Running Away" and then an instrumental that we recognized from Augustus Pablo.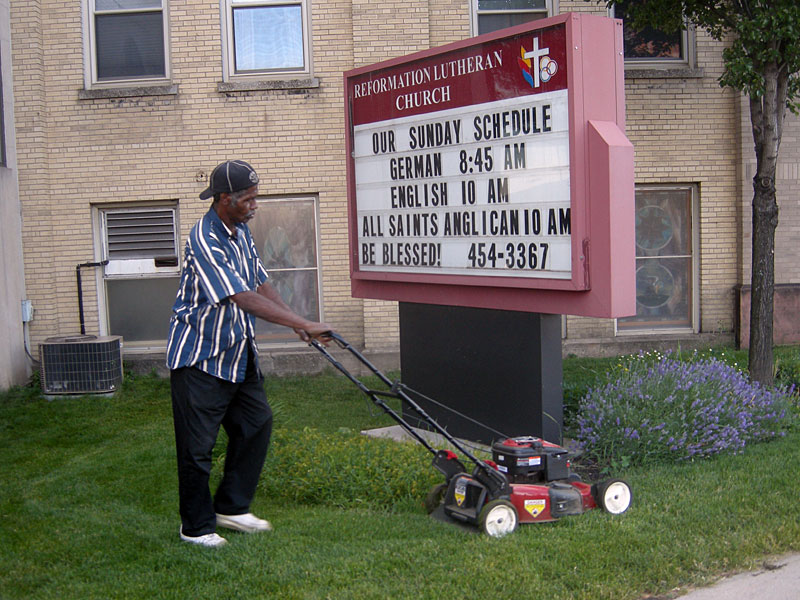 We spent some time following links to sound files for Friday's line-up. We watched a video of Pat Martino and coudn't even count the number of strings on the bass player's instrument but we guessed there were seven so we nixed that show. Turns out he played with an organist and no bass player. We heard he was great. We chose to start with Arve Henriksen, a trumpet player from Norway, who was performing with a dj at the Lutheran Church. We thought there would be a bigger line for this event but it was pretty laid back. We chatted with friends while they mowed the lawn at the church. Hal told us there was a review of Arve (and Nils who we had seen here the night before) in today's New York Times.
Thank god churches are are hurting for patrons (except for the Evangelicals) these days because all these beautiful urban buildings are now available as performance spaces. The Cowboy Junkies recorded the Trinity Sessions in a Toronto Church letting the ambiance of the hall define their whole sound. One of the most popular reverb settings is called "cathedral". Ani DiFranco bought an old church in Buffalo and converted it to a performance space and Doug Rice has recently converted an old Baptist church on Atlantic Avenue into MUCC. Arve Hendriksen let the room breathe and he made the most of it with his beautiful sparse but melodically rich trumpet playing. And looked completely relaxed sitting on the piano bench while the dj sampled the horn live and processed the horn parts adding them to the mix. I closed my eyes and heard an Arabic falsetto voice chanting and assumed the dj had added a vocal loop. When I looked up it was Arve singing into the mic. If only church going was this meditative and restorative. We stopped over at Abilene and then came back for the second set.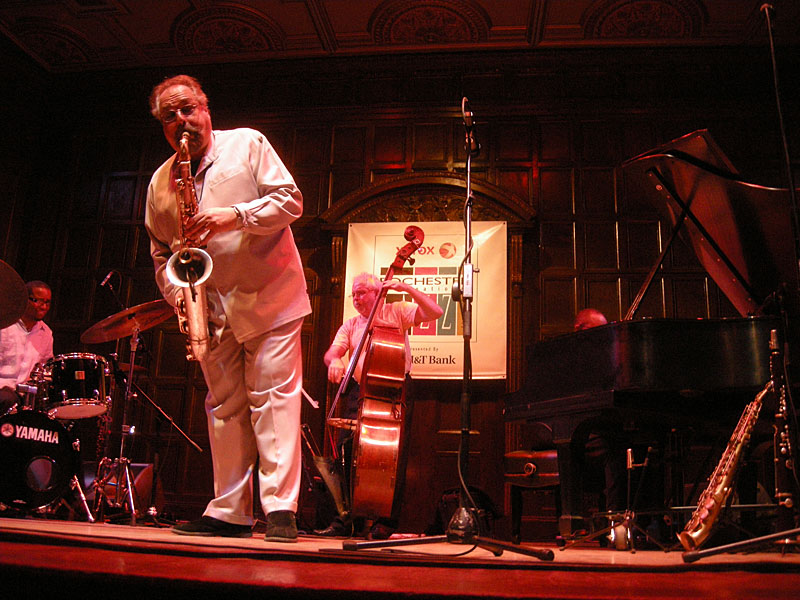 Joe Lovano opened the last night of Day 9 with a different Us Five than his YouTube video. This one featured only one drummer and his wife, Judi Silvano, in that order. Joe moves about the stage with a wireless mic and tosses off melodies like he is in the middle of a lively conversation and most of the animation was between the amazing drummer, Francisco Mela, and Joe. Judi's skat, Cameron Brown's bass, (he's recorded bass with Archie Shepp and Mal Waldron) James Weidman's piano made this a rich musical experience. Joe Lovano is big league.
Delirium at first seemed like a toy band. But that is only in comparison to Joe Lovano. This Finish quartet has been together for ten years and they sound it. Their arrangements are crisp and cleanly delivered with lots of unison horn. They are all great players but the tenor sax player was exceptional. They have their own European (more pageantry and less blues based) jazz sound and it's a lot of fun. Their last tune was entitled, "Let's Have Some Pie".
Aaron Parks has one of the goofiest haircuts I've seen in a while. We were excited to see the Respect Sextet's Ted Poor in the drum chair and gave these guys about a half hour but never warmed up to them. Aaron's flowing, lyrical piano style seemed to butt heads with Ted's rambunctious rough edges and the bass player was not holding this all together. Can't we have Respect Sextet here every year?
We finished the Fest at Montage with the Antonio Ciacca Group. We had see Antonio at Kilbourn a few years back and really loved his playing. He came out limping (literally) tonight and seemed kind of tired. We were sitting right next to his piano but he was not loud enough. The tenor sax player was great. Everybody is great. This festival just keeps getting better and better. We said hi to and thanked co-promoter John Iacona on the way out (he was a former student of Peggi's) but we can't thank him enough.
fsee Jazz Fest coverage from other years
2019 • 2018 • 2017 • 2016 • 2015 • 2014 • 2013 • 2012 • 2011 • 2010
2009 • 2008 • 2007 • 2006 • 2005 • 2004 • 2003 • 2002
RETURN TO ROCHESTER JAZZ FEST INDEX