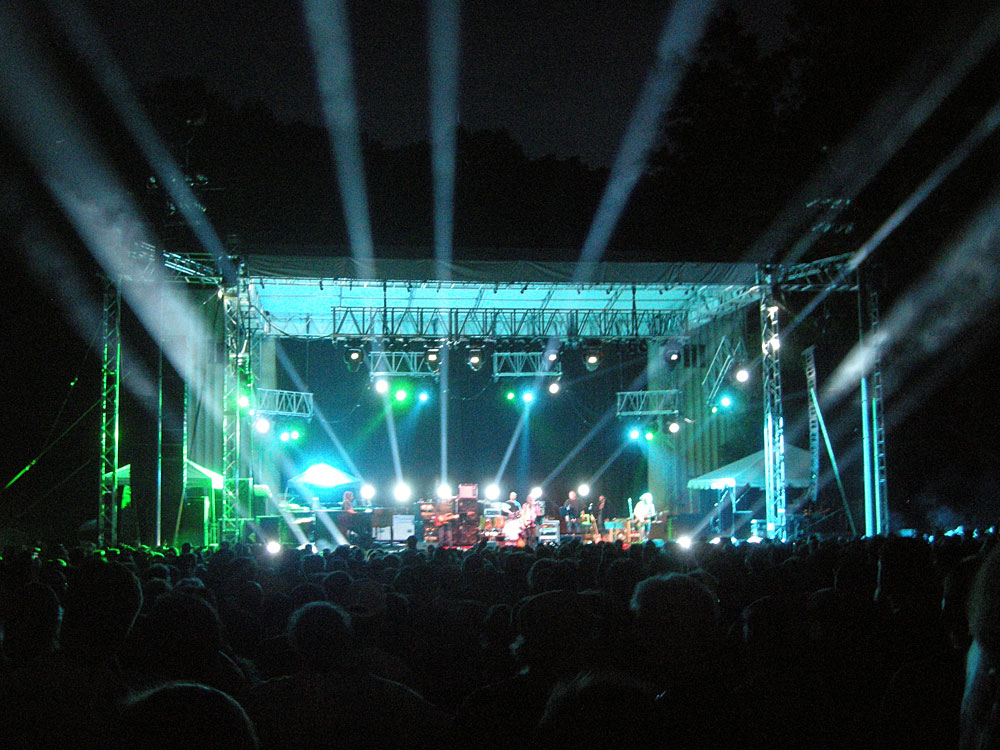 Our friend, John Gilmore, won a pair of tickets to the Further show at Highland Bowl. He was the ninth caller to Scott Regan's WRUR morning show. He already had tickets so he gave them to us and encouraged us to go. He was there early enough to hear the sound check and stake out the perfect spot for his chair. We got there just before the show and wandering around looking for him for whole first set. The Bowl was packed, wall to wall tie dye, and if that was Frederick Douglas instead of a statue of him looking out over the crowd he would be stunned at what post emancipation looks like. We watched a guy pass out as he walked. He fell over a group of people who were sitting on a blanket spilling a woman's beer. She jumped up and said, "That beer cost me seven dollars."
The band opened with Buddy Holly's "Not Fade Away." We had just seen a "Not Fade Away" t-shirt and another one that said, "Wish You Were Beer." The smell of pot filled the air, not the old fashioned scent but pungent, skunky stuff. The band was playing Traffic's "Feelin' Alright" when a group of kids in front of us asked if we had seen a bone bowl. I could barely hear with my earplugs in and said, "What?" "A small bone bowl pipe. I just had it a second ago." The band sounds like the Dead on steroids doing athletic versions of their classics and crazy covers like "Strawberry Fields" and Pink Floyd's "Time". The sound was fantastic. The intermission music was all James Brown.
Phil Lesh and Bob Weir's band includes a guitar player from a Dead cover band who sounds like Garcia when he sings and sort of sounds like him when he plays and a piano/organist who is the musical foundation. They do an admirable job of carrying on the Dead legacy. I'm glad we were beer.
2 Comments