My father, Leo Dodd, was a history buff as well as an artist and engineer. He left behind a notebook full of research into his father-in-laws' stores, the Tierney Markets. The first picture (below), from 1906, shows Raymond Tierney, my grandfather, in front of the meat market he bought on North Street when he was 20 years old. The building, which was torn down in the 1990s, was located where Hudson Avenue splits off. "The first blazer from Main Street corner," as my grandfather describes it in his memoir (included further down on this page).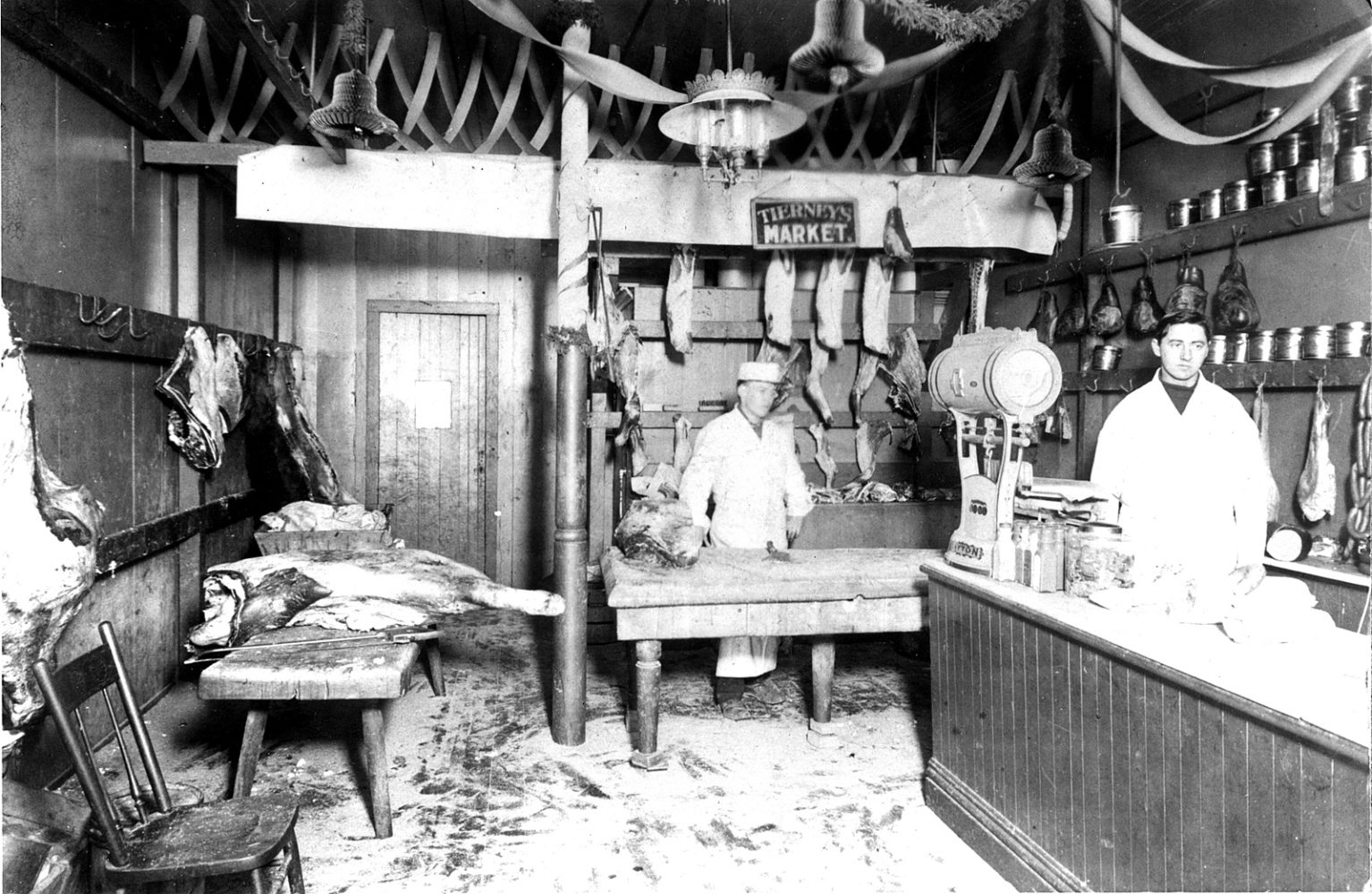 By 1912 he had made enough money to buy the building which included eight apartments upstairs. He rented space to the drug store next door and he converted the livery way, shown to the right, into space for a restaurant tenet, "The Northway Texas Lunch." Ray, the eighth child of eleven, was a real entrepreneur and was able to buy his parents, William T. Tierney and Winifred Maloney, their first home. Ray's siblings, James, Joseph, Walter, Art and Betsy all worked there at various times. He opened a much larger store, the Mammoth Market, in 1935 at 634 South Avenue. Mammoth Market burned to the ground in 1939 and Ray Tierney finished his long working career at a third store, Tierney Market, 999 Clinton Avenue South on the corner of Caroline.
Ray married Dorothy M "Laura" Biel of 10 Cayuga Street at nearby St. Boniface Church in 1912. Laura worked as a stenographer/secretary at Upton Cold Storage. They had a stillborn daughter and then a daughter, Rita, in 1915. Laura died from childbirth complications thirteen days later.
Ray married Mary M. "Maime" Walsh, a waitress at the Sibley Tea Room. Maime grew up on Stone Street in downtown Rochester and went to school at nearby St. Mary's. Maime's mother was a widow of two years, living with William and Flossie O'Keefe and going to Corpus Christi Church with her daughter. Ray and Maime were married at Corpus Christi in 1916. They had five more children. I am one of their thirty one grandchildren.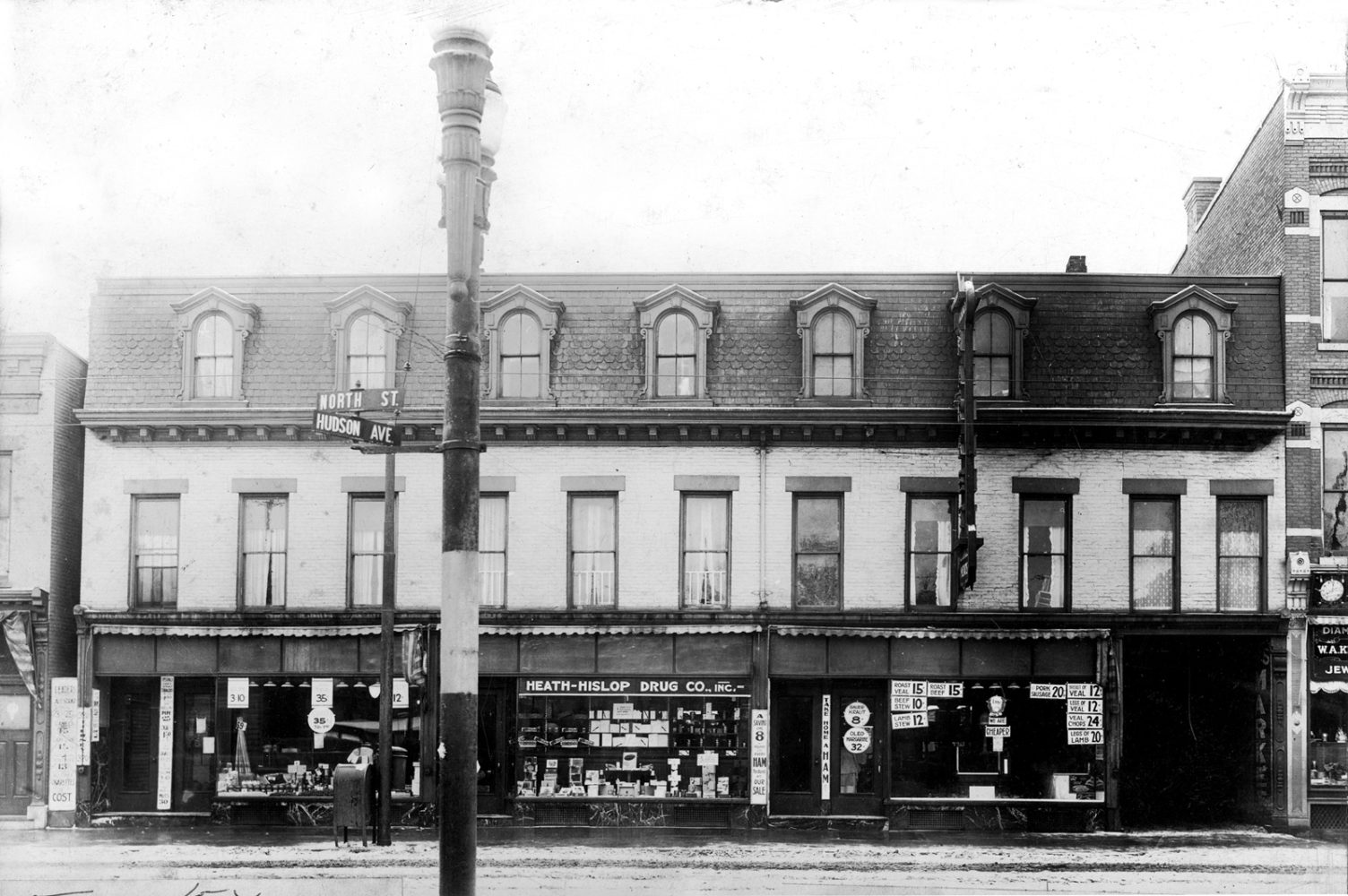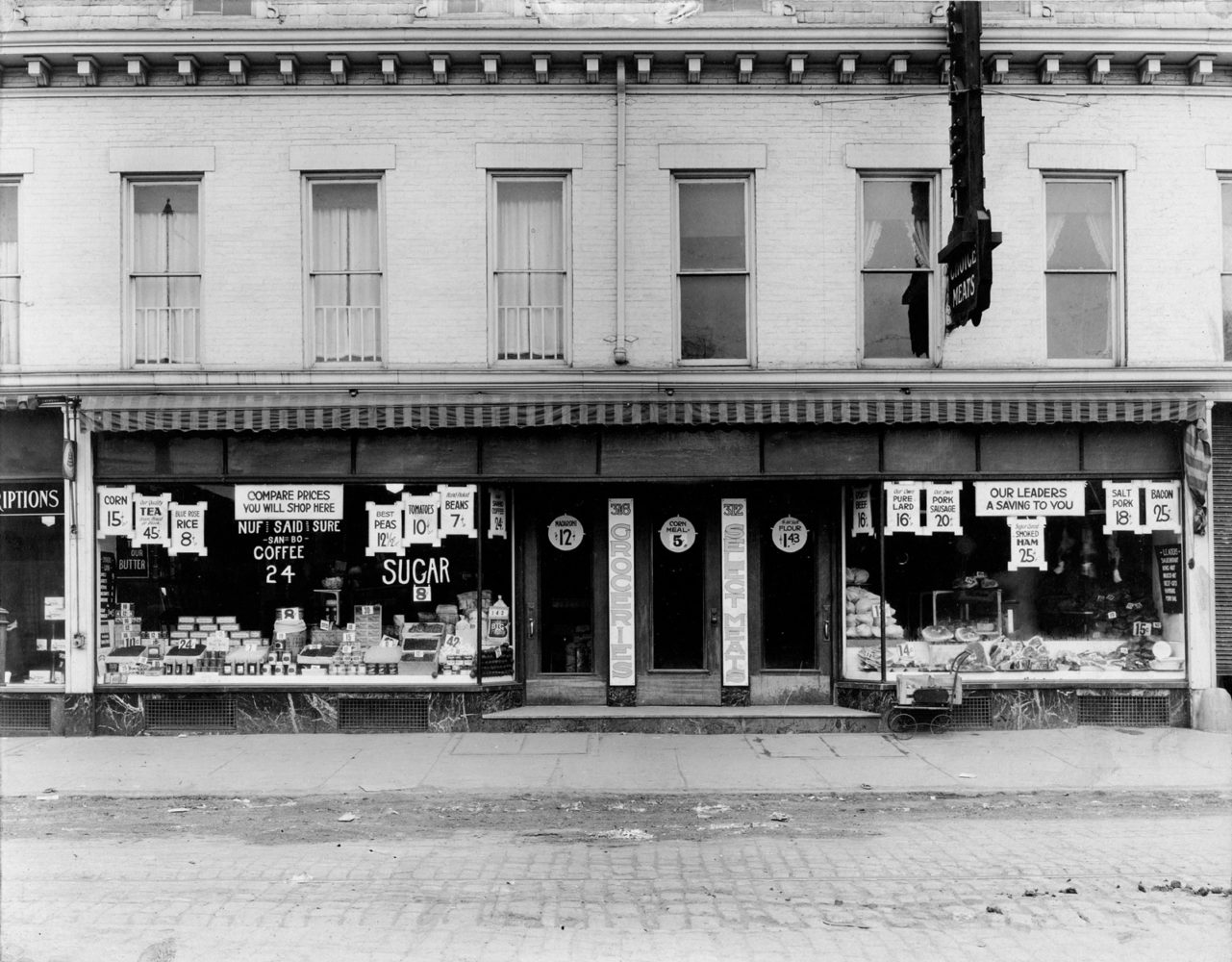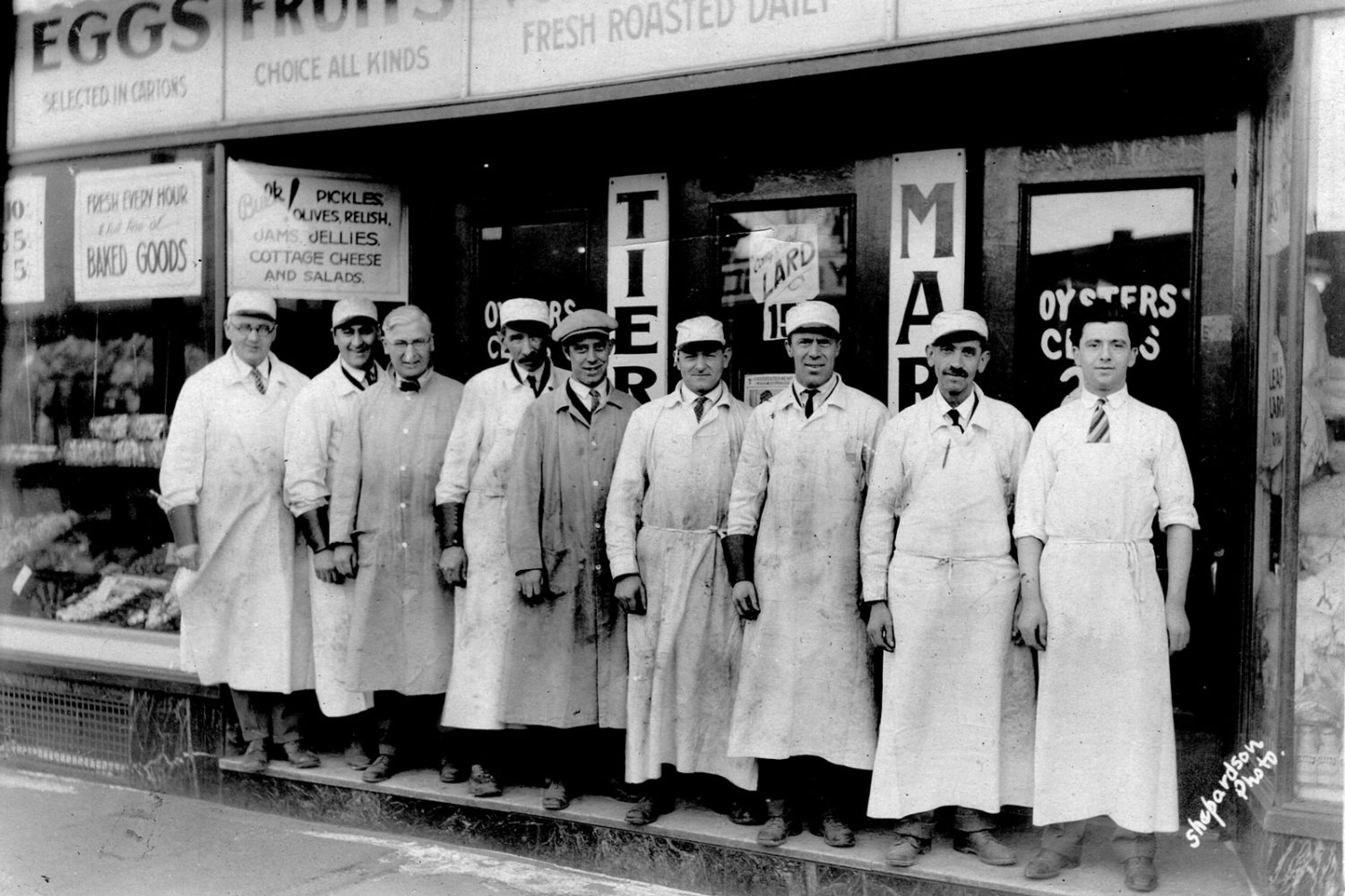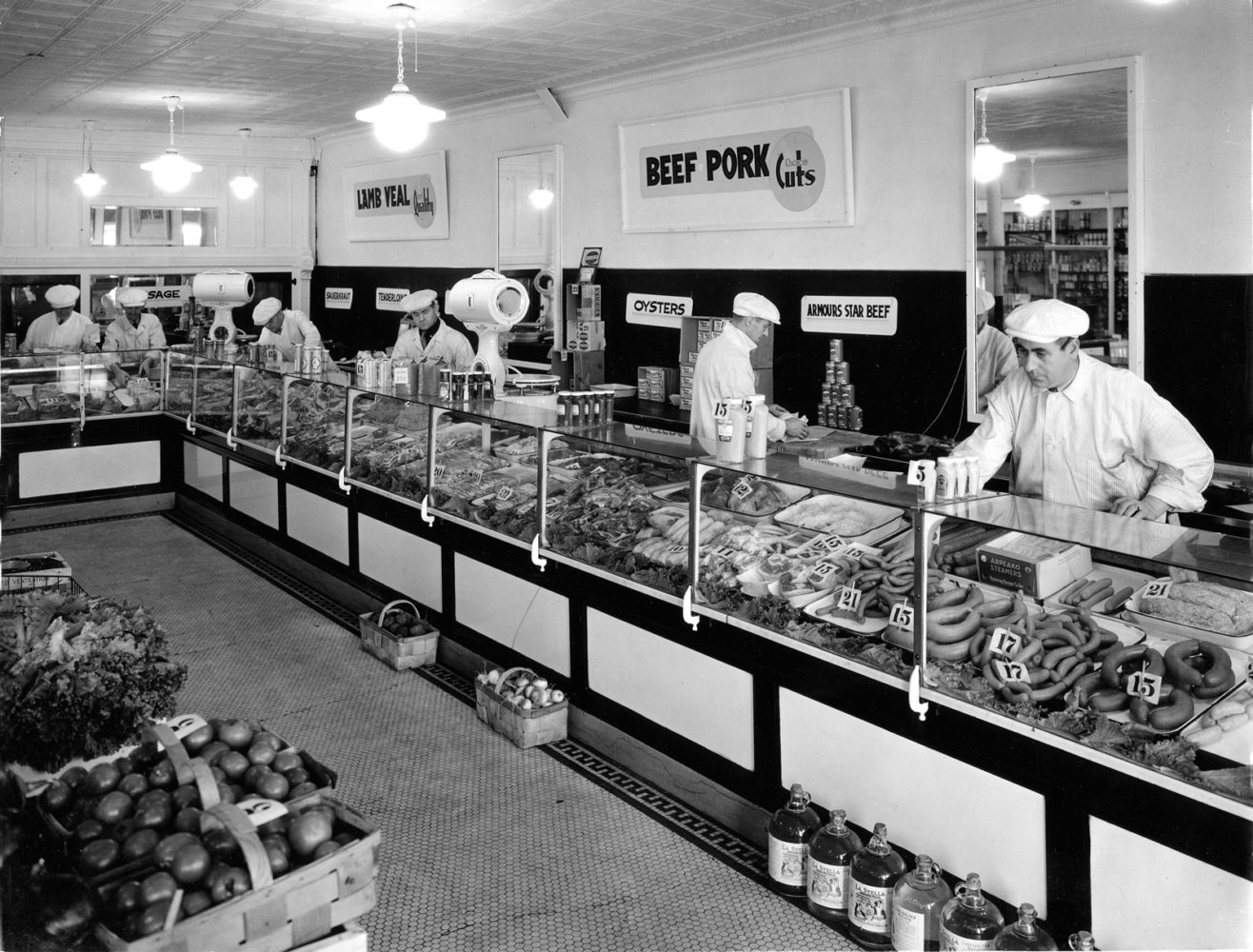 My mom shopped at my grandfather's store on South Clinton every week and would bring home Animal Crackers for us as a treat. My siblings and I took turns going to the store with her and my favorite part of each visit was when my grandfather would cut a big slice of liverwurst and hand it over the counter. I loved grinding coffee for my mom at the machine he had at the end of one of the aisles. In the 80s I did a painting of Ray Tierney behind the butcher counter for a show at Pyramid Arts Center. The floor in his store was covered with sawdust and the tile pattern was so memorable. I took a photo of it a few years back when the India House had taken over the building.
The Road Not Taken
by Raymond Tierney
(Written in June of 1974 by Ray J. Tierney Sr. 1886-1978)
Standing at the gate with humility,
born number eight in a family of eleven,
my mother sought to inspire helpfulness.
Her Poem
Life is like a mighty river,
flowing from day to day.
Men are vessels launched upon it,
sometimes wrecked and tossed away.
Some succeed at every turning,
fortune favors every scheme.
Others who are quite deserving,
have to puli against the stream.
Do your best for one another,
making life a brighter dream.
Help the tired and worn out brother,
pulling hard against the stream.
At his writing I am 88.5 years old, as my mother said . . . "with every child should come a blessing." I have found through my lifetime the proof of her wisdom. As a young boy I saw strength and patience with a large family and the limitations placed on the breadwinner. My action was to do better.
I spent nine years at Corpus Christi School, entered high school for a short time, with the aim to become a lawyer. Conditions would not permit. My father was an expert toolmaker, I decided to follow. I entered the tool factory realizing my father's skill brought forth many inventions.
I determined to fit myself for completion of my effort to bear fruit. I attended Rochester Institute of Technology for three years, evenings. But as a youth I worked as a delivery boy at a Food Market Saturdays, plus my paper route with the Union Advertiser, 160 copies daily. Hoping to advance my business skills I enrolled for a course of day classes at the Rochester Business Institute. To obtain experience I worked at a Wholesale House as a bookkeeper. Returned to the tool shop for increased earnings.
The love of reliability remained in my mind. Now at age twenty a reach for the future. With the help of an older brother I purchased a Meat Market in April of 1906. As a boy I matched wits with older men. Made slow progress for the first year but with the advice of a good mother I carried on. "Time was of the essence" she said. I purchased a $40,000 building, brought my sister and brother with me and no project seemed to too large. This was my progress. I will now cover my 68 year adventure.
A boy being very anxious to learn. No record of or credit a missing asset but with $400 I secured and $125 plus a dream my outlook was meager. First day sales $13 with spirits high each day advanced my hopes. With determination and the will to work at . . . much all proved well. As I have said from Organized Society with the fruits of commerce brought forth many sustained . . . local growth and gave growth to our great country. This page the results of a young start.
To solidify an honest effort I added my sister to my crew and also my brother from a foundry to improve his health. Also a younger brother whose handicap held him unemployed. The baby boy of my family was in school when I finished this journey. Now the Tierney blood trust was born and the final result was Tierney Food Market Inc.
I was never proud but always grateful as I set about to improve all things around me. First to install electricity, replaced all equipment as rapidly as possible. I installed a seventeen foot electric sign, "Tierney's," with 105 bulbs, the first blazer from Main Street corner. I purchased the building in 1912. Then stores, 8 apartments and livery way which I made into the Northway Restaurant. I added modern refrigeration in 1912 and enlarged the store 100%. I brought this location to a bright spot.
Added Actions:
It seemed I had turned a corner as blessings one after another came. Memory strained actions now to give as others also gave to me, life and faith to carry on . . . my mother and father.
I came upon one of the happiest days of my life . . . a home purchased for my mother and father. The smile on my mother's face will always be with me. When any problems came she always helped me to keep faith.
Now six years added to my life to dream of the future, to those who much is given much is expected. I came in contact with many people and I felt able to judge but little we know what is in store for us. So if crosses come, it's only to mould your life and I accept my crosses, and life has been good to me beyond my greatest hopes.
From my earliest days I have felt it is the duty of all to leave this world a better place from when we found it. Family life to me was a gift. When success formed on me I wanted to take my place that I would be a part of God's plan.
In the year of 1911 I met a very young lady whose background was as mine with honesty of purpose by both of us. We were married April 23, 1912 in St. Boniface Church with a similarity of aims.
Three years of planning were fine but someone with wisdom beyond ours planned otherwise. Our first child was born still . . . and we accepted our fate. The third year a girl was born . . . but Laura died. That cross was heavy.
The success of my youth survived to deal my very life but with the responsibility of a little girl, 16 days old. I made the determination to carry on and as my mother said, God is good.
A sister of Laura gave my little girl of herself and great care for which I am eternally grateful. As time wore on I returned to my mother's influence and Sunday morning to Corpus Christi Church. Where fate awaited me. Mrs. Walsh, a constant patron at my store, at this pre Holiday Sunday in passing suggested I give care to her Holiday supplies. Being accompanied by her daughter whom I had never met but admired very much. An introduction followed and the following Sundays brought close friendship. The results molded the rest of my life.
We were Married May 10, 1916 with mutual understanding a family of three was formed, our future planned, Years passed with profound satisfaction. As the time enfolded to us a son was second born, great joy, but in four days where death came to our son. One of life's crosses again and a determination to hold fast to our faith. Two years later a son came, May 22, 1922, followed by the grace of God a daughter, Isabel, next blessing Martha.
Two years later Mary and finally Ann. Now a home so blessed grew in unison. Mother and I crossed many a hurdle, my partner with a powerful gift of motherhood, carried on with skill. I devoted myself to being a worthy breadwinner. There is nothing more I can say. Our family speaks for itself. We are grateful.
Life after all grateful, Mother and I tried to show our appreciation for many blessings. I was a trustee at St. Ambrose Church for 35 years, also I was a trustee at the Catholic Charities for fifty eight years. I gave myself to my industry for many years as President of the State Food Merchants. Thirty three years as Treasurer. Slugged through the Depression as did my fellow citizens. Extended my interest into the real estate business 1921, President of the Tierney Held Reality Co.
I operated two stores with my son, Raymond Tierney II, who served his country during the Second World War. Sold North Street store in 1939, continued 999 South Clinton with my son on return from service. Took a burden off my shoulders made 999 South Clinton an outstanding store and building.. A little history . . . I opened first Super Store in Rochester at 634 South Avenue, 19,000 square feet, destroyed by fire in 1939.
My grandfather James Tierney came from Kings County Ireland. His first son, my father, Edward J. Tierney was four months old. My mother was born on Pearl Street in Rochester, New York. My grandfather, James Maloney had a record of 32 general engagements in the Civil War, his two sons, Martin and James, served in the Civil War. My grandfather Tierney operated a Nursery for Moulson's & Co. My mother and father were married in St. Mary's Church in Rochester, New York and were parents of eleven children.
I was fortunate to be our number eight. In today's standards our family would be unpopular. Serving families in the same century where my Grandfather's life was spent plus my parents' closeness permitted me to acquire a family record. From this heritage I was inspired to carry on. My older sister died at the birth of her fourth child. My older brother died at 39. He being a Meat Man and as a young boy acquired the dream for Market Operation, contact with various buyers, brought forth a talent I have and enriched my family of six. The result thus far . . . thirty one grandchildren, 2 great grandchildren. As I considered a career in my living room, in my rocker, with 3 generations engaged in the Food Industry, Raymond J. Tierney Sr., Raymond J. II and Raymond J. III. I was made aware that the apple does not fall far from the tree.
A special thought crossed my mind; Mother with 83 years + Father with 88 years = 171 years. Two with but as one come 171 years.
As I sit and look out upon the summer vegetation around, I saw there God. As the large trees in our yard shed their foliage and return their fruits where planted, so my shrubbery ends, they are gone to their final reward. But year after year their handiwork is stripped by ice and frost.
Then spring comes to explain our faith in a power greater than our own, my gratitude is sustaining. My prayer would be that my grandchildren and great grandchildren use and never abuse the talent God gave them.
Still looking for brighter days tomorrow!
Raymond J. Tierney
Tierney Family Photos
In 1920 Ma and Pa Tierney, Ray Tierney's parents, celebrated their fiftieth anniversary at their house at 208 Lyndhurst Street. and posed for this photo. Maime Tierney and Ray Tierney, my grandparents, are shown in the upper left. My Aunt Rita, the first of six Raymond Tierney children, is showing in a white dress at the bottom left.
Ray Tierney became Ray Tierney Sr. when his son, Ray, was born and Ray Jr.'s first born was named Ray so there were three at one time. All three were in the grocery business. I spent my formative years working in a grocery store. As Ray said in his memoir, he had six children and thirty one grandchildren. I wish we had a picture of the whole family. Here are two.