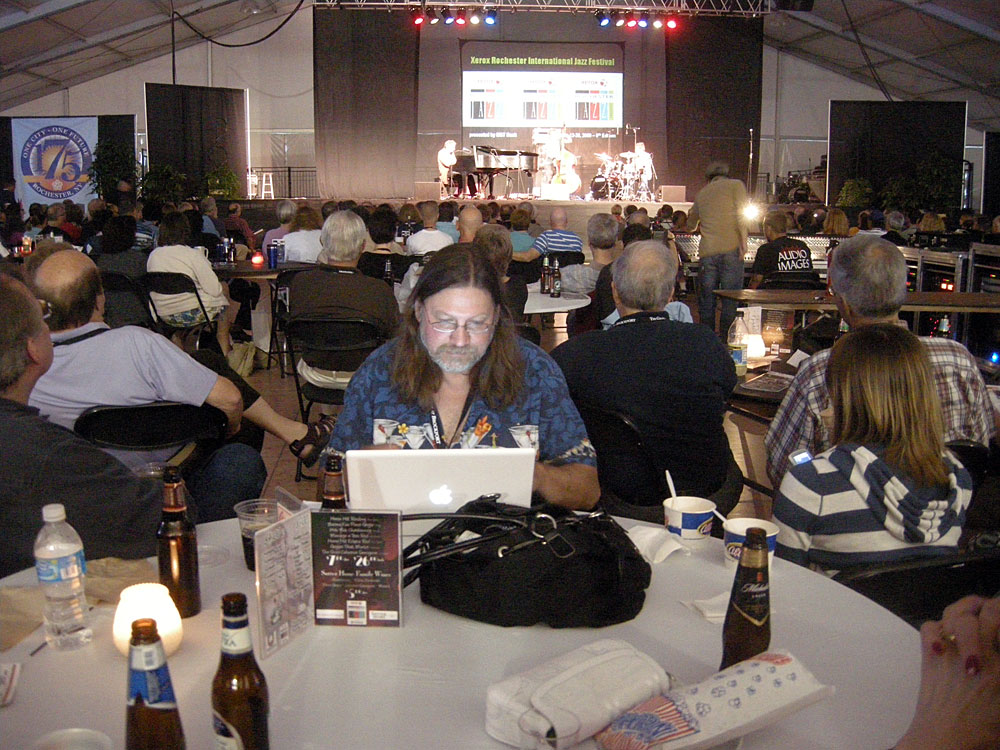 We were sort of lost on the second night because none of the night's sound files excited us. We read the blurbs in booklets but we make decisions with our ears. And we know that sometimes a band will sound great live while their recordings are lifeless so we soldiered on. We ran into Rick and Monica coming out of Tim Posgate's Banjo Hockey at the Xerox Auditorium. Monica warned us, "they aren't improvising". We gave it a shot. Indeed they were reading and then playing while we watched.
Nordic Connect at the Lutheran Church was melodic piano-based compositions and featured two sisters on horns playing arranged parts with the trumpet player's husband on drums. For me they really hit the mark with a piece written by the trumpet player and dedicated to the planet. The piano player switched to the Fender Rhodes, the drummer played mallets and the tune sounded like something from Miles' "In A Silent Way" lp. Not like one of those tunes but just pretty.
There is something maniacal about deadlines for a review of the night's shows for the morning papers. But Jeff Spevak is better at this than anybody. He finds the color in every assignment and makes it all sound like fun. If only you could find his stuff online. The D&C continues to make their website the least hospitable stop on the web. Every time I go there they have added a new layer of nav bars. It is almost impossible to use. The articles disappear in ten days unless you want to pay for them. And we do subscribe if anybody cares. Did they really set up a blog for Jeff on the "HerRochester" site? We were happy to see him on a Mac this year.
Terrel Stafford Quartet at Montage was really good. They were all really great players, in fact. But we long not for the academic with the perfect tone but for the edge that reminds us we are alive. Like the moment when Terrel sat out during their version of "Taking A Chance On Love". He leaned against the dark door to the right of the stage in this photo and the door flew open. Terrel almost fell into the light filled void.
These are excerpts from my 2009 jazz fest notes.
1 Comment