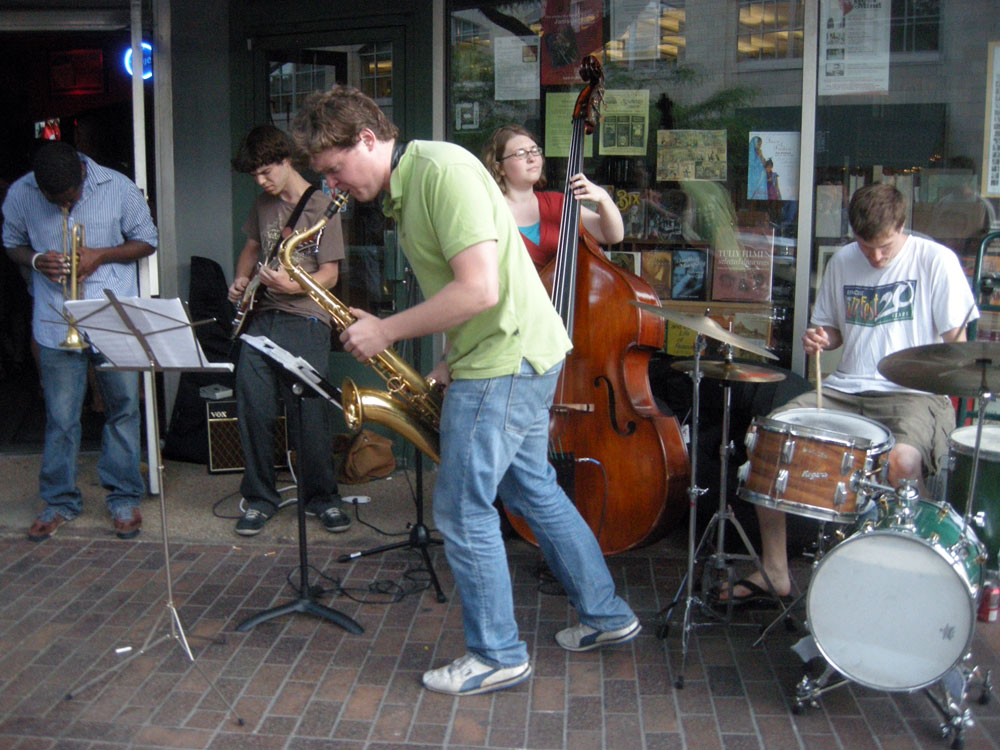 As great as the three horn players in the Dafnis Prieto Sextet were at Kilbourn Hall last night they looked like lunks standing in front of the band leader even when they weren't playing. We stood in line with kids wearing t-shirts with drums on them and a guy in the bathroom had a t-shirt for a drum throne company! The owner of Cadence Drum Store was there. This was drummer's gig but the complicated arrangements all got in the way. I snagged this shot when the horn players finally got out of the way. One song hit a nice Cuban groove. We wanted to feel like we were on vacation and were expecting more. We should have stuck around for the last song when Dafnis sang one drum part and played another on a hand drum.
This gig was billed as Paula Gardner Trio w/ Huw Warren. We sat next to some people who were raving about Huw Warren's performance here the night before. The band played as a trio for most of an hour before Huw took the stage. Their songs are sparse and gentle. The natural reverb in this church setting complimented their performance which came off like one of those pristine ECM records from the early seventies. There was a folky side to all this too. The band is from Wales and bass player, Paula has spent some time exploring that country's Celtic roots. The drummer, Mark O'Connor's playing was crisp and right on. He was one of my favorite drummers of this festival.
We stopped in RoCo to see the 6×6 show on the way out of the church and then ran into Dan Hanley outside of Greenwood Books where this band of Eastman students was playing. I always get a kick out of left handed drummers because it all looks backwards to me. Another woman bass player and she played beautifully. You can almost hear her by the look on her face.
More Jazz Fest photos can be found here.
Leave a comment