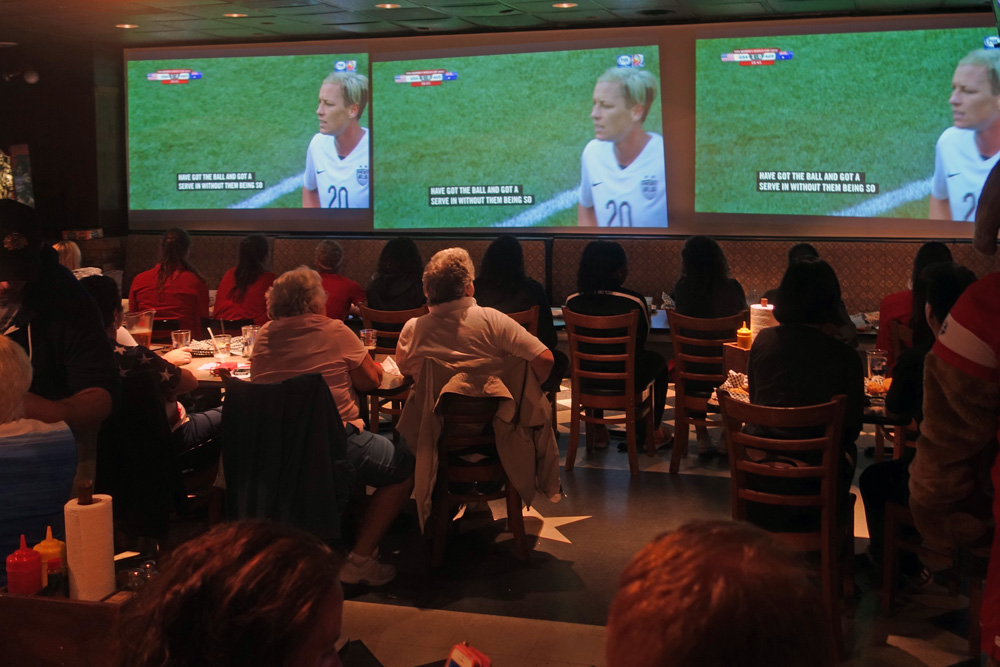 Brad Fox used to call this place the "Glass Bunion" back in the disco days. Officially the "Glass Onion," I believe it was done in by a cocaine overdose. It's called Marshall Street Bar now and the WNY Flash gathered there last night to watch the US national team in their first game of the 2015 World Cup, this one against Australia. The US may be favored but after watching the Germans run circles around Ivory Coast in their opener I'd put my money on then. I'm not a betting man though.
The women's professional league is small and we are so lucky to have a team based here. Many of the US team players have either played for the Flash (Abby, Morgan, Lloyd and Leroux) or come through here to play against the Flash so it was blast to watch them win last night.
They were probably paid by FIFA to attend the broadcast because most of the team (seen sitting in the first row above) was there. They could have seen the game better on tv. Most of them seemed more interested in their phones than the game and who could blame them at their age. Our friend, Kerry, won one of the raffles and got most of their autograghs. I was headed to the bathroom when I spotted the Flash's Lynn Williams by herself. I told her I watched her in the practice rounds and I thought she was the best shooter on the team. That's where I should have stopped but I went on to say I thought she should be more aggressive on the field. She thanked me but I will keep my mouth shut next time. I can see how her phone would be more important than being on the national team.
It is the season to binge on soccer. The Champions Cup final with the dream threesome of Messi, Neymar and Suarez up front for Barcelona when they met Italy's Juventus this weekend really got our blood flowing.
1 Comment