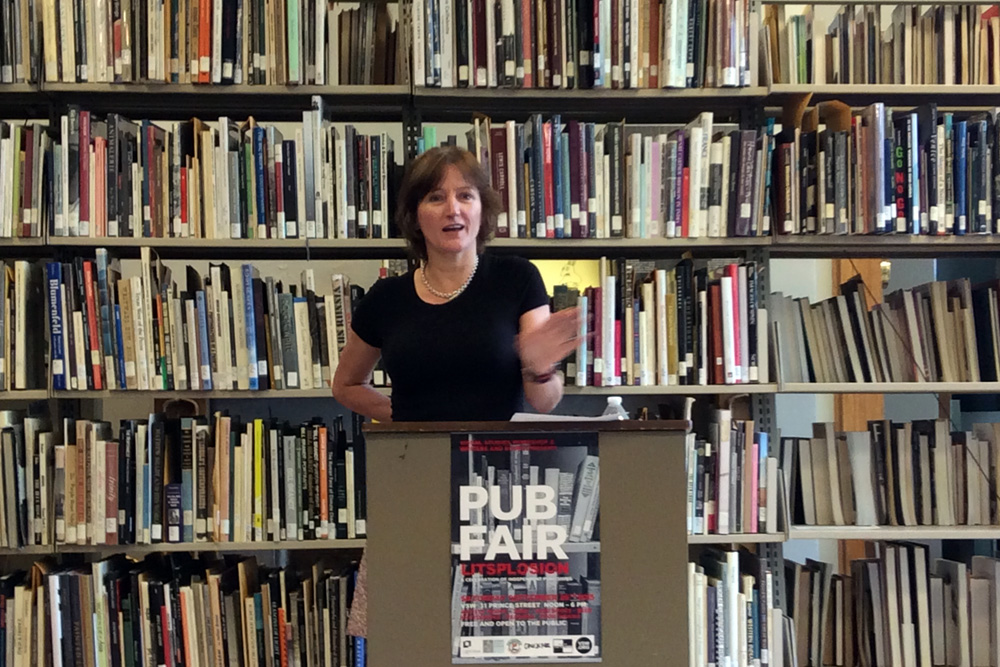 I was on the roof, making a racket with our leaf blower. We don't really have any leaves up there yet but plenty of sticks, acorns and moss to dislodge. I had my Home Depot earmuffs on, in my own world, trying to remember to be careful when I got near the edge when I spotted the green Google Earth car coming down our street. I was out playing horseshoes the last time a Google car visited. In fact I can be seen taking a photo of the car in the Google shots of our house. I'm hoping they got me up there in my element.
Visual Studies Workshop had their annual Pub Fair on Saturday. The auditorium was filled with book artists and self publishers. It was tempting to buy something from every table but we held off until reaching Marc Pietrzykowski's table. Peggi bought his novel about a murder in an old age home and I sprung for a three volume set of his poetry. We ran into Anne Havens and made plans to get together and play music before she heads back to Florida. Visual Studies has such a great art book collection in their library it is upsetting to see them sell parts of it off each year but we always manage to scoop up a few things. Peggi found a book of Flannery O'Conner photos and I came home with "Ninety-Nine Drawings by Marsden Hartley."
The writers' readings, which should have been on the main stage, all took place upstairs. Rob Tyler read eight vignettes, each wry and crisp. They walked a funny fine line between mundane and absurd. Louise Wareham Leonard didn't so much read as perform her Rumpus piece, "How To Date A Writer." Her performance was hilarious and especially searing in the room full of writers. Reading entries from her new book, "52 Men," she brought new life to the pieces and made you want to read the book all over again.
1 Comment