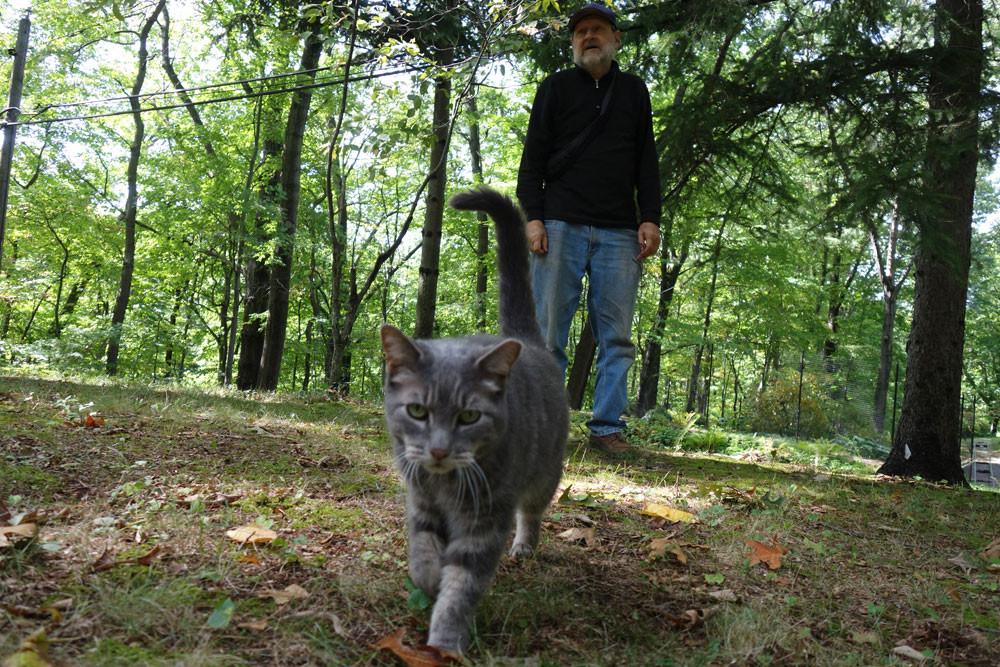 There was a frog in the pool with us this afternoon, a young energetic frog. I tried catching him with the skimmer but he would see me coming and dive deep. He was doing a perfect frog kick, propelling himself out of my reach with a couple strokes. I did manage to trap him under the skimmer and I slid it up along the side of the pool onto the deck where Peggi trapped him with a bucket. We took the frog down to our neighbor's pond and let him loose in there.
My father got a summons for jury duty in yesterday's mail. We sent it back and noted that he is deceased. I remember him telling a story of a jury he was on for many weeks where someone was suing a doctor. I can't remember now whether the doctor was found guilty. He told the story a few times and it was one of those where I would find myself thinking, "Why does he find this story so interesting?" That thought overwhelmed his story so I don't really know how it came out.
Jared's cat, Didrick, above, is a lover not a fighter. At this point, he is the oldest cat in the neighborhood and we have never seen him fight, not even with the stray barn cats that slink around. He started out living in a different house but he spent most of his time at Jared's so when those people moved they gave the cat to Jared. He doesn't even bother the goldfish in Jared's pond. Sammy, Louise and Matthew's cat, who lived next door until a few years ago, could not quite figure Didrick out. We used to watch those two confront each other in our yard. We are feeding Sammy while her owners are away. She is exactly one mile away, pretty much as the crow flies, through the woods. Today's walk.
Leave a comment