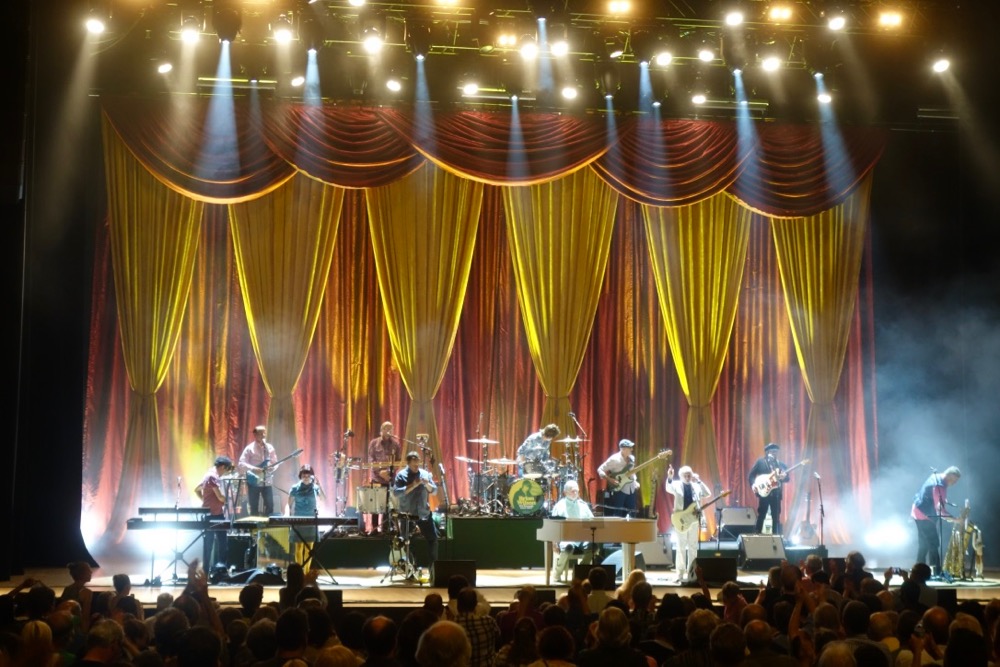 The Squire was there. Rob Filardo too. And Kinloch Nelson. Brian Wilson played Pet Sounds start to finish in Kodak Hall. We got our tickets at the the last minute, nudged into it when our thirty year old neighbor asked if we were going. Brian had an eleven piece band with him, a Wrecking Crew on wheels. His cousin, Rochester native, Al Jardine, was there along with Al's son on vocals. The musical director played every kind of horn. Mike D'Amico and a percussionist played drum fills like Hal Blaine. A keyboard player sang like a Beach Boy and a second keyboard player, from Heart's old road band, solidified the sound. Brian pretty much just had to sit there but he went for it in about half the songs.
First set was Beach Boys gold, Little Honda, In My Room, Surfer Girl, Wild Honey, Darlin, Add Some Music. No Surf's Up, but just as well. That masterpiece should never be touched again.
We had to be there. I bought every Beach Boy album as they were released and still love them. Brian is a musical saint. He introduced Pet Sounds, the song, by warning the crowd that the song had no words. His version of Carline No, the last song on the album and the evening's last tune was fittingly, achingly longing. "Where did your long hair go?" sung by the boy that wrote that in his latter years. I wanted to cry. Love and Mercy was a great tune to send us home with but I woke up singing, I Just Wasn't Made for These Times.
1 Comment