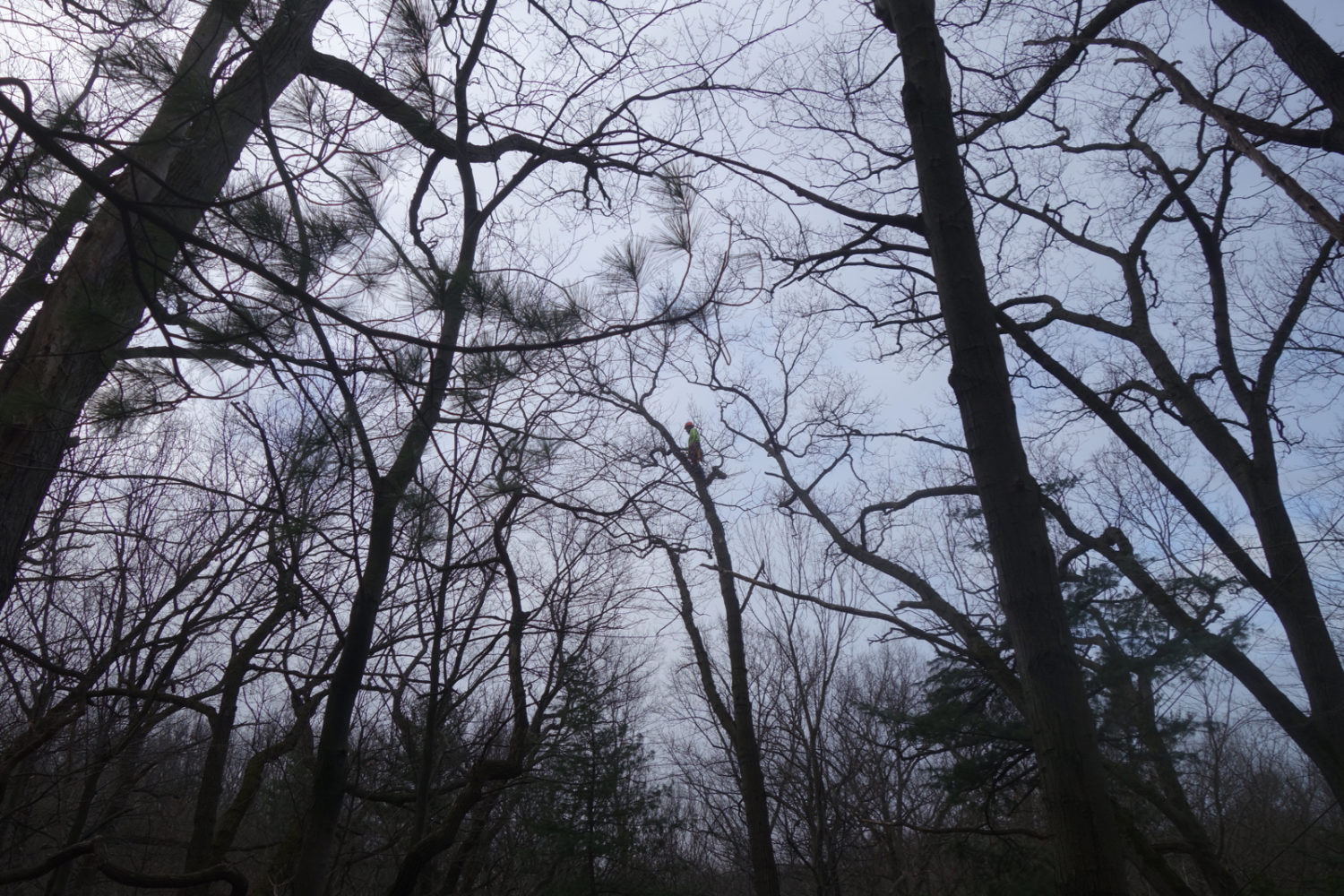 In the Fall our neighbor, Jared, had a Hickory tree come down on the hillside behind his house. It fell across the road and took the power lines down. Peggi and I cut the wood to log lengths and hauled it up to our yard in preparation for splitting. This winter one of our trees came down and took the lines down again. The telephone pole between our properties, the one that carries the primary (high voltage) line, was yanked in both directions.
Sometime after one of these incidents we noticed a black patch of bark on one of our trees. About twenty five feet up in an oak that is well over a hundred feet tall we guessed that it had been hit by lightning. The spot, about eighteen inches in diameter, appeared charred and was shinny when wet. When we looked at it from our bedroom it appeared to be reflecting a light source, maybe from the neighbors down the road who leave a light on by their driveway around the clock. In the last week or so the light points became more intense like lasers. Our house guest, Steve Black, became sort of obsessed by it and alerted us to especially active periods.
When he called our attention to it yesterday there was a small flame shooting from the tree. Outside we saw smoke and for the first time realized one of the power lines had burned a deep gouge in the tree. We called the power company and they called the fire department. Three trucks answered the call but they didn't want to touch the wire. When the power company got there they lassoed the wire and pulled it away from the contact point. They tied the rope to another one of our trees. Rather than move the pole backing place they decided to take the tree down.
This morning we woke to a guy way up in the tree. It took him about four hours to lower the branches and ten the crew dropped the 30 foot long tree trunk and left it for us.
Leave a comment