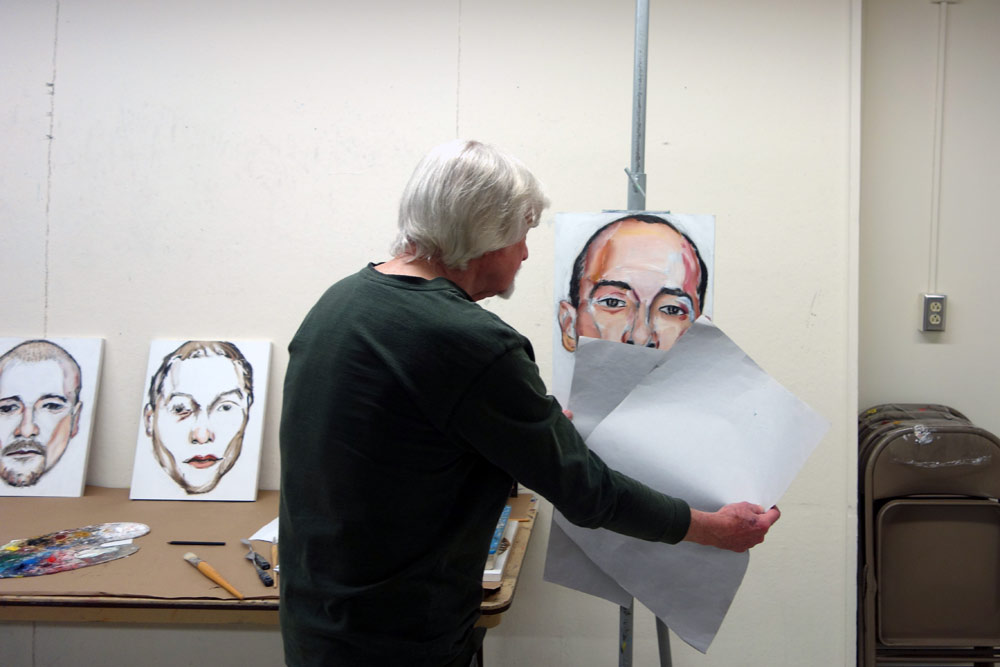 My father called this morning to tell me I should buy Jeff Spevak a few beers. He spotted the piece Jeff wrote in Sunday's paper about the band and my art show at the Little. Nobody reads the paper anymore so I posted it below. I say nobody but I still do. I'm not sure Jeff does because he refers to the "Crimestopper" page as a "feature once run by the Democrat & Chronicle." I'm working on fifteen now that were in the "A" section a few weeks back.
I snapped the photo above to remember what parts of my painting Fred Lipp covered. His grey paper is his primary teaching tool. and you can see it in action here. I was struggling with this one. It got away from me and too many parts were out of whack. He told me he liked how I carved with white in what is shown and this let me see what works. The parts under the paper were smoothed out or blended. The dreaded "blended." He can sometimes cover three fourths of your painting and then tell you, "There's your painting.
Paintings by Paul Dodd, Fast Forward Film Fest and G. Love
"The narcotic groove of Rochester's avant-garde jazz combo Margaret Explosion has returned to its free, 7:30 p.m. Wednesday residency at The Little Café, 240 East Ave. So that's happening all through May. As a bonus this month, the walls of the venue are filled with the odd, haunting portraits by the band's drummer, Paul Dodd. The pencil sketches are taken from photos from "Crimestoppers," head shots of people wanted by the Rochester Police Department, a feature once run by the Democrat & Chronicle (Don't you ever accuse this newspaper of not supporting the arts).
Six oil portraits on the wall behind where the bands play are particularly intriguing. It's the 1957 Mynderse Academy basketball team from Seneca Falls, Seneca County, taken from the school's yearbook. The whole team, it had only six players. In his artist's statement, Dodd says he picked the team because the players looked "especially hapless." Indeed, as the headline accompanying the yearbook photo notes, "Team Faced Tough Competition." Virtually all of the portraits, basketball players and second-degree assault suspects alike, are reduced to heads floating on a white background." – Jeff Spevak D&C
Leave a comment