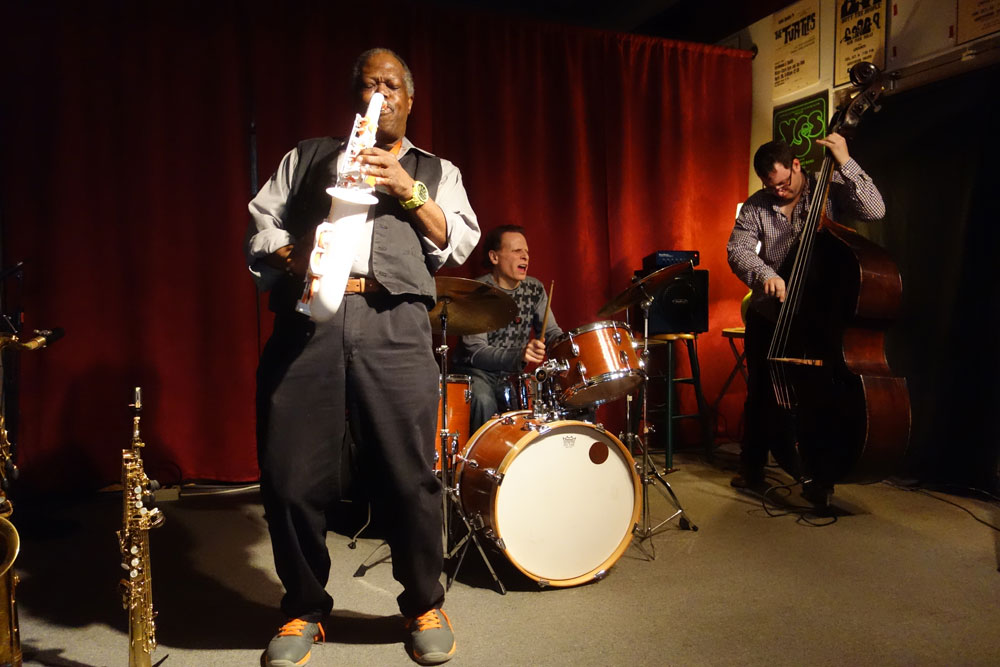 For years I would enter Joe McPhee's name in one one of those questionnaires that they used to pass out at Jazz Fest. "Who would you like to see at the Jazz Fest?" He only lives in Poughkeepsie for Christ's sake. I'd put Ornette Coleman's name in there too but I never expected that to happen. Joe McPhee is too good for Jazz Fest.
Joe brought his "Trio X" to the Bop Shop on Sunday night and we had front row seats. Jay Rosen is often described as a drummer's drummer and there is good reason for that. I loved watching him play but mostly I loved how he supported and propelled the songs. Bass player, Dominic Duval, was home sick but his son held down the post in fine fashion. His bowed duet with Joe was especially beautiful.
Joe did a solo sax gig a while back in the Village Gate where he did a version of "God Bless The Child" that just blew us away. Joe's stuff is full of soul and blues and there is a direct link to the Negro spirtuals. He plays music that can change the world. His last tune last night, a song he wrote years ago as a tribute to Ornette, was dedicated to his ailing bass player and to the ailing Ornette. Joe played a white plastic sax on the song.
After the show Peggi told him how much she like the Ornette piece and he said, "We wouldn't be able to do his stuff if it wasn't for Ornette."
Leave a comment