Today is the feast day of Santiago, also known as Saint James (the Greater), Sante Jacob in Italy and Sao Tiago in Portugal. He is the patron saint of Galicia, Spain and Portugal. I got my box of holy cards out last night in preparation and found the I have ten of Santiago. My favorites are shown above. My favorite image of Saint James is this one by Guido Reni.
There were two apostles named James. The Greater is said to have brought the gospel to the Iberian peninsula. He returned to Israel and Herod the king had him beheaded, the first of the apostles to be martyred. His remains miraculously found their way back Spain and they are said to be kept in the cathedral of Santiago. During the reconquest, Saint James is said to have helped the Spaniards repel the Moors. In this grizzly role he is known as "Santiago Matamoros."
We took a photo of the cards and sent it to my cousin, Maureen. She is, by far, the best Catholic in the family and I have two cousins who are or were nuns. We walked the Camino de Santiago with Maureen a few years back and have talked of doing it again.
I fired up a slideshow of our Spain photos (almost 4000 of them) on our tv this morning and it is still shuffling along. I set our LED kitchen lights to deep red. We had Spanish hors d'oeuvres, Quince paste on Manchego cheese, and roasted Marcona almonds with a bottle of Lan Reserva. Peggi made Gambas al Ajillo for dinner and Tarta de Santiago for dessert.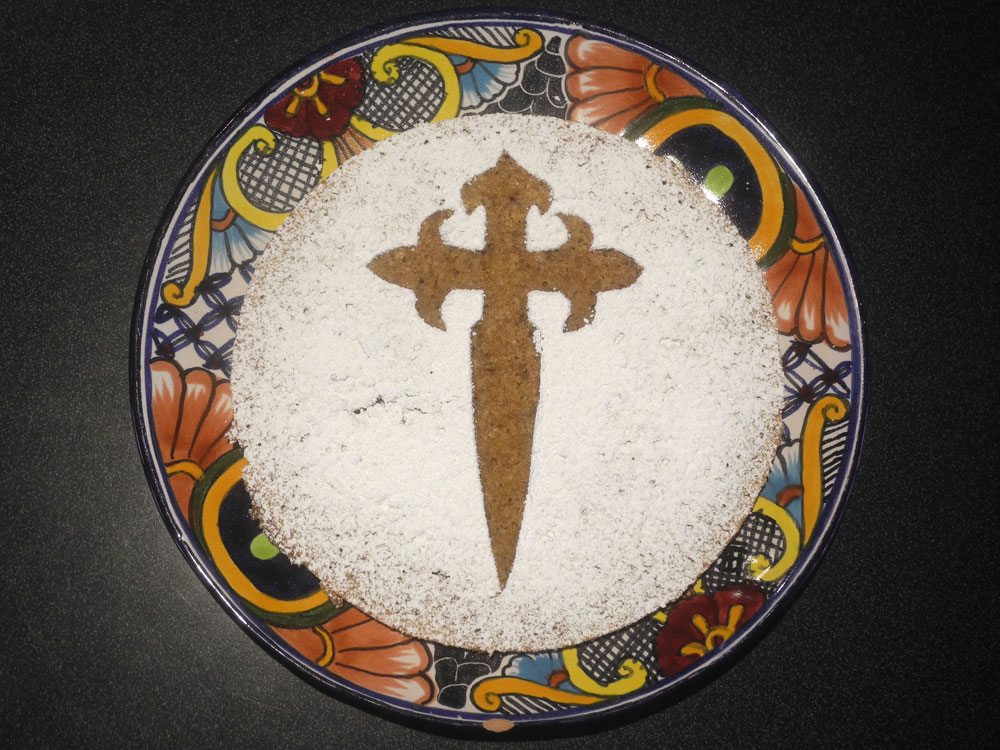 1 Comment