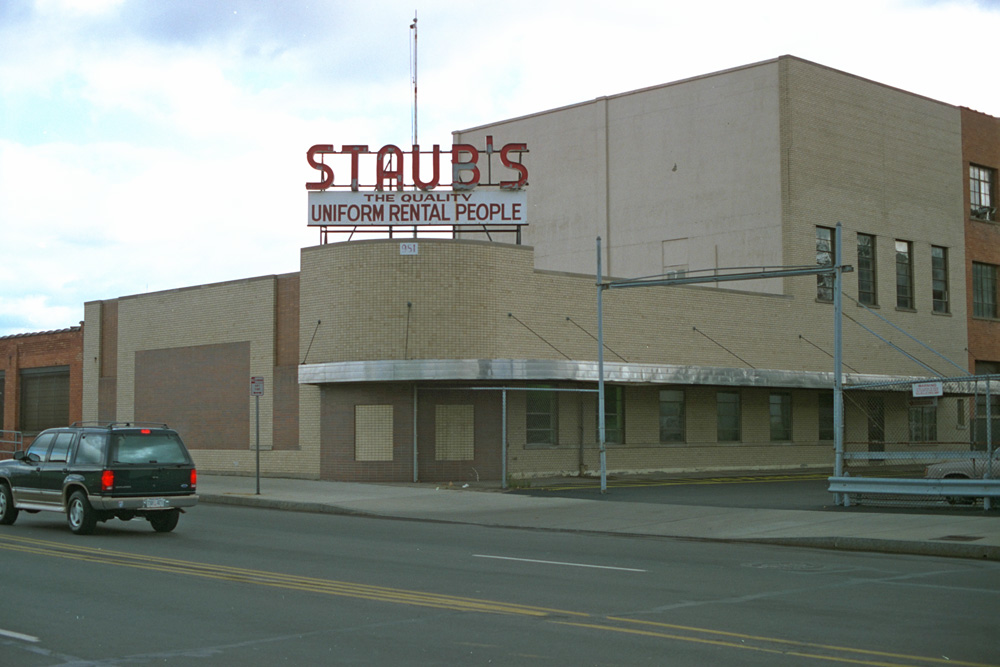 Batch processing a folder of photos and throwing them into Apple's Keynote and then exporting the whole thing to html is so much easier than creating individual web pages. But of course there are all sorts of drawbacks. Like how do you link to a particular page or photo and how do you write tags for the pages so a search engine could find them?
These photos were taken in 1994 with a film camera when I was just beginning to develop an idea for a contemporary setting of the Stations of the Cross (the Passion Play or Way of the Cross; in Latin, Via Crucis), an idea that is still in the developmental stage twenty years down the road. We lived across from East High at the time and we'd head downtown on this route most days. While I was taking the photo of East High a security guard came out and told me "You can't photograph the school." East High became a perfect location for Jesus to get sentenced and I pictured him crucified at the Liberty Pole. The route looks rather bleak but it is quite beautiful. The photos were really just location shots for possible staging of a particular station but I found them interesting to look back on especially because so many of these places are gone.
East High School, Carroll's Bar and McDonalds are all there. Mooneys (formerly Effingers) and Fams Party House are still standing but the businesses have left. El Palladium and Jimmy's Short Orders have both been knocked down for a monstrous new Regional Transit Bus Terminal. Volunteers of America, Fatboys, Chase Bank, Tucker Printers, the Adult Book Store and Otis Lumber are still there but have changed hands. The Armory Building has actually come back to life as a venue. Corpus Christi Church, Staub's Cleaners, the Penguin Restaurant and Hedges Funeral Home are still there but are empty or repurposed. WDKX is not going anywhere. Kentucky Fried Chicken is an Asian place. Richmond's and the Chinese place are still there with new owners. Cathay Pagoda and the Tea House Art Gallery, Snuffy's Birdland and McCurdys are gone. The Liberty Pole is still standing.
And the Inner Loop is being filled in. Chuck Cuminale, who would lead the Colorblind James crowd in "Death To The Inner Loop chants, would be elated.
Leave a comment