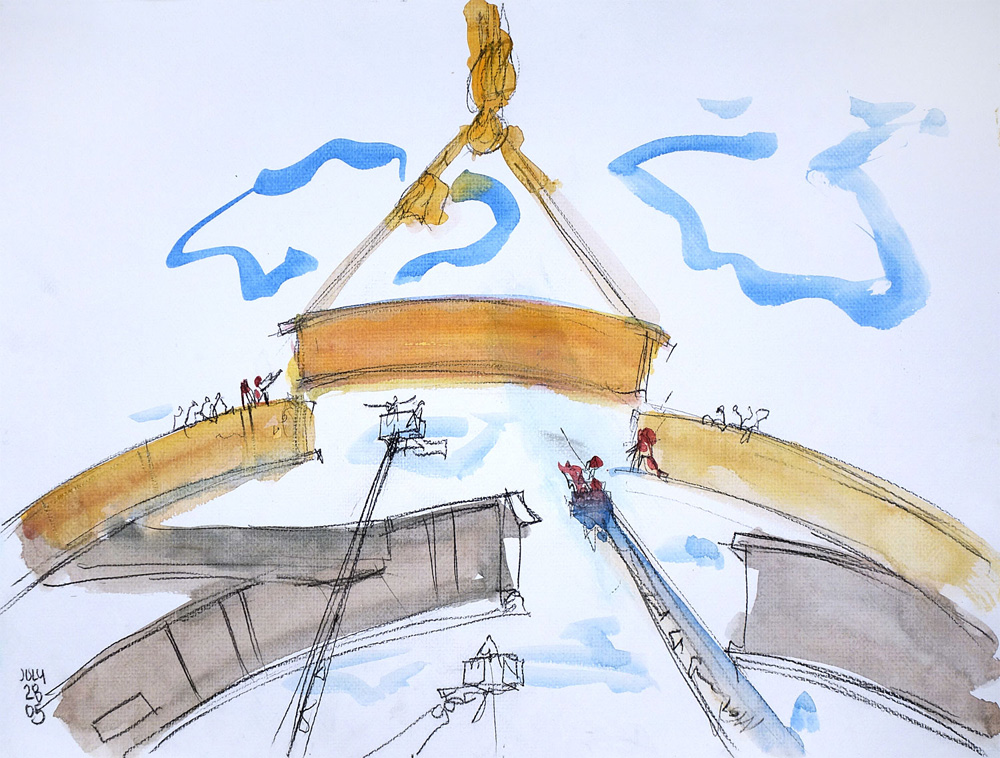 We lay pretty low, I think, but the last five days were a whirlwind. It started last Wednesday when Pete and Shelley came into town. Pete joined us on piano at the Little Café and of course we carried on into the night after the performance. There is so much to talk about when you come out of the woods with a bottle of homemade dandelion wine. My brother and his wife came up the day Pete and Shelley left. They operate in their own time zone so even though we gained an hour we still managed to see 3AM two nights in a row. They left Sunday afternoon and we met Alice and Julio, who were visiting from Maine, an hour later.
We visited "Witness" with all three guests. The exhibition is up for another week and my brother became an integral part of the show once we connected the dots. I met Alice when I first started taking Fred Lipp's class at the Creative Workshop. At that time she was painting luscious abstract constructions but she has moved closer to landscapes. She is one of my favorite painters and I was so pleased to learn that she was knocked out by the new charcoal drawings in the show. Her comments carry more weight than anyone else I know.
I was lucky to be at RoCo when Howard Ressel, the chief design architect of the Douglas Anthony, was there. He was drawn to the show by the postcard image, my father's painting of the bridge. He told me he remembered someone sketching the construction and told us how the initial design was modified to include the bigger central arch, the one that shared weight from both directions of the eight lane highway. Formerly known as the Troup–Howell Bridge the triple steel arch bridge carries Interstate 490 over the Genesee River and Exchange Boulevard and is a major commuter route connecting eastern and western suburbs to downtown Rochester.
The official name of the bridge is The Frederick Douglass – Susan B. Anthony Memorial Bridge, a mouthful. And it is commonly referred to as the Freddy-Sue Bridge but Howard Reseal refers to it as the "Douglas Anthony Bridge." I like that. The other was irreverent to such important figures. I told Howard the "Death to the Inner Loop" chant was a lonely cry twenty years ago and today the eastern half is filled in. So I will from hereafter refer to the bridge as the Douglas Anthony Bridge. Pleas pass this along.
1 Comment