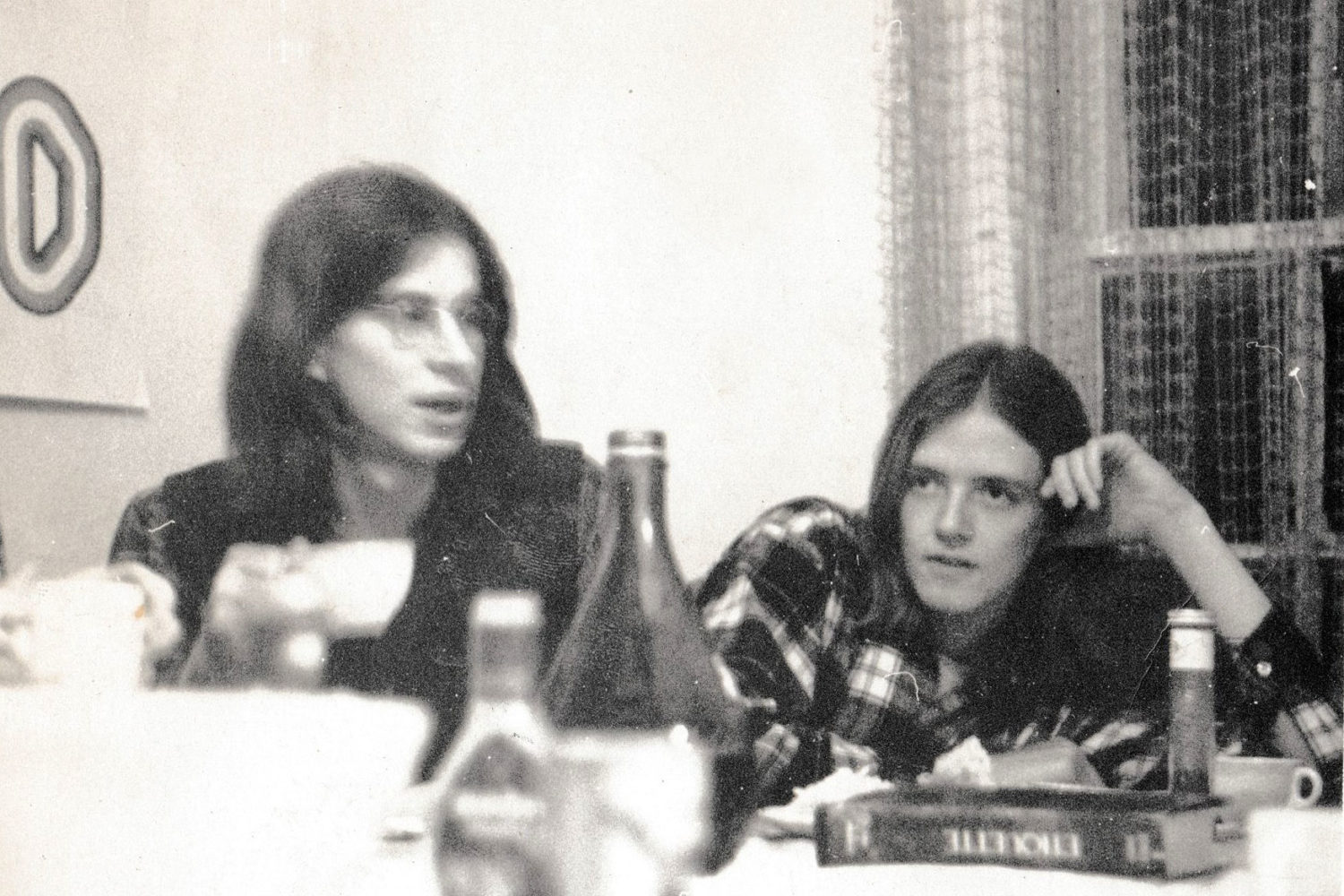 I looked for a picture of all three of us from that time period but couldn't find one. This one is from almost a year later. The "D" on the wall was the last of three letters. The first was an "L.' Dave Mahoney and I went down to the Woodstock festival in Joe Barrett's family car, a Corvair. We bought our tickets, three day passes for eighteen dollars, from a local radio station. We were most excited to see Sly & the Family Stone. We left a day early but I don't remember bringing any food or anything to sleep on.
By Thursday afternoon the small roads leading to the festival were already jammed with cars. We left ours on the side of the road and joined a long procession of people on foot. At an intersection lines were moving in two directions and each seemed equally sure the festival site was ahead. We picked one and decided to take the acid we brought down with us.
Things got stranger. We stopped at a house where can goods had been arranged along the railing of the front porch. The contents of their cupboards were being offered for sale. We fumbled with our money and bought something but I don't remember what it was.
We found the festival site where they were soundchecking the system. The sun was blazing and there was screeching feedback and dogs barking. We tried sleeping in a cornfield but I couldn't sleep. We were exhausted the next day and Dave was worried that this was all going to be a disaster scene. He was mostly afraid that there wouldn't be enough food. He suggested we leave early but I insisted we hear some of the first night's acts.
We ran into a friend from high school and he sold us some blue mescaline tabs. We drove home with those and all slept over at Joe's. We took the mescaline and went down to the Stutson Theater where a matinee of 2001: A Space Odyssey was showing. We started out in the seats but found it more comfortable laying on the floor in front of the first row of seats. The only other patrons were little kids who were all running around, laughing and throwing things.
My brother and Brad Fox stayed the three days. They brought home tents and sleeping bags for everybody, stuff they rounded up when the festival was over. I kinda wish I had got with them.
1 Comment