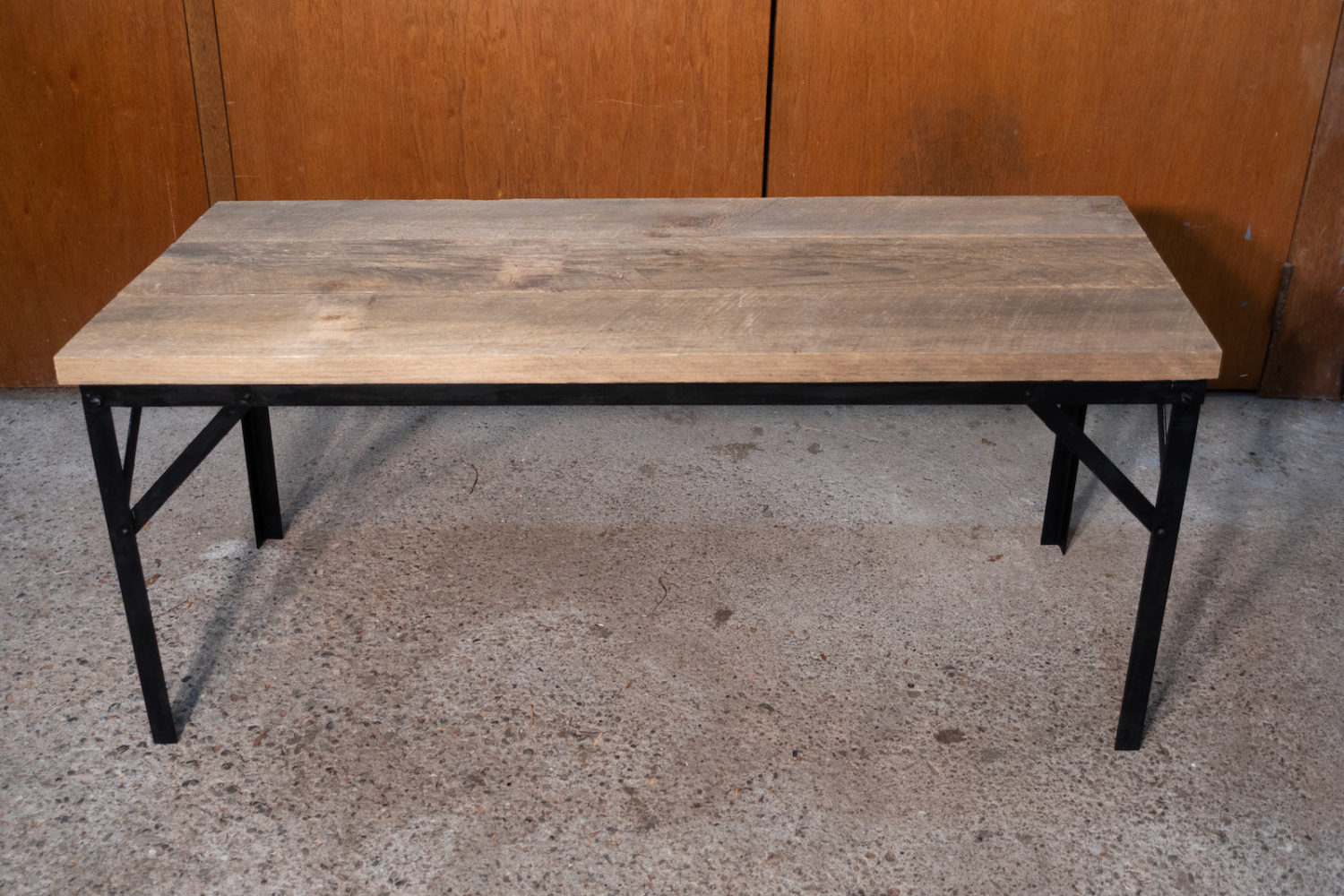 I carried the metal frame of this table home from one of our walks. Not that it was heavier than a load of groceries but it was a little awkward to walk with. The metal was rusty and had previously been painted an army green color. I brought some Ornette Coleman cds out to the garage, where our only CD player is, sanded the frame and painted it Rustoleum black.
Back in 2005 we helped our friends, Pete and Shelley, build their new house in the Adirondacks. It was an opportunity to use the few skills I developed at my first job after school. I fell in love with the rough-cut White Pine wood Pete and Shelley were using and I asked them if they could get us some from the sawmill. They brought us a car load and I have found all sorts of uses for it over the years. I picked out three boards from my stack that were all approximately the same width and cut them to length for the table table top. I tied the boards together with three cross pieces on the bottom side.
Our arugula finally took a hit with last night's temperatures. It was limp but still green and may bounce back with the upcoming 40 degree days. We picked a big bunch for dinner. Our pandemic garden has been amazing. We are still eating the tomatoes and peppers that we picked before the frost and let ripen in the window. We brought home the last of the romaine and spinach and the the Swiss chard, cilantro and kale and are still standing tall but we'll finished them off in the next week. In four more months we'll have seeds coming up for next year.
Aman's, where we have been doing most of our pandemic shopping, gets their apples from nearby Williamson. We've been stuck on Honeycrisp for years. I'm announcing a shift of allegiance. We have switched to Snap Dragons. Meatier, crisper. They make you feel alive.
Leave a comment