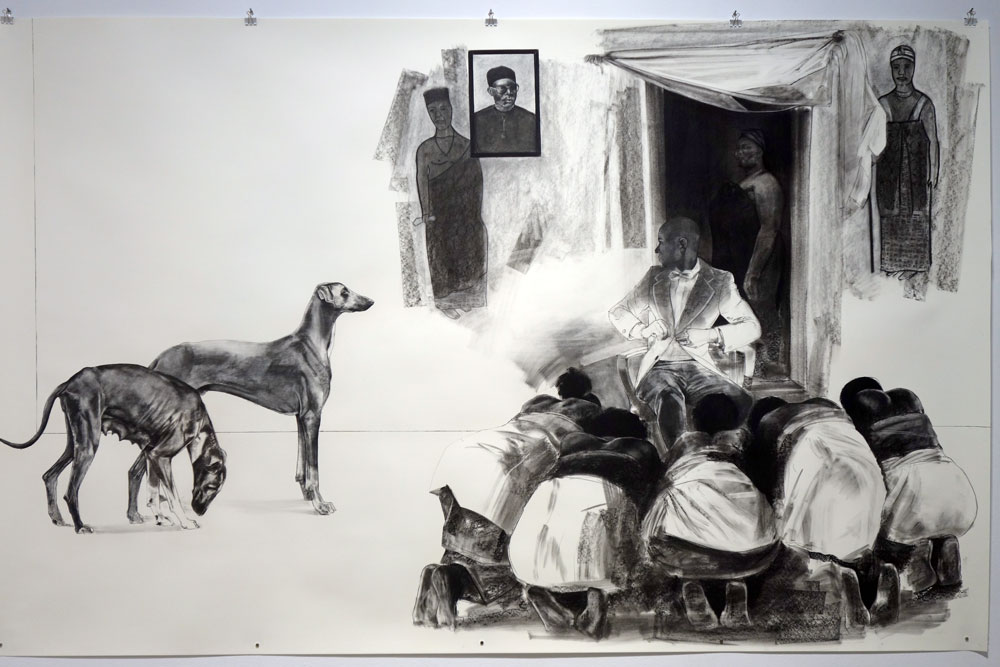 I am not a "process" guy. I like looking at visual art without being setup. And I don't find talk of "process" very interesting after the looking. One eighth of Meleko Mokgosi's "Pax Kaffraria" panels is currently on view at Rochester Contemporary. The artist was present at the opening last night and I overheard a gay ask him how he gins. "Where do you get your ideas?" Mokgosi said he begins his work with the title. The show is being jointly hosted by the MAG and RoCo. The MAG's director, Jonathan Binstock, was there last night and he told us they were unable to to find a facility in Rochester big enough to display the eighth panel. They actually found a place downtown that was big enough but the doors to the place were not big enough to get the package in. Considering how big his paintings are it was surprising to hear the title came first.
The show is sensational. Mokgosi is also showing some drawings at RoCo, the first time he has shown his drawings and I like the drawings best. Especially the one above. The Botswana-born artist's figures are life size and they are usually pushed to the front of the picture plane, almost like the figures painted on the wall of the building in his black and white drawing above. His drawing technique is a tour de force.
Micheal Harris "Works on Paper" also opened last night in the Lab Space and Michael told me he nodded to my work with one of his pieces called, "Open and Shut." The mono print included three small mugshots from the Sunday paper. 180 degrees from Mokgosi's method of starting with the tile, Micheal explores a longstanding attraction to unconscious ideas. He takes his work to a poet friend and she names them. "Open and Shut" and "Disturbances in A Minor" were two of my favorites.
Kurt Moyer has a great new show at Axom. Mostly landscapes from the woods near his home in Mendon but also some more of the Arcadia paintings that he showed at Axom a few years back. I love those and I love the look and feel of his paint. There is only one word for it. Lucious.
We finished our gallery hop with Kathy Farrell's show in Colleen Buzzard's space. Looking at Kathy's show was the most fun we had all night. Her yoga block abstracts are mini worlds where all is right.
Leave a comment