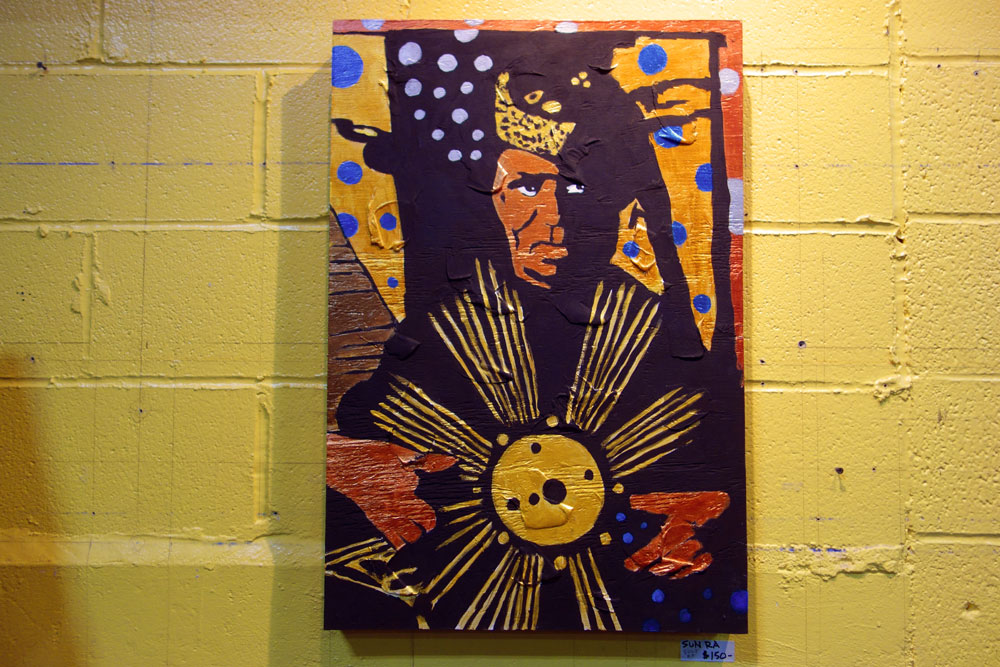 The Ramp Gallery at Record Archive is an awkward space for art but no more more so than the sloping Guggenheim in NYC. The intense yellow walls could take the life out of most paintings. The store itself is an awkward space for anything visual. Everything in there screams or gets lost. El Destructo easily overcame the challenge with a sensational display of recent paintings, many of them versions of paintings he has sold in the past like the three Bride paintings in this show. The Sun Ra painting above already had a sold sticker on it when we got there.
We had already been to another record store last night. We had stopped in the Bop Shop to pick up tickets to Dave Leibman's show at the Lovin' Cup and I couldn't help but notice the difference in the vibe. You want hang out out at the Archive, and shop, and listen to music. You want to browse and get distracted and laugh. The new lounge area in the back is like something out of a dream. You could picture Bobby Darin coming out from behind a curtain and taking the stage. And the wall of forty-five boxes is especially inviting.
Marshall Allen, who played with Sun Ra for almost fifty years, has released an incredible collection of Sun Ra music. The two cd set has a few extras for those that have it all and the songs have been remastered but Allen did a great job of selecting the tunes. A far better round-up than Evidence's "Greatest Hits" collection. This in more like "Mind Blowing Hits" but the songs are as comfortable as hanging out at the Archive.
Leave a comment